The swim and water safety experts at Goldfish Swim School share practical tips and skills just in time for National Water Safety Awareness Month.
Did you know that:
Drowning is the number one cause of injury-related death for children ages one to four.
Drowning kills nearly 1,000 children every year.
Formal swimming lessons reduce the likelihood of childhood drowning by 88 percent.
May is National Water Safety Awareness Month and as we head to pool and beach season, it's the perfect time for all families and caregivers to review essential swim and water safety basics.
The American Academy of Pediatrics (AAP) recently published updated recommendations on water safety. In the policy statement, the AAP lays out strategies to protect children at each stage of their life. Notably, the AAP recommends that all children should enroll in a learn to swim program by age one.
So, what do parents need to know when it comes to water safety? We asked the swim and water safety experts at Goldfish Swim School to share water safety essentials with us:
What type of supervision is required when kids are in or around water?
Goldfish Swim School: Any time kids are around water, designate a "water guardian" who will avoid cell phones, conversations, magazines and anything else that might distract the adult from watching children EVERY SINGLE SECOND. Note that most children who drown are supervised. Adults should practice "touch supervision" for young swimmers and keep them within an arm's reach at all times.
What about puddle jumpers, floaties and other floatation devices? How do I know which one are safe to use?
Goldfish Swim School: Know that floaties, noodles and plastic inner tubes do NOT protect against drowning. They are created as water toys, not life-saving devices. Life jackets should be designated as U.S. Coast Guard-approved.
What should I look for in a learn-to-swim program?
Goldfish Swim School: Enroll children in high quality swim lessons where kids will focus on mastering "water competency skills" -- a few lessons here and there are not enough. We offer a perpetual lesson model because we know that kids need regular, consistent practice in order to develop and maintain these critical water safety skills. There is no such thing as "drown-proofing" kid. Water safety should be top of mind year-round for all families.
What do babies learn in swim lessons?
Goldfish Swim School: We have seen first-hand in our learn-to-swim facilities the many benefits of getting kids into swim lessons at an early age. Our Mini Classes start at four months of age and the curriculum creates a strong foundation for water safety. Mini Class activities include singing group songs, games, activities and getting little ones comfortable and safe in the water. Babies practice their grasp reflex, move on to holding onto the wall and eventually inching their way down it. With the help of mom or dad, babies work on their pulling paddle, "Superman" glides, sea otter floats and kicks. As babies progress through the Mini Program, they will work on crab walking, getting out of the pool safely by climbing up using the "fin, fin, belly, flipper" technique and breath control. These activities are the building blocks of basic water safety skills.
What water safety skills can parents practice with their kids this summer?
Goldfish Swim School: There are several basic skills that our instructors at Goldfish Swim School work on with students every week. Parents can practice these skills with their kids anytime they are in the water together:
Work on getting in and out of the pool safely. Fin, Fin, Belly, Flipper! Help your little ones learn how to get out of the pool by manipulating their bodies in this order: elbow, elbow, tummy, knee. Practice this often; you can even do this on your living room floor by having your baby climb onto a couch or chair! After you practice, always remember to celebrate. Eventually, your little one will be strong enough to manage the movement on their own! This is a skill that kids continue to use to safely exit the pool -- even when they are older!
Jump, Turn, Swim to the Wall! Once they have the movement down, let your child jump off the side of the pool to you, help them physically turn back to the wall and then assist them in getting out of the pool by using the Fin, Fin, Belly, Flipper method. Do this over and over again. As they get more confident, let them go under the water and come to the surface on their own. This teaches kids to automatically turn back to the wall behind them to climb out. If a child were to fall into a pool, this skill could help them find the quickest way to safety.
Rollover/Sea Otter Float. Work with your child on turning over and getting their faces out of the water to take a breath when he/she fatigues.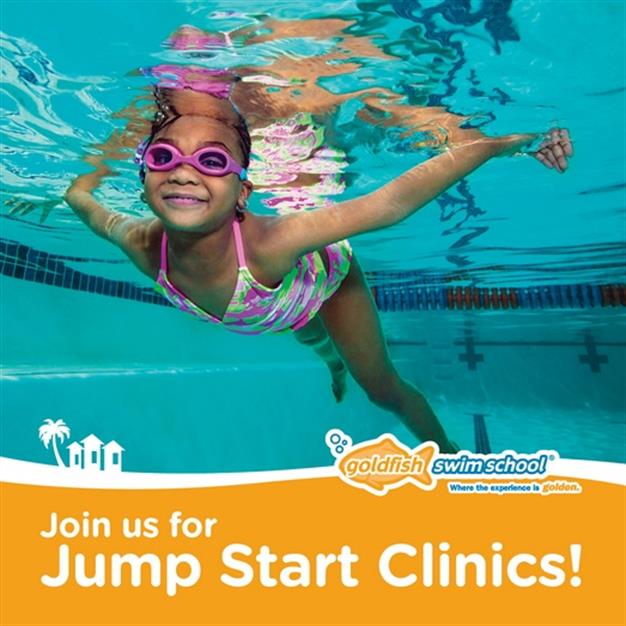 The Goldfish Swim School team encourages to you make swimming a family activity. Get lessons for adults who do not know how to swim and practice swim skills together to keep swimming fun and positive! Join us this summer for weekly lessons, a weeklong Jump Start Clinic or a family swim event.
We look forward to a fun and safe summer for all families!
Goldfish Swim School provides swim instruction to children ages 4 months to 12 years in a family-friendly setting with highly trained instructors, small class sizes (max 4:1 student-teacher ratio), shiver-free 90-degree pools using a proven curriculum. Classes are offered in a safe, child-friendly and fun environment using their research-based philosophy called The Science of SwimPlay®. Goldfish has several NJ locations including: Closter, Denville, Livingston, Manalapan, Middletown, and Wyckoff. Visit the website for more information: goldfishswimschool.com.
Locations:
Wyckoff: 327 Franklin Avenue, Wyckoff, NJ 07481 • 201-254-3474
Livingston: 277 Eisenhower Parkway, Livingston, NJ 07039 ; • 973-664-SWIM
Middletown: 582 Route 35, Middletown, NJ 07748 • 732-865-9800
Manalapan: 357 Route 9 South, Manalapan, NJ 07726 • 848-233-2300