New for Summer 2020 is the Bronx Zoo Wildlife Camp Online. Kids can explore animals, science, and nature.
Does your child love animals and is interested in connecting to the natural world? Do you have a budding zoologist or veterinarian in the making? Want to get up close virtually and learn all about animals at the Bronx Zoo, Central Park Zoo, Queens Zoo, Prospect Park Zoo, or New York Aquarium? If so, this awesome Wildlife Online summer camp is perfect for your child.

This camp is for kids entering pre-k through the 8th grade and they will get a chance to discover nature, animals, environment, and science. Camp programs are divided by age group so all campers will get an opportunity to make new friends online with kids their own age.
The Wildlife Camp Online runs weekly for 11 weeks, starting the week of June 22, 2020 and ending the week of August 31, 2020. Each day camp session runs from 9AM-3PM. Parents can sign up online and register by the week. All campers will participate in various activities at scheduled times. There will also be plenty of time for campers to engage and get educated in self-directed activities.

From the comforts of your own home, your child can have FUN in an active remote learning environment. It's not the same as an in person summer camp experience but it's designed to be fun virtually and kids will definitely have a good time.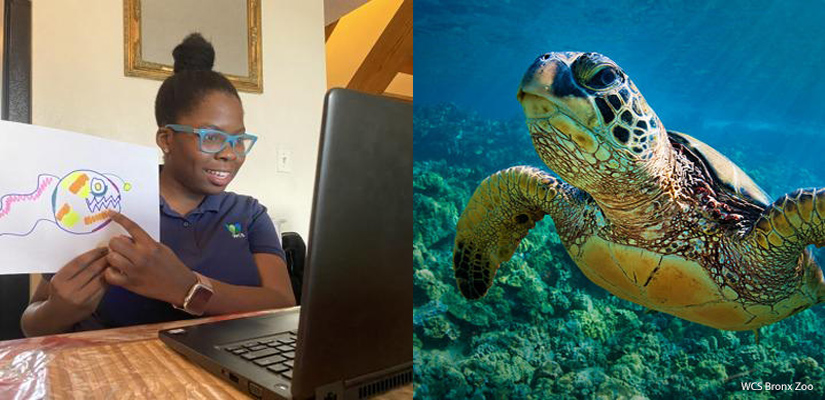 What will your child get to do? Campers will meet the zoo's animal keepers and scientists via a virtual platform and understand how they keep track of all the animals to keep them heathy. See what they do in their jobs and ask them questions. Every wonder what happens behind the scenes at our zoos? This online wildlife camp lets kids get exclusive behind the scenes look at our animals and exhibits.
Campers also get to join in cool science projects and learn all about conservation. Kids will experience close encounters with animals from all our different zoos. From the New York Aquarium, campers can follow along and experience deep dives into our tanks to view aquatic life up close.
Children entering PreK and Kindergarten will take part in "Animal Senses", a program where they learn how animals use their senses to survive. They'll also be exposed to "Animal Tales", a program filled with stories involving animals. Campers entering 1st and 2nd grades will get involved with "Animal Olympics", where they will explore animals with amazing abilities and "Animals & Art", a program where your child is encouraged to draw & paint as they discover animals.
Children entering 3rd to 5th grades will learn about "Mysteries of the Animal Kingdom" and "Wildlife Super Heroes". Older kids entering 6th to 8th grades explore "Wildlife Careers", a program where they get to hear guest speakers, learn about careers as zookeeper, veterinarian, biologist and wildlife photographer, tour exhibits and more! All kids will collaborate with new friends they meet virtually.
Cost of the camp:
Members: $250 for first child; $75 for each additional sibling
Non-Members: $275 for first child; $100 for each additional sibling

The camp is filling up fast, so click here to register your child for our Wildlife Camp Online, a great summer camp experience.

Call 1-800-433-4149 for registration questions; Wildlife Conservation Society, Bronx Zoo.
Note: As part of the camp package, your child can visit each of our zoos and aquarium on their own time when reopened. Campers will get 1 child ticket for the Total Experience at the Bronx Zoo. For Central Park Zoo, Prospect Park Zoo, Queens Zoo, and the New York Aquarium, your child will receive 1 general admission ticket.