Summer camp programs and robotics classes for 3rd to 12th grade
Technology is all around us. It can be found in almost every aspect of our lives from the cellphones and computers we use so often to the cars we drive daily, to washing machines, refrigerators, coffee pots, and so much more. Our technology is developing exponentially, and it is said that to succeed in this high-tech society one must be properly prepared and well-versed in the topics of Science, Technology, Engineering and Math (STEM) from a young age. In New Jersey, our children have the opportunity to enjoy this beneficial education from Robot Revolution in Summit, NJ.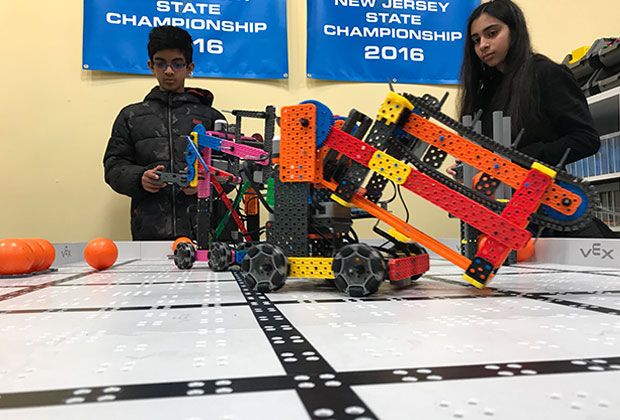 Founded in 2012, Robot Revolution brings STEM to life through robotics. Robotics combines coding, making, problem solving, and teamwork. It is a learning platform that combines problem solving in a cerebral, logical method and in a physical way.
Offering personalized robotics classes of 8 students or less per instructor, children and their families can choose from Robot Revolution's upcoming Summer Camp Programs offered in flexible half-day or full-day options, as well as their year-round, after-school classes and competitive teams.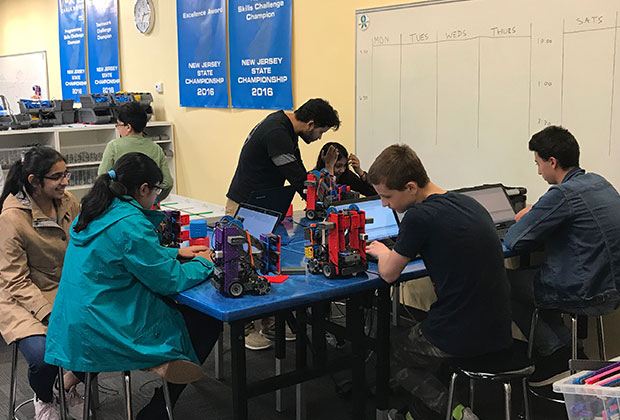 Robot Revolution teaches children in 3rd to 12th grade how to program and build VEX and VEX IQ robots. Two-hour classes in the Summit location, provide students with the skills and instruction necessary to program. They first use modkit, a graphical scratch-based programming language. Advanced students move on to use Robot C++, an advanced programming language that can help students segue into other programming languages such as JAVA.
Problem solving is the key to learning. To teach students this vital skill, all students attend The Vex Robotics Competition, presented by the Robotics Education & Competition Foundation. Vex is the largest and fastest growing middle school and high school robotics program globally with more than 20,000 teams from 50 countries playing in over 1,700 competitions worldwide. While competitive success is not the only indicator of teaching success, Robot Revolution has sent representatives to the World Championship seven years in a row.
In addition, Robot Revolution also gives back to the community with their sister division Neighborhood Robotics. Neighborhood Robotics is Robot Revolution's non-profit division that provides information, direction and leadership to schools and community robotics programs. Robot Revolution also offers "girl-only" classes providing a place for girls to feel comfortable and confident if that is something they prefer.
Boasting two full floors of prime technology, Robot Revolution offers the use of a computer to each child as well as endless building supplies. Each 4th to 12th grader who signs up for VEX IQ will build and program robots to play games of varying technical levels-of-difficulty. Every program provides a huge hands-on experience in robotics where each child participates in all aspect of design and programming. Jump-start style classes for 3rd graders are also available to begin learning the basic concepts of robotics. No matter the level, each class operates in the same fashion; firstly, the concepts are taught, then the students are offered a related problem to solve through exploration.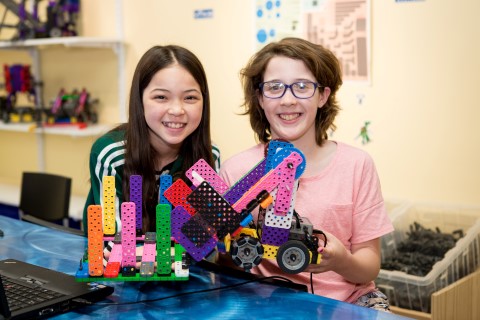 Whether you and your child are highly passionate or mildly curious about Robotics and STEM, Robot Revolution appeals to everyone. When considering a comprehensive and in-depth, well presented program, one should place Robot Revolution at the top of the list. It is not only a top program for STEM and technology, but for life-long learning skills such as problem solving, critical thinking, and teamwork. These skills are necessary to succeed in our ever-changing and developing world.
To find out more about Robot Revolution and their program offerings, please view their website at: www.robotrevolution.net or give them a call at (908) 608-8896.
Robot Revolution
34 Maple St. Summit NJ 07901
(908) 608-8896 • www.robotrevolution.net