Looking for an interactive dining experience with fine cuisine, impeccable service, and fun for the whole family? Then you definitely need to add The Melting Pot in Westwood, NJ to your list!
The Melting Pot is a casual fondue restaurant where each person is their own chef. My family and I had the opportunity to dine at this truly unique restaurant on a Thursday night this past Fall.
We were greeted by Alexandra the hostess who was very polite and was eager to seat us in a timely manner. The restaurant had a cutting edge aura with its modern décor and spiral ramp leading to the hostess stand, intertwined with an intimate ambiance as 80's music played in the background throughout the night.
Scott, our server was very accommodating and very knowledgeable of the menu. He explained to us the different ordering options and gave us recommendations as well. It is a "Kid Friendly" restaurant for sure in that they do have a Kid's menu . To look at "Kid Friendly" in another way, since you do cook your own food, and the liquid inside gets extremely hot. Older children who know the dangers of hot surfaces so unless you know your kids will listen and not touch the black surface, hold off until they're a little older.
For our appetizer, we had The Lobster Cheese Fondue. A blend of rich lobster and crab bisque, cold water lobster meat, award winning Butterkase and fontina cheeses, fresh lemon juice and scallions. It was served with apples, pumpernickel and white bread, and a vegetable medley. Melted cheese and bread is never a disappointment in my book. However all of the seafood and other ingredients to this appetizer turned into something that was absolutely delicious!
The Children's Menu is for children under 12, and it starts at $8 with the options of chicken, shrimp and steak and of course access to the cheese or chocolate fondues.
Our waiter also made suggestions as to which dipping sauces went best with our entrees.
A great fondue restaurant for a casual night out or a special occasion. If you are planning on going for a special occasion be sure to check out their website on how they can make the event more special.
http://www.meltingpot.com/special-occasions.aspx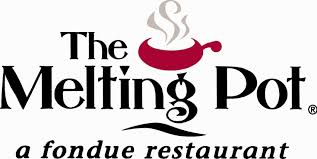 The Melting Pot - a fondue restaurant
250 Center Ave, Westwood, NJ 07675 / (201) 664-8877
Hours:
Monday-Thursday: 5 p.m. - 10 p.m.
Friday:5 p.m. - 11 p.m.

Saturday:4 p.m. - 11 p.m.

Sunday:12 p.m. - 9 p.m.