Ultimate Guide to Field Trips and Assemblies
This guide is perfect for Schools, Camps, Scouts & Other Student Groups (grades Pre K - 12)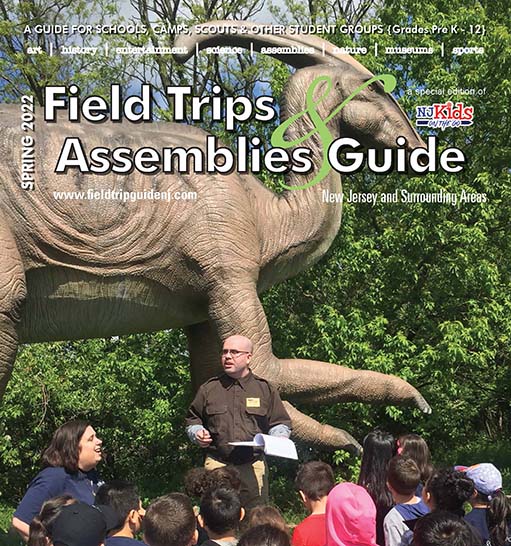 INSIDE: art | history | entertainment | science | assemblies | nature | museums | sports

Congratulations, you're thinking out of the box and planning a school trip! I'm sure you know that there are so many positives to being away from the traditional classroom. Have you considered bringing your group on a scientific expedition? Problem solve your team out of an escape room? Explore the universe in a planetarium? Team build with wildlife and nature? Make the most unique glasswork? Learn wilderness skills? Go back to prehistoric times and imagine what the world was like? The ideas found in this guide can help bring excitement and spirit back into your group and make learning impactful. After a long covid freeze, it's time to get kids back out again. But, if you're still not ready to travel, there are many virtual programs as well.
The NJ Field Trip & Assemblies Guide is a resource directory that is available both in print, digital e-book and online. We're here to connect you to a great variety of educational programs, and trip destinations. Whether you are at a school, camp, homeschooling, or a scout group, you'll find creative ways to enhance your day to day learning modality. We hope that this little handy guide will lead your group to taking big leaps outside into the world.
NJ Field Trips & Assemblies Guide is an annual digital and print campaign targeting student groups throughout NJ. The print publications are published twice in the spring and fall, and mailed directly to schools, camp groups, and recreation departments; and distributed widely at events, and to libraries.
Families can flip through for ideas on their own getaways and family trips. It will take you to museums, nature, parks, theaters; you may find yourself in an escape room, amusement park, or a planetarium. With curriculum ideas catering to classroom learning, you may be able to pick up on lesson plans to parent teach in your own way, at your own time.
For more details on these trips, scan through the online Field Trip directory.