Fencing for Kids is Fun
Leading your child on a path to success!
Manhattan Fencing is now opened in New Jersey, with an Englewood location. Don't miss their grand opening promotions and packages available for all ages. The youth program starts as young as age 4 centering on building a strong foundation, teaching life skills such as discipline, dedication, focus, ability to make decisions, and leading them on a path to success.
Kids fencing classes include: Musketeer classes for ages 4-6, Intro Kids packages for ages 7-14, and private lesson packages for ages 14 - 17. High schoolers, college students and adults with no experience can start fencing. Intermediate, advanced and elite classes are available, as well as competition training and USFA tournaments.
Kids can also unleash their fencing potential this summer at their fencing summer day camps, or even their fencing sleepaway camp week in August. Their programs cater to fencers of all levels, from beginners to National and International level trainees, and they will help you find the right camp for your child.
Why should you consider fencing for your child?
Fencing can help gain admission into some of the best universities. Because fencing programs exist at most of the United States' elite universities, a competitive fencer can have a shoe-in for college admissions. Often, athletic scholarships are available for students with a strong fencing background. Schools such as Harvard, Princeton, Yale, and the University of Pennsylvania seek out students with exceptional fencing skills to join their exclusive programs.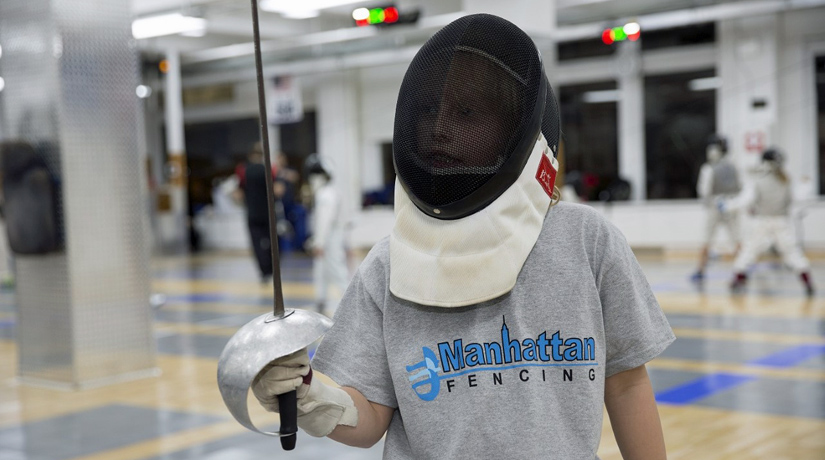 Why Manhattan Fencing?
Manhattan Fencing has been the number one feeder club to these universities. They are proud to announce that 66 of their own athletes went on to compete at highly selective universities including Brown, Cornell, Columbia, Duke, Harvard, Stanford, UPenn, Notre Dame, and Yale between 2015 and 2022. This incredible admissions track record combined with the character-building component of fencing ensures that athletes leave Manhattan Fencing with a well-rounded skill set for success in their future endeavors.
Manhattan Fencing boasts a highly qualified coaching staff who have coached and/or fenced at Olympic and National levels. They are well-versed in the latest pedagogical techniques in the sport of fencing and most have a Masters in Physical Education. Classes and lessons are designed to accommodate students of different ages and skill levels. Instructors teach students fencing footwork, etiquette, blade work, as well as discipline, coordination, and sportsmanship. They also offer Olympic level training for both recreational and competitive students that includes private lessons, group classes, open bouting, camps and tournaments. Opened since 2007, Manhattan Fencing Center has finished with the top national medal count in the country for the last 15 years.
In addition to an impressive record of college admissions and medals, Manhattan Fencing consistently prepares members for the US National Team. Members have also competed in the Cadet, Junior and Senior World Championships and have been participants in the last 5 Olympic games.
Learn more online at www.manhattanfencing.com or call 212.382.2255. Located at 84 Honeck Street, Englewood, NJ 07631.