From time to time, Suburban Mom and NJ Kids like to introduce you to one of our friends – and hopefully together we can learn about some of the great programs offered throughout our state. Today: Quintus McDonald and the Montclair Junior Sports Academy. Read on to see how McDonald, a former NFL player, is working to create a positive experience for kids that will not only teach them the fundamentals of sports but will also keep these kids on the right path in life.
Suburban Mom: Please tell us your full name and title.
Quintus McDonald: My name is Quintus McDonald and I am the Founder and Director of the Montclair Junior Sports Academy.
SM: Why did you decide to run a sports camp?
QM: I was already involved in job development and training for formerly incarcerated men and women. This was a natural progression in working to put an end to Recidivism. The charge to create programs that would help prevent boys and girls from making poor choices that could land them in prison was given to me on December 30, 2010. I thought about what helped me to polish my God given athletic ability to earn a college scholarship and go on to play professional football. This conversation with myself formed the Junior Sports Academy. I see far too much "Specializing" in early athletics today. I believe that exposing children to multiple sports brings out the best in their ability and opens their minds to other possibilities. The Academic portion is very necessary, when statistics show that students who are behind grade level reading by 3rd grade have a significantly higher rate of dropping out. The statistics also show that the vast majority of incarcerated men and women have NOT completed high school…It all made sense at that point, to create the "Academy."
SM: What do you hope to teach children BEYOND sports skills?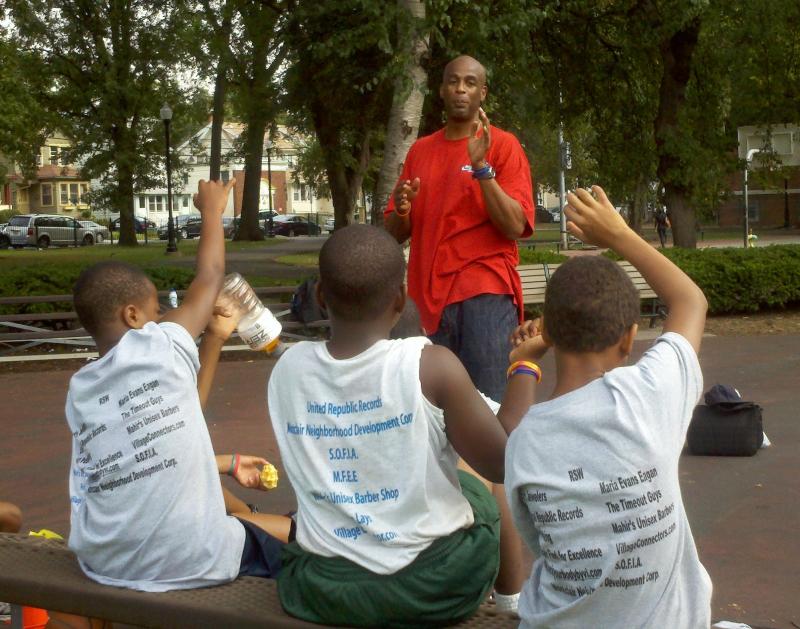 QM: Our greatest goal at the Junior Sports Academy is to help our children understand the importance of making good decisions. Understanding that the choices they make today have direct impact on their tomorrow. There are many children who are exceptional athletes who have very poor social skills. Our goal is to create and build a program that will have Student Athletes wanting to spend their future summers giving back to this program because it was instrumental in helping them achieve their goal of being on summer break from a College or University of their choice. Helping them understand the PROMISE of Delayed Gratification and Altruism are Paramount.
SM: Tell us what type of camp programs Montclair Junior Sports Academy offers?
QM: We have two offerings this summer: August 5-9 will be our "Sports Only" camp and August 12-23 will be our "ACADEMY" Sessions.
SM: Describe a typical camp day.
QM: "Sports Only" camp consists of a Full day of instruction and training in Baseball, Football and, Speed. We offer an opportunity for our campers to swim at a local pool in the afternoon as well. The "Academy" Session will consist of instruction in Track, Basketball, Football and, Baseball. After lunch there will be classroom participation in Character Education, Short Story writing and, Art.
SM: Do you offer special events or special guests?
QM: We offer special events such as live musical appearances and visits to a local Art Gallery. We also have former Professional Athletes come and speak with the students weekly. We are implementing a sports mentoring program by working with the local High School Football players this year.
SM: What age is the camp for?
QM: We are set up for grades 3 through 8, however in the case of younger siblings who want to participate with their brother or sister, we have accommodated them in the past.
SM: Do you have any facilities/programs for special needs children?
QM: We do have facilities for special needs children. We offer breaks in the cost for multiple children from the same family as well as full Scholarship opportunities.