Major upgrades include HyperBowling area, enhanced Go-Kart Track, café, more
One local amusement park is stepping up its game as it adapts to a changing and more competitive entertainment marketplace.
Funplex, one of New Jersey's leading amusement destinations, unveiled a $5 million, upgraded entertainment space during "Media Day" at its East Hanover location. Included is a 37,000-square-foot expansion with its upscale, boardwalk theme, as well as the first location in the state to offer interactive, Qubica-manufactured HyperBowling – with 20 lanes, including a six-lane, private suite. The new Funplex
bowling section also features projection screens, a new lightshow, sound system, and waitress service. In addition, there's an upgraded and reconfigured Funplex Go-Kart Track.
With a second location in Mount Laurel, NJ, the Funplex serves guests in both the northern and southern halves of the state. The $5 million investment in the East Hanover center is part of an overall $20 million investment Funplex made in both locations during the past four years, including new rides, restaurants, general site improvements, and two of New Jersey's largest outdoor water parks.
"Funplex is committed to being the premier family entertainment venue, which is why we've invested $5 million to improve this already-terrific facility," says Brian Williams, Funplex CEO. "These upgrades have made Funplex even more fun. I'm confident that everyone who visits us will be delighted with the enhancements, and will reaffirm this location as one of the state's top amusement destinations."
While visiting Funplex, guests also may enjoy a selection of new food and beverage offerings at the Boardwalk Café, including new appetizer platters for the bowling area, flavor infused milkshakes, funnel cakes, and other Boardwalk favorites. The new Mezzanine area offers a complete view of the Boardwalk, with seats for up to 75 guests.
"We expect to greatly expand our demographic reach now that renovations are complete," Williams explains. "In addition to families, our facility now appeals to high school and college students, as well as to adults."
Upgrades to the East Hanover location also include the global debut of the "Reverse Time" ride and a new "Drop and Twist" ride.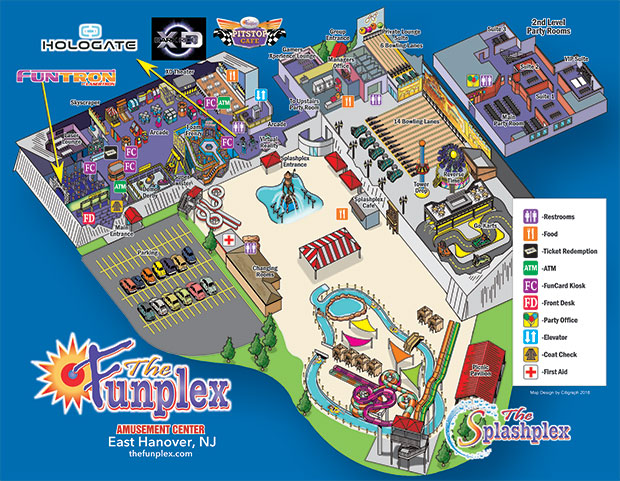 About Funplex
The Funplex entertainment center in East Hanover, NJ offers more than 100,000 square feet of activities and is the go-to venue for corporate events, parties, or simply a day of family fun. Highlights include laser tag, arcade games, bowling, a water park, and attractions for everyone. Another Funplex entertainment center is located in Mount Laurel, NJ. Additional details are available by visiting www.thefunplex.com.