Look what's coming! Your child can now go to camp in person at Explorations On-Site Camp.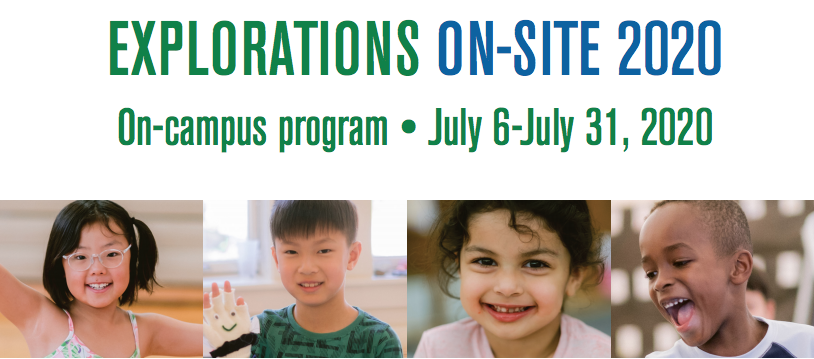 If you're up North in Bergen County, check out Summer Explorations Summer Camp of The Elisabeth Morrow School (EMS). They are now offering ON-SITE CAMP in Englewood, NJ. Explorations On-Site 2020 will take place starting July 6-31. They will be launching an all new 2 two-week camp session with specialty programs ranging from art, nature explorations, fitness, drama, to filmmaking, STEAM and more! Let them have FUN at camp this summer! This will be open to all EMS and non-EMS students who completed Kindergarten through Grade 6.
"We are pleased to have certified teachers leading small cohort groups in programming on our beautiful 14 acre wooded campus with plenty of outdoor and indoor learning spaces". Camp is all day from 8:30 a.m. to 3:00 p.m. This two-week specialty program will also have two RN's on site all day. With both outside learning on a beautiful campus, with plenty of air-conditioned inside classroom spaces, campers will have the option to choose from a wide variety of programs. The best part of Explorations Camp is that they offer a unique blend of camp and school, and campers decide. Let your child discover new interests, stretch their imaginations and develop important intellectual, social and physical skills.
How are they handling the new COVID19 guidelines?
All staff and students will be required to follow required social distancing rules and practices, including daily health checks and wearing of masks where and when appropriate. Students will be using the outside spaces on our beautiful 14-acre campus as much as possible, weather permitting, but generous inside classroom spaces will also be available. Lunches must be brought from home each day. Daily individually wrapped snacks will be provided. There will be no before and after-care services will be provided. Download their brochure to read their COVID-19 policies. Due to NJ regulations, the number of students allowed on site will be limited. Therefore, don't delay reserving your spot!
How to Register?
Register online at: https://www.elisabethmorrow.org/programs/summer-programming. For questions, contact Liza Hards, Director of Auxiliary Programs at lhards@elisabethmorrow.org or call 201.568.5566 x7333.
Download the brochure for a more detailed schedule for both sessions, as well as COVID-19 Policies: https://www.elisabethmorrow.org/uploaded/EMS_Explorations_ON_SITE_Info_Packet_2020.pdf?1592242207533