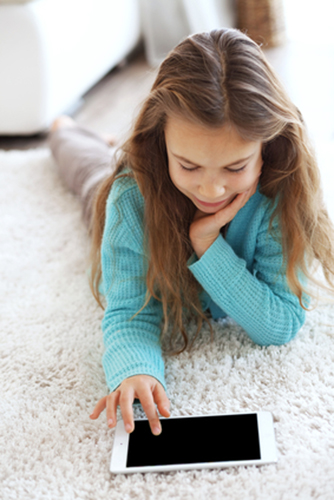 Famed author Isaac Asimov claims, "Self-education is, I firmly believe, the only kind of education there is." Today, the most convenient means of educating oneself is through technology. As much as teachers and parents may want to fight it, technology has crowded its way into the classroom and the home. Smartphones, iPads and tablets are now a way of life. Rather than battle the torrential current of progress, many parents and educators have found ways to work with technology to foster optimal child learning. There are an array of educational apps available for download for mobile devices that promote adolescent scholarship, self learning and fun all at the same time.
Math Easy HD
For students ages four to six, Math Easy HD offers 10 math-based puzzles that incorporate simple activities like counting games and connect-the-dots. This app is ideal for transitioning your child from simple counting to actual arithmetic. It focuses on numbers zero through 20, and teaches kids how to count, distinguish odd and even numbers, add and subtract and even multiply numbers two through five. It is available from the iTunes store for $1.99.
ABCmouse.com
ABCmouse allows kids to take a virtual field trip to the zoo. The interactive environment app teaches young scholars about different animals and their proper names, habits and habitats. It has your child take quizzes throughout the activity, which allows parents to measure their child's comprehension. It is an ideal learning tool for children interested in biology and animals. This online tool is for kids ages two to six.
KidQuest
KidQuest provides eager self-learners hands-on activities that are as fun as they are educational. Children can delve into different projects and practice following directions and processes. It promotes creativity through building, painting and crafting as well as science experiments, nature exploration, healthy eating and educational games. It is available for iOS and Android.
Ultimate Dinopedia
Ultimate Dinopedia: The Most Complete Dinosaur Reference Ever is the perfect app for students fascinated by anything and everything Jurrasic. This app boasts a gallery of over 700 dinosaurs, which are illustrated and compared by size. It also offers interesting facts and audio clips, which help your kids pronounce each dinosaur's name. Furthermore, there is a dinosaur family tree that charts out the species and their lineages. This app is compatible with iOS and costs $4.99.
Ansel and Clair
Ansel and Clair: Little Green Island is an ecology simulation app that assigns each child an island, which is perfect for students who express interest in conservation and the environment. On each level, the learner must solve an environmental problem that poses a threat to the ecosystem like an oil spill. It also showcases interactive activities and songs to aid in information retention. This app is best suited for children ages six to 12 and costs $1.99 on iOS, Amazon and Android.
As Aristole said, "What we have to learn to do, we learn by doing." With apps like these, your child can learn to do for themselves.