Musical Theater Camp for Kids in Central New Jersey
Join us for the 34th year of our Award-Winning Theater Camp located at the Edison Elks, 375 Old Post Road in Edison NJ. For kids entering 1st grade up to 16 years old, Taubenslag Productions' Theater Camp provides a fun environment where campers learn about all aspects of musical theater with a focus on building confidence and self-esteem. Whether they are trying theater for the first time or already have experience, campers will develop public speaking skills, with imaginative thinking, improvisation, artistic skills, and social skills.
Our full summer 8-week Theater Camp runs from June 26-August 18 with both full-day and half-day options. Or you can also choose by session. Session I: June 26 - July 14 (3 weeks), Session 2: July 17 - August 4 (3 weeks), and Session 3: August 7 – August 18 (2 weeks).
During the first six weeks, campers will produce an elaborate musical production each week. Weeks 7 and 8 are reserved for the annual "Broadway Spectacular." Roles are provided for all campers in all shows. We also offer two additional Teen Programs: "Tech" for campers 12 to 16 years old to function as the stage crew; painting scenery, organizing props, and assisting with costuming. And "Teen Scenes" for 8th, 9th &10th graders where they prepare a special teen production performed at the end of each session. For 2023 we bringing back 2 performances every Friday morning under our fully air-conditioned Big Top Performance Tent. All shows are open to the public with tickets sold on performance days.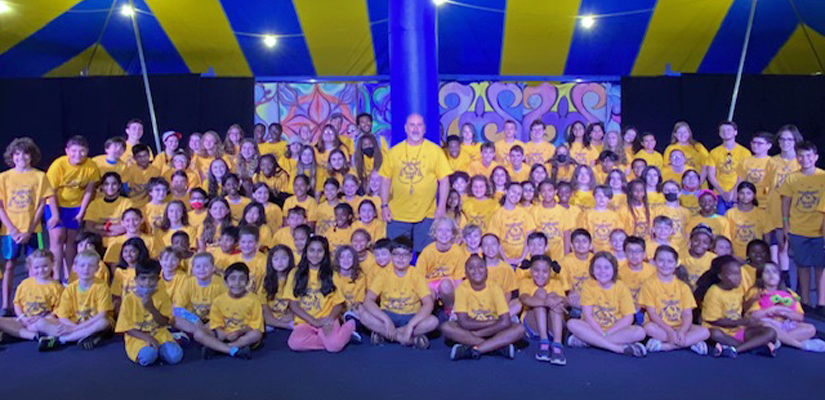 And Theater Camp is more than just theater! After morning rehearsals, afternoons are filled with tons of fun activities, including swimming every day, relay races, four square, ping pong, volleyball, theatrical workshops, and more. Each Friday there's also a cast party complete with music, dancing, and contests with prizes.
We are also bringing back our annual field trip to Broadway! All full-day campers in Session 3 will be going to see Back to the Future starring NJ native, Tony Award winner and former Taubenslag Productions' Actor, Roger Bart! Roger will also be doing a talk-back after the show exclusively for our Theater Camp! Tickets are limited so be sure to register quickly.
We offer an early bird discount before April 1st plus sibling discounts. See why we've been honored by the NJ Senate, General Assembly, and Middlesex County Freeholders for artistic excellence and over 25+ years of service to children. For more information visit our website or call us at (732)422-7071. Register online: www.theatercamp.net
NOTE: Taubenslag Productions' Theater Camp is no longer affiliated with Middlesex County College. We moved in 2021 to a new location at the Edison Elks, 375 Old Post Road, Edison NJ 08817.