NJ Kids Camp Fairs 2023-Bergen Town Center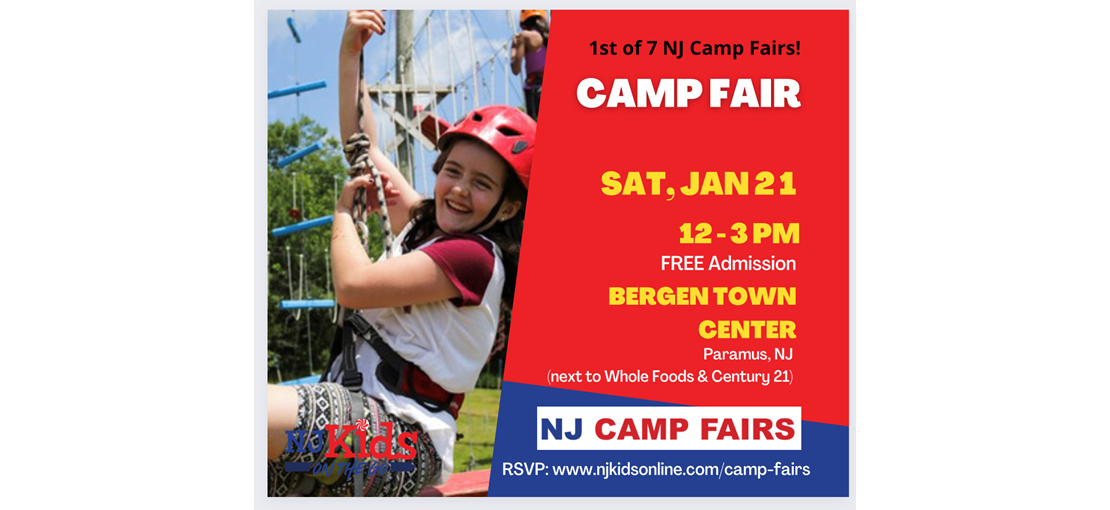 Free to the Community: Explore Summer Camps for Kids at NJ CAMP FAIRS 2023
The CAMP FAIRS return! Don't miss this free opportunity for families to explore summer camps and programs for your child. Select from all sorts of camps: sleep away, traditional day, and those that specialize in sports, adventure, travel, academic, STEM, art, robotics, precollege, performing arts, and nature. Will it be a full summer away in the woods, a month traveling, a 4-, 2- or weekly camp, a general camp that offers many activities or one focused on learning a new skill?
There will be 7 camp fairs throughout NJ (Livingston, Montclair, Summit, Paramus, Ridgewood, Lawrenceville/Princeton, and Edison). All fairs run from 12-3pm. For kids Pre K through High School. Different camps will be at each fair. Come to them all and bring your kids!
This free educational resource guarantees you face to face meetings with high quality camps from various locations all under one roof. Camps will be hiring counselors too! For over 38 years, the NJ Camp Fairs and the American Camp Association, a non-profit organization, has been connecting kids to great camps. Please RSVP www.njkidsonline.com/camp-fairs to let us know you're coming and you'll receive a free gift at the fair.