BLOCK PARTY WITH THE OCTONAUTS at CHERRY HILL MALL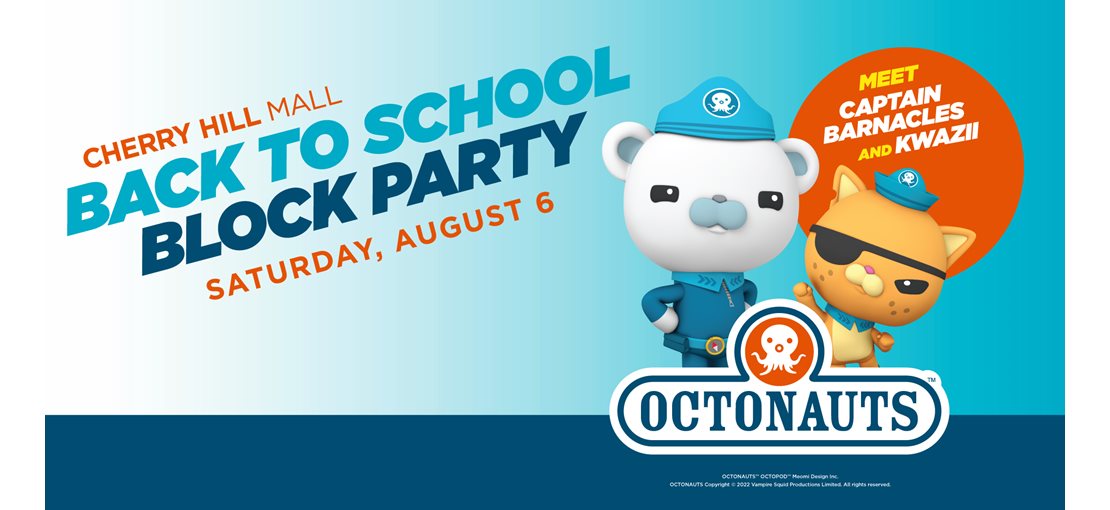 Saturday, August 6 • 11 am to 3 pm.
Take a break from shopping and join the fun in Grand Court at our Back to School Block Party, featuring a meet & greet with Captian Barnacles and Kwazii from the television series The Octonauts, as they explore the ocean in search of adventure and fun! Don't miss the opportunity to meet the underwater duo as they explore, rescue, and protect!
Additional entertainment at the event:
Stilt Walker, Magician, Juggler, Face Painter & Balloon Artist
Carnival games
Sing along and dance to a live DJ
Make an ocean-themed craft
Farm Friends
Marine Mammal Stranding Center
Center for Family Services
and more!
Octonauts appearances are every 30 minutes.
Meet and Greet Times: 11:15-11:45, 12:15-12:45, 1:15-1:45 and 2:15-2:45.
Reserve your tickets now!
Tickets are required to attend the event.
OCTONAUTS™ OCTOPOD™ Meomi Design Inc. OCTONAUTS Copyright © 2022 Vampire Squid Productions Limited. All rights reserved.