A Comedy in One Act at West Laurel Hill on Saturday, May 22, 2021 at West Laurel Hill Cemetery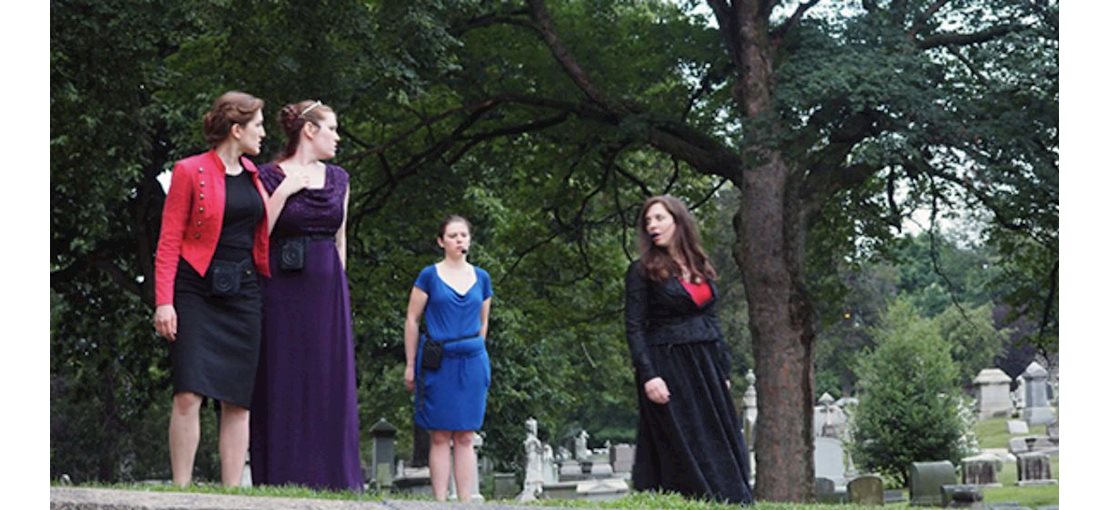 Visit Juliet's garden, (on the lawn at West Laurel Hill), to watch the fun that unfolds when six of Shakespeare's heroines get together to discuss the universal topic—love. Juliet, newly smitten with Romeo, is visited by 5 well-known ladies of the Bard's imagination as they convene to enlighten her on the best method of conducting a romance. But just who exactly among them really needs to hear these lessons on love? Join us for this unique outdoor performance and find out!
Stop and meet Shakespeare's Ladies as you stroll past them and then find your perfect spot to watch this entertaining and funny show. Bring your own blankets or beach chairs for this outdoor play!
When Shakespeare's Ladies Meet was written by Charles George and directed by Mariangela Saavedra. The play stars an all-female cast including Katherine Bianco, Sarah Heddins, Angel James, Stephanie C Kernisan, Neena Boyle, and Teresa Nutter.
_
This evening play will take place on Saturday, May 22, 2021, at 6:00 pm, 7:00 pm, and 8:00 pm with a scheduled rain date of Sunday, May 23. Staff will start checking in ticket holders at 5:30 pm at the West Laurel Hill Cemetery's Conservatory. The Conservatory is located in the middle of West Laurel Hill and has parking spaces. If you are entering West Laurel Hill Cemetery from Belmont Avenue there are white lines on the road that take you from the Funeral Home to the Conservatory.
Tickets must be purchased in advance.
Ticket pricing is $20/General Admission, $18/Seniors (65 and Up), $18/Students with ID, $15/Members, $10/Youth (6-12), and $0/Child (5 and Under). Please note - youth and children must be accompanied by an adult.