NJ'S BIGGEST SUMMER CAMP FAIR 2021 - Live Streamed to Your Home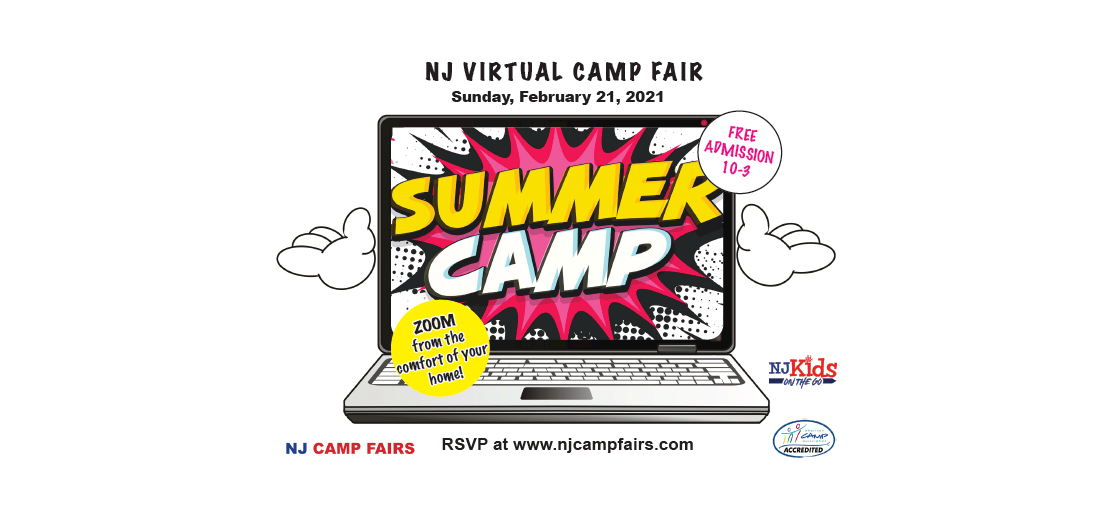 Join the Virtual Summer Camp Fair on February 21st!
Meet camp directors virtually on Sunday, Feb 21 from 10 - 3PM and from the comfort of your home! RSVP @ www.njcampfairs.com. Free admission to the community. For 2021, NJ Camp Fairs, along with the American Camp Association, will have an exciting lineup of over 50 summer camps to choose from.
This day will be a FREE educational resource, guaranteed to give you LIVE face to face meetings with high quality camps. Our fair will get you in front of many types of camp opportunities all in one day, and from the convenience of your home. You'll find local New Jersey camps as well as camps from the surrounding Northeast region (PA, NY, CT) and travel camps beyond, from sleep away camps, traditional day camps, or specialty camps...from sports, adventure, travel, community service, academic, art, robotics, college prep, performing arts, to language....
WHAT TO EXPECT:
Upon registration, you will receive a "free" ticket to enter the fair online on February 21 (no special skills required). With access to a computer with mic and camera, wifi, and with coffee or tea in hand, expect to:

● enter the event "virtually" on February 21 @ 10am
● search camps on the expo floor and pop into camp booths
● JOIN LIVE MEETING with camp directors and staff, Live face to face.
● watch Camp In Action Videos
● download information and even apply for camp
● learn about open houses, camp promotions, early bird discounts
● ask questions and live chat

Start planning for an amazing summer 2021!
RSVP for free ticket: https://www.accelevents.com/e/NJCampFair2021