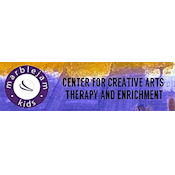 CREATIVITY - MOTIVATION - EMPOWERMENT - COMMUNITY - LIFE LONG SUPPORT
The center for creative arts therapy provides options for children, youth, individuals and their families through therapeutically supported arts programs. MarbleJam Kids provides children with special needs of all ages, options to thrive as individuals and socially utilized customized approaches that meet the array of challenges they present. Creative Arts Therapists work with children and adults with mental health conditions and assist with individuals who have struggled with trauma, loss, and other experiences.
Programs are designed or selected to provide appropriate interventions for a child, youth, adult, or family.
Creative arts therapies allow the individual to express, share, and practice skills in a safe & confidential space either privately or in group settings. MarbleJam Kids also provide private therapy for children, adults, and families.
Creative Arts Therapy can help...
Social Skills - Speech and Communication - Behavior Modification - Sensory Integration - Physical Strength/Agility/Coordination
Confidence/Assertiveness - Cognition - Coping Skills - Self Discovery