NJPAC Summer Programs 2019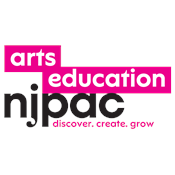 Spend Your Summer at NJPAC!
Immerse yourself in the arts. Strengthen your skills, cultivate your passion.
NJPAC is excited to announce our 2018 Arts Education Summer Programs featuring a wide range of opportunities to inspire your creativity.
Ranging from two to five weeks, most programs take place Monday through Friday from 9am to 3:30pm at NJPAC's Center for Arts Education - 24 Rector Street, Newark, NJ 07102.
To enroll now or for more information, call 973-353-7058 or email artseducation@njpac.org. Financial aid available! Click here for scholarship information.
young artist summer intensive
Dance • Devised Theater • Musical Theater
NJPAC faculty members provide a positive and nurturing learning environment for students to develop their inner artist. Every division of the Young Artist Summer Intensive builds skills in the performing arts and gives students the opportunity to express themselves and create.
Apprentice Division
Ages: 10 - 16
Session One: July 1 - 12
Session Two: July 15 - July 26
Times: 9AM - 3:30PM
Tuition: $650 per session
Apprentice is an introductory program in which young artists with little or no experience explore voice, dance and devised theater.
Artisan Division**
Ages: 12 - 16
Dates: July 1 - July 26
Times: 9AM - 3:30PM
Tuition: $1,100
In Artisan, emerging artists study voice, dance and devised theater and begin to develop a performing arts portfolio.
Advanced Division**
Ages: 12 - 18
Dates: June 24 - July 26
Times: 9AM - 4PM
Tuition: $1,250
In the Advanced program, students dedicated to the performing arts, hone skills and build self-confidence in one discipline: dance, devised theater or musical theater.
**Audition required. Audition dates are March 16, 2018 and April 27, 2018. Students must be registered in order to audition.
all-female jazz residency
Regina Carter, Artistic Director
Young women find inspiration and build community in this one-week jazz immersion program. Students refine their instrumental or vocal skills and work side-by-side with respected jazz musicians. The program includes individual lessons, small ensemble work, industry panel discussions, and field trips to landmark jazz institutions before culminating in a student showcase.
OVERNIGHT RESIDENCY
AT RUTGERS UNIVERSITY-NEWARK
Ages: 14 - 26
Dates: July 7 - 13
Tuition: $1,400
hip hop intensive
As a community, students discover how to reimagine their world and express themselves using fundamental hip-hop cultural practices and artmaking. Students learn beatmaking (DJ, production, beatboxing); movement (break dance, classic hip-hop dance, today's trends and choreography); MCing (rap and spoken word), and visual arts (graffiti, wearable art and mural design) from ambassadors, entertainers and preservers of the culture!
Ages: 10 - 18
Dates: June 24 - July 19
Times: 9AM - 3:30PM
Tuition: $700