NJPAC Summer Performing Arts Programs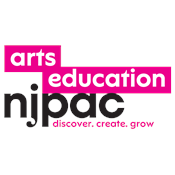 SUMMER 2020
At home virtual arts training experience with NJ PAC's accomplished faculty. Programs are available in acting/devised theater, dance, hip hop, arts & culture, musical theater and jazz.
Morning or afternoon sessions are available starting at $50. Keep your young artist creating at home this summer.
_________________________________________________________________
Spend Your Summer at NJPAC's Performing Arts Camp in Newark, NJ.
Every Child is a Work of Art!
When you give kids the arts, you give them the world. NJPAC provides transformative creative experiences for students age 10–18, from beginner workshops to pre-professional intensives. See how an NJPAC summer education can propel you to the next level.
Ranging from two to five weeks, most programs take place Monday through Friday from 9am to 3:30pm at NJPAC's Center for Arts Education - 24 Rector Street, Newark, NJ 07102.
To enroll now or for more information, call 973-353-7058 or email artseducation@njpac.org. Financial aid available!
Young Artist Summer Intensive
NJPAC faculty provides a positive and nurturing learning environment for you to develop your inner artist. With three levels to choose from, NJPAC's Young Artist Summer Intensive has something for everyone, no matter your experience or background. Each level builds new skills and will give you new opportunities to express yourself creatively.
Level 1 Acting • Dancing • Singing Summer Camps
An introductory program that samples all three disciplines for young artists with little or no experience.
Ages: 10–16
Session One: July 6–17
Session Two: July 20–31
Time: 9AM–3:30PM
Tuition: $650 per session
Level 2* Acting • Dancing • Singing Summer Camps
Emerging artists with some experience begin to develop a performing arts portfolio in all three disciplines. Audition required.
Ages: 10–16
Dates: July 6–31
Time: 9AM-3:30PM
Tuition: $1,100
Level 3* Choose your discipline: Acting, Dance or Musical Theater Summer Programs
Students with experience hone their skills and build self confidence in their chosen discipline. Level 3 culminates with a performance on the NJPAC Victoria Stage.
Advanced Acting: Led by NJPAC Faculty of professional actors, students will create and act in an original piece of theater.
Advanced Dance: Led by dancers from Carolyn Dorfman Dance Company, students will learn professional choreography as well as create their own.
Advanced Musical Theater: Led by NJPAC Faculty of professional performers, students help create and perform an original musical.
Ages: 12–18
Dates: June 29–July 31
Time: 9AM–4PM
Tuition: $1,250
*Audition dates are January 25 and March 21 at the NJPAC Center for Arts Education.
Video audition accepted. In person audition preferred and given preference.
For more information about audition requirements, call 973.353.7058 or email artseducation@njpac.org
Geri Allen Jazz Summer Camp
Regina Carter, Artistic Director
This one-week immersion program at the Rutgers-Newark Campus is an exciting opportunity for you to refine your jazz technique, grow your confidence and build community with other aspiring young women. You'll work side by side with professional jazz artists in individual lessons, small ensemble work and industry panel discussions. You'll also take day trips to landmark jazz institutions and showcase what you've learned in a final performance.
Overnight Residency at Rutgers University-Newark
Ages: 14 – 26
Dates: Jul 5 – 11
Tuition for on-campus residents: $1,400
Tuition for off-campus residents: $1,050
Hip Hop Intensive Summer Camp
Spend your summer expressing yourself through Hip Hop culture and art. Build skills and techniques with a faculty of professional Hip Hop ambassadors and entertainers. You will learn:
Beatmaking: DJ, Production, Beatboxing
Movement: Breakin/Classic Hip Hop Dance, Today's Trends and Choreography
Emcee'in/Rap: Lyric Writing, Spoken Word Poetry, Recording and Performance
Visual Arts: Graffiti, Wearable Art and Mural Design
Ages: 10 - 18
Dates: June 24 - July 19
Times: 9AM - 3:30PM
Tuition: $700