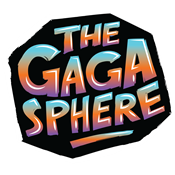 Gaga Mania! The Craze Has Hit Bergen County!
It's no surprise that The Gagasphere in Waldwick, NJ was voted "Best Birthday Party" in 201 Family and "Best Kid's Party Place" in Bergen Magazine. Gaga Ball parties appeal to all ages and will be the talk of your child's circle of friends. For busy parents, you'll be pleased to know that the staff at The Gagasphere will work with you to customize the perfect party for your child that will exceed expectations and be a stress-free experience for you!
The Gaga Party, Gaga Plus Party or even the Gaga Disco Party are fun-filled extravaganzas that you just won't find at other Bergen County area party venues. But what exactly is Gaga? Gaga is an incredibly fun and gentler form of dodgeball that does not require any special athletic skill or experience! Players start in a "pit", an octagon shaped court, hitting and rolling the ball with their hand to eliminate other players. When players are hit below the waist, they are out – but players can always re-enter the game by catching a ball from the sidelines. The Gagasphere birthday parties are fast-moving, high-energy, healthy and fun celebrations for children of all ages (and parents too!) that keep everyone active and engaged. When you book your party at The Gagasphere, you'll have the entire facility to yourself! Party package options feature a Gaga pro to teach and manage the game, pizza, paper goods, party favors, birthday cake and more. Click here to view The Gagasphere birthday party packages and pricing.
The Gagasphere is located a short distance from Routes 4, 17, 208 and 287 at 140 Franklin Turnpike, Waldwick, New Jersey. For more information, call 201-445-2546 or visit thegagasphere.com.