Little Ivy Academy: Real Summer Discovery, Real Camp Fun!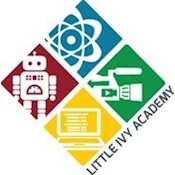 Welcome to Little Ivy Academy Summer Camps
For Campers Entering 1st - 8th grade
Real Summer Discovery, Real Camp Fun Starts Here! For Campers Ages 6-14. This summer your child can have a camp experience like no other when they join us for our all-new, limited-enrollment 2020 summer camp programs. Below are summer camp offerings:
Discover RealScience! & Express Yourself!
For Campers Entering Grades 3-5 & 6-8
Your camper can actively engage in both the Real Discovery of awesome STEM/STEAM-based projects (from beginner to advanced) & the Real Fun of traditional day camp activities– all with a 21st-Century twist-- when they. . .
Build, Program & Launch sensor-driven, mobile LEGO Robotic athletes that battle for Summer Olympics glory.
Develop & Code an amazing array of fruit stomping, space-blasting arcade Video Games.


Craft & Produce Digital Stop Animation Videos with modern action heroes, princes & princesses, or a mash-up of both.


Invent, Code & Fashion awesome, wearable electronic creations.
Create & Deploy high-tech, 21st Century Spycraft on missions to root out the chaos-causing F.O.E. syndicate.
Design & Code Mobile Apps with a purpose, whether it's to Protect the Penguins, Fund their Team Trip or whatever else inspires them to inspire their friends.
Program & Promote their own online business, from marketing to creating & coding their own attention-grabbing e-commerce websites.
Teach Their Computer a Think or 2, play games with them, answer chatbot questions, & more with the basics of creating & coding artificial intelligence!
... and more with plenty of time for a mix of modern & traditional outdoor & indoor games, crafts & other camp activities, too!
Summer Explorers: Freedom to Discover!
For Campers Entering Grades 1 & 2
Your campers will have nine new & unique, one-week Summer Explorers Adventures in store for the 2020 summer camp season where their imaginations will take them to see the sights and explore the cultures of destinations far and near with opportunities to also engage in hands-on, STEAM-based (Science, Technology, Engineering, Arts & Math) and Arts-based enrichment projects (from beginner to advanced) where they'll. . .
Invent, Construct & Play flashing, beeping electronic Boardwalk-style carnival amusements, building & coding with the littleBits electronic invention systems when We're Down the Shore!
Build & Program sensor-driven LEGO Robots to field their very own team of Olympics athletes at Olympics Adventure: Game's On! . . . a zoo-full of mammals, reptiles & birds for Destination: Animal Planet . . . and a rugged space rover during our Mission to Mars!


Create & Code their own animated World Music Dance Party where they can make characters dance, jump and spin to dance music from around the world and an interactive Travel Diary as they explore Europe, all with the age-appropriate Scratch, Jr programming language.
Design & Build full-size outdoor shelters, create & cook with a solar oven and capture water from the summer air, too during Survivor: Lost in Africa!


Craft & Launch awesome digital Spy Gadgets, simple machines with pulleys, levers & wheels and mini-catapults, too, while on the trail of an international ring of pyramid raiders!
. . . and more. . . with plenty of time for water play, crafts and other traditional summer day camp activities.
Extended Day:
You can extend your child's camp day, too with our CarePass program! Pre-camp mornings starting at 7:30 am & after-camp until 6 pm.
Locations:
Throughout the summer, we'll be conveniently located at Camp LIA in Ridgewood, NJ our Montclair Campus @ Grace Pres and our Pascack Valley, NJ/ Rockland County, NY Campus in Montvale, NJ!