Language and Enrichment Center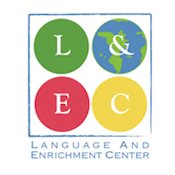 SUMMER 2020 At THE LANGUAGE AND ENRICHMENT CENTER
Let's Play in Italian Online Summer Camp will inspire your child to enhance their creativity, learn new Italian vocabulary, utilize their motor skills and make new friends all from the comfort of your home. We offer lessons that bring together our most popular Little Sprout, Arts and Crafts and Mad Science activities to focus on the most exciting learning experience in our online summer camp! This is one of our favorite times of the year! Easy to follow, 9-weeks of awesomeness, playful and hands-on activities.
Whenever you go, we go!
Classes will be on Tuesdays, Wednesdays and Thursdays. June 30 - August 27th.
_________________________________________________________________________________
Preschool/Kindergarten
For years, Let's Play in Italian program at the Language and Enrichment Center has been committed to provide a well-rounded education for children with many interactive and creative activities. We foster and encourage a strong belief of independence and respect for others. This program will allow children ages 2½ to 5 years old to embrace the Italian culture while learning:
Math
Science
Early reading and writing skills
Art
Gardening
Music
Pottery
All with the help of supportive and patient native Italian teachers. The classes are 5 days a week, and the program is divided into different class levels based on age and skill, similar to a Montessori style of learning. Students will have the option to attend 2, 3, or 5 days per week! We believe that each child is unique and has an individual learning strength that we use to our advantage in our small classroom environment.
Tumble & Jam Play Gym
Come play in our indoor sensory gym! Our Tumble & Jam Play Gym program allows your child to build communication skills while helping strengthen and further develop fine motor and coordination skills. Enjoy open play in our sensory gym which includes a rock climbing wall, ball pit, club house, and more! Schedule play dates and interact with other children and parents!
Summer Camp
The Language and Enrichment Center offers a flexible Summer Camp program allowing you to choose the days and times around your busy Summer schedule!
We offer an organic gardening program, cooking and baking, science, and pottery! In Little Sprouts, children learn about organic gardening as they prepare and plant in our summertime garden! In Mangia, Mangia our young chefs develop cooking skills such as kitchen safety, food preparation, recipes, baking techniques, and more!
During Mad Science children become junior scientists and embark on exciting science adventures! In Pompeii Pottery children work with different varieties of clay and dough to create their very own masterpieces!
Mommy & Me
Mommy & Me is a fun interactive class for parents and babies (6 months - 2.5 years) to learn basic Italian through music, games, puppet shows, and story telling!
After School Enrichments
The Language and Enrichment Center offers various after school enrichments such as, Italian lessons for children 3.5 and up! We also offer Mad Science and Mangia Mangia during the school year.