The Bounce Factory-Field Trip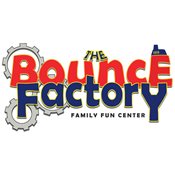 STEM Fun Field Trips
The Bounce Factory, Bricks 4 Kidz and Team Makers have combined to create a unique and exciting Field Trip for students in grades 1 st – 6th. It integrates STEM learning with fun, handson activities that will focus on Science, Engineering and Math concepts.
The students will:
∙ build motorized models with LEGO® bricks and discuss engineering and
physics principals
∙ enter the Bounce room for activities that will set in motion discussions of how
physics impacts their play
∙ learn about Math and Science then do fun teambuilding activities that build
their skills and promote working together
∙ learn strategy and the power of collaboration while playing laser tag in a state
of the art facility
The 2.5 to 4 hour field trip ends with discussion and quizzes on what they have learned.
STEM Fun Field Trips is the combination of three impactful companies, who have partnered to
bring a unique and exciting event that is educational as well as a very fun experience that
participants will not forget.
The Bounce Factory
The Bounce Factory is a unique family fun center located in Central New Jersey with two rooms
of giant inflatables including our infamous "velcro wall". There is plenty of learning to be done in
these rooms. Students will be taught valuable physics lessons while getting their daily exercise.
Worksheets will go home with each class to be discussed with the teacher the next day.
Children and staff will love our two story state of the art laser tag arena. Leadership and team
building will be the focus while enjoying the most advanced technology offered in the state.
The Bounce Factory proudly encourages special needs families and organizations to come for a
field trip or plan a special event.
Team Makers of North Jersey
Team Makers of North Jersey offers fun experiences that equip students with the skills needed
for success in life. With a methodology built on a "learning by doing" philosophy, students
develop interpersonal skills through engaging, handson
activities and meaningful reflection.
While doing the activities, the students work cooperatively and learn the importance of their
individual work as part of a team.
Engage in meaningful and fun experiences.
Unite to foster positive and peaceful communities.
Enable by developing life skills and selfconfidence.
Empower to make a difference
Bricks 4 Kidz of HunterdonSomerset
Bricks 4 Kidz offers enrichment programs that use building with LEGO®
bricks to promote S.T.E.M. learning. Combining proprietary model plans and lesson plans
developed by educators, a Bricks 4 Kid® program is designed to
∙ develop critical thinking skills
∙ encourage collaboration
∙ stimulate creativity
Whether working with Duplo bricks, motorized tech models or Mindstorm™ EV3 Robotics,
Bricks 4 Kidz® programs emphasize that learning can be fun. This is why our motto is: We
Learn, We Build, We Play.