Campus Kids Weekday Sleep-Away Camp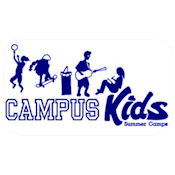 CAMPUS KIDS
Camp located on the campus of Blair Academy in Blairstown, NJ.Camp office mailing address Campus Kids, PO Box 8, Madison, NJ 07940.
Campus Kids has many unique features, but we are best known for being "the weekday sleep-away camp". Started in 1991, we offer the best of both worlds: Monday to Friday at camp and home with the family on weekends.Transportation is included.
Campus Kids picks up campers at area meeting points on Monday mornings. The camp buses (air conditioned coach buses with bathrooms and camp counselors on board) arrive in camp between 9:30 and 10:00 AM. After a fun-filled week of camp, campers board the buses again late Friday afternoon and are home with their families by supper time. Campers can sign up for sessions that are 2 weeks or longer.
WEEKDAY SLEEPAWAY CAMP
We are just like a "regular" sleep-away camp: bunk groups, a wide variety of activities, terrific evening programs, shows and special events. Campers become more independent and learn about making new friends and getting along with all sorts of people. They form deep friendships. Their counselors are excellent role models who have a significant positive impact on their campers' lives.
The rural campus of Blair Academy is beautiful. We have awesome sports, fine arts and performing arts facilities and comfortable dorms.
ACTIVITIES
Campus Kids offers a wide variety of activities, but the best part of our activity program is that EVERY CAMPER CHOOSES HIS/HER OWN ACTIVITIES EVERY DAY! We call it "Camper Choice" programming and it lets you easily try out new activities and spend more time in the activities you like best and want to learn to do better.
Campers can make up a new schedule every day! You'll never get stuck for days in something you don't like so you don't have to be afraid to try something new!
You can concentrate in sports, fine arts, performing arts, swimming, nature, or you can choose any combination of activities! Most of our campers like to have a variety of activities.
Activities include but are not limited to, the following. Visit our website for a full description of our programs: www.campuskids.com .
Archery • Tennis • Swimming Lessons • Free Swim • Squash • Soccer • Basketball • Gymnastics • Fencing • Volleyball • Jogging • Touch Football • Fitness Center • Slackline • Yoga • Softball • Lacrosse • Games • Ultimate Frisbee • Arts & Crafts • Ceramics • Drawing • Painting • Golf • Skate Boarding • Long Boarding • Field Hockey • Kickball • Photography • Martial Arts • Creative Writing • Camp • Newspaper • Tournaments • Guitar & Ukulele • Drums • Drama • Dance • Socials • Hiking • Nature • Fishing • Chess • Rocketry • Theme Days • Campfires • Special Events: such as Carnival, Olympics, Waterworld, CampStock