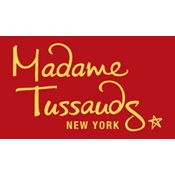 There's so much to see and do at Madame Tussauds!
The Experience
There's so much to see and do at Madame Tussauds New York! Get up close and personal with over 200 life-like wax figures of the biggest stars and icons in entertainment, sports, history and more. Mingle with movie stars in your own A-list party before getting on stage with your favorite pop star. Address the world alongside famous leaders and then challenge legendary athletes on the court. Don't miss the Marvel Super Heroes Cinema 4D Experience, a short film with thrilling special effects that make you 'feel" like part of the action.

Located in the heart of Times Square, no visit to NYC is complete until you've experienced the world famous Madame Tussauds.
Ghostbusters Experience
The Ghostbusters Experience is a multi-layered and sensor environment immersing you into a fantastical and spirited world, inspired by the 2016 film. From the eerie underground tracks of the NYC subway to the basement of a haunted mansion to Ghostbusters Headquarters to the streets of Times Square, brace yourself for several spooks and even catch a ride on Ecto-2. Armed with insider tips and tricks, you'll eventually be given the chance to capture your own ghosts with the famed spirit hunters!
Culture
Take a lesson from some of the greatest intellectuals in history! Study E=MC2 with Einstein, let Maya Angelou inspire you and explore your abstract side with Salvador Dali. It's your chance to shape history with the greats!
The Gallery
The world's greatest leaders and influential figures await your arrival at The Gallery! Before rewriting history, take a few moments to rub elbows with the historical guests such as George Washington, Princess Diana and Nelson Mandela.
Opening Night Party
Snap! Flash! Get past the sea of cameras and make a grand entrance to the star studded Opening Night Party. Rub shoulders with award winners like Angelina Jolie, George Clooney and more. Get the latest gossip and strike a pose while you mix and mingle with the world's most famous A-list stars.
Film
Lights! Camera! Action! Dazzle alongside Marilyn Monroe, Act as Bruce Willis' stunt double or hope on a bike to take E.T. home. From classic films of the golden age to heart stopping blockbusters, re-enact the cinema's most memorable moments!
TV
Choose your dream role on set with TV's biggest stars! Pose next to Sofia Vergara and unleash your inner comedian as Lucy's sidekick. Report live with Anderson Cooper before getting comfy on Oprah's couch for an in-depth interview. It's primetime to make television history!
Pop Culture
Take a trip down memory lane in Pop Culture! From Michael Jackson to the Spice Girls, there is a star for every generation. Time travel may not be possible, but you can come face to face with the greatest pop culture icons in this chronological journey through the decades.
Marvel Super Heroes - 4D Experience
Step inside the top secret command center to unlock your powers alongside the Hulk, Spider Man, Thor and more. Pass their tests and advance to the thrilling finale, the Marvel Super Heroes Cinema 4D Experience.
Authentic History
Celebrate the extraordinary legacy of Madame Tussaud in an interactive exhibit that uncovers the secrets of her realistic artistry and at time, dark history. Go behind the scenes to learn about the fascinating and complex creation of our lifelike wax figures, using methods that hardly differ from those used by Madam Tussaud herself!
Sports Zone
Score! Challenge Carmelo Anthony on the court, box with Evander Holyfield, pitch to Derek Jeter or call a play with Eli Manning in Sports Zone. See how you measure up to some of the biggest legends in sports history!
Music Zone
Take center stage in the immersive Music Zone. Drop beats with Diddy, belt it out with Katy Perry and go Gaga under the bright lights. Join today's hottest artist for an unforgettable performance in the heart of Times Square!


Trip Duration:
Please allow approximately 1½- 2 hours to visit the attraction.
Hours of Operation:
Open 365 days a year
Sunday – Thursday: 10am – 8pm (last guest ticket taken at 8 PM)
Friday & Saturday: 10am – 10pm (last guest ticket taken at 10 PM)
Summer Hours:
Memorial Day – Labor Day
Sunday- Saturday: 10 AM–10 PM (last guest ticket taken at 10 PM)
Located:
234 West 42nd Street (between 7th and 8th Avenues)
In the Heart of Times Square

For more information, contact us at GroupSales@MadameTussaudsNY.com OR call 866-841-3505.
Website: www.madametussauds.com/new-york