Classic Thyme Cooking School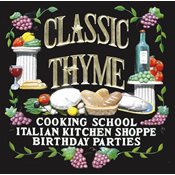 Classic Thyme Cooking School in Westfield, Union County
Bring your school groups, classes, camps, scouts to our cooking school and cook up something fun!
Now in our 20th year, Classic Thyme Cooking School is the area's leading facilitator in culinary programs for students of all ages. Classic Thyme provides custom tailored culinary enrichment programs that will bring new excitement to your students with exciting new cooking classes for kids. Bring your foreign language class to be totally immersed in the cuisine from the country of the language they are studying. We also specialize in programs for adults and children with special needs. Apply all the basic education skills such as math, science, history, geography and language while introducing your students to a true cultural experience. Check out our website for full details of our newly released challenge classes as well as regular and intensive summer camp programs.
Cooking Classes, Kids Birthday Parties, Cooking Challenge Party, Sweet Sixteen Parties, Private Cooking Parties, Culinary Team Building, Summer Cooking Camps
About Us
David P. Martone welcomes you to Classic Thyme Cooking School. He is the Owner and Executive Chef and opened the school in 1995. Here at Classic Thyme we have created a warm and inviting atmosphere fashioned on the concept of a rustic cottage in Tuscany. Students can select from a wide diversity of classes from Culinary Basics to Advanced Cake Decorating. We offer themed classes on anything from Italian Boot Camps, Knife Skills, Holiday Baking and Couples Classes to making Dim Sum and Seasonal Grilling. Classes are available to all ages through our Children's and Young Adult programs.

Our goal at Classic Thyme is to be a destination "Where cooking is always serious fun." Our instructors are culinary professionals with varied backgrounds and specialties. In addition to our regularly scheduled classes we also provide a unique venue for Birthday Parties, Private Parties and Corporate Cooking Team Building Events. We've hosted wedding showers, bachelor dinners, retirement parties and anniversary parties. We will work with you to develop a customized menu suited to your needs.

Our new building, 'Toscana,' has expanded our cooking school to include two classrooms which allow more flexibility and availability to accommodate more of your needs.

Our website includes recipes and video tutorials for your enjoyment. Visit our Class Calendar to sign up for a class or purchase a Gift Certificate. Our Summer Kids Cooking Camp program is published in early March. We look forward to seeing you in Class!!