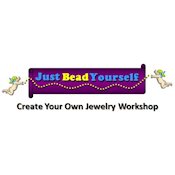 We are a full service bead store where you can design your own jewelry right in our store! We sell beads and supplies and tools. Kids and Adults are welcome to create here or take home your beading supplies.
Walk-ins are WELCOME!
....but please try to call ahead (908-232-3411) so we can best accommodate you. All Ages Welcome ...no beading experience needed...bead specialists available to help you)
Birthday Parties & Special Groups
Every guest leaves wearing a beautiful piece of jewelry they have created themselves!
Summer Bead Camp
Choose from one of our four summer bead camps, running from Tuesday to Thursday, where campers will join in on a differnt activity each day! Beginner camps include "Bead Basics" and "Intro to Wire Jewelry," leading to the more advanced camps "Trendy Leather" and "Earth Spirit" camp! Now with special add on days for "Crystal Kids" on Monday and Friday.
Girl Scouts
We accommodate Brownies and Girl Scout Troops to fulfill badge requirements or just as a fun place to spend your cookie money!
Feather Hair Extensions
From single feathers to multiple feather extensions. They can be washed, curled or straightened....and lasts for months. We can install new feathers and re position existing feathers. Call for an appointment or add on to a birthday party.