Buehler Challenger & Science Center Summer Camp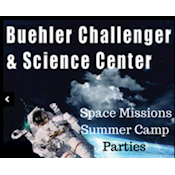 The Buehler Challenger & Science Center is open for 4 weeks of hands on, activities with an emphasis of science as it relates to space. Experienced, certified teachers will facilitate each camp, with very low student to teacher ratio.

The Center is following and exceeding all CDC & State of NJ guidelines including wearing masks, multiple free standing hands-free sanitizer dispensers throughout the Center and less that 20% of occupancy allowed. Daily temperature checks & required health check from the CDC list before each camper is allowed inside. Because of modified occupancy numbers, parents will not be allowed inside the Center.
______________________________________________________________
Take a space adventure at the Buehler Challenger & Science Center's Space Camp.

Campers have the opportunity to use high tech spacecraft simulators to travel to the Moon, Mars and beyond.

Launch rockets, design landers, futuristic cars, Moon and Mars bases, while preparing for their Mission to Space. Camps are available for all age groups beginning with Pre-k through High School.

Campers enjoy pre-flight training and hands on science labs, bringing excitement to science and technology. From Lit-off to landing, campers are challenged, motivated, and inspired, while having a BLAST!