Buehler Challenger & Science Center Summer Camp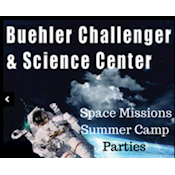 Join us for an out of this world adventure at the Buehler Challenger & Science Center! Our curriculum-based summer camp is for students 4 years old through high school to explore topics in space, science, engineering, math and technology.
Each camp has a different theme and is designed for different age groups. Experienced, certified teachers facilitate each camp.
Campers have the opportunity to use high tech spacecraft simulators to travel to the Moon, Mars and beyond. Activities may include launching rockets, designing landers, building futuristic cars, exploring the night sky and more!
From lift-off to landing, campers are challenged, motivated, and inspired, while having a BLAST!
With safety as our top priority, we are following all appropriate COVID-19 guidelines in accordance with the CDC and NJ Department of Health. Some of our protocols include mandatory mask wearing, free-standing no-touch hand sanitizers, temperature checks with digital thermometers, limited occupancy, plexiglass partitions, additional cleaning and more.