School of Rock Somerville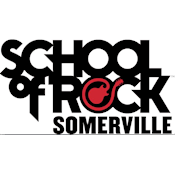 We are now offering our New Customer Promotion:
20% off your first month at School of Rock for new Students.

Call 908.231.8300 or email somerville@schoolofrock.com to take advantage of this rockin' deal! A group class along with lessons at School of Rock is the best way to experience our performance-based program. Take a look at the programs below to get your rockers ages 4 and up ready for the stage!

Rock 101 (Ages 7-12)
Saturdays @ 10.45 – 12.15 PM
Kids just starting out will learn the fundamentals of playing an instrument in a fun and low-stress group environment. Master the basics while playing actual rock music, before jumping into live shows. Rock 101 sessions include a weekly private lesson and a group band rehearsal.

Performance Program
For kids who know the basics of how to play their instrument and are ready to advance. Students learn harmonies, musicianship and how to perform in an authentic rock show environment. Includes one private lesson and a group band rehearsal each week, which culminates in a live performance. Students choose from new show themes every season.

Grad School (Ages 18+)
For adults, we offer private lessons of 30, or 45 minutes, as well as the opportunity to join our "Grad School" Performance group. The Grad School program offers a combination of one-on-one lessons with one of our talented instructors, combined with joining other aspiring adult rockers led by a Director as a band in a weekly rehearsal.
Summer Camps 2020
Cost is $399.00 for full day and $250.00 for half day
Classic Rock Rewind
10:00 – 3:00 - 7/13-7/17
Come learn the music of 60s and 70s rock icons such as The Beatles, Led Zeppelin and The Rolling Stones in our Classic Rock Rewind summer camp.
Rock 101 Camp
10.00 - 3.00 pm ……..8/19-8/23
Rock 101 camp is for beginners 7-12 years of age. No experience needed. Students will explore their instruments through musical games and activities.
Rookies Camp
12.00 – 3.00 pm - 7/13-7/17
In this camp, 5-7 year old beginners will learn about different rock instruments and begin their introduction to music theory and appreciation.
Songwriting Camp
10.00- 3.00 pm - 8/10-8/14
In this special 5-day camp, students will analyze some of the greatest compositions of the last 60 years and learn how to write their own songs.
Modern Rock
10.00-3.00 pm - 7/20-7/24
Join us and celebrate artists like Foo Fighters, Amy Winehouse, Imagine Dragons, Paramore and more in our Modern Rock camp.