Dear Friends,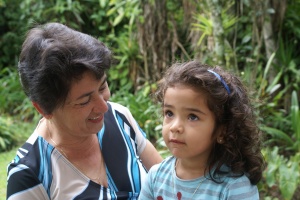 This Sunday is Grandparents Day - and here at NJ Kids we believe that our parents are not only here to smother our children with unending love (and often gifts!), but also to share with them their experiences and lessons. They are true, living history books- so this Sunday, why not invite Grandma and Grandpa along on a family activity that they will both enjoy and transport them back to another time. We bet their stories will engage and entertain the entire family. Here are a few ideas:
Lower Eastside, NYC - There's the Tenement Museum and Eldridge Street Synagogue, plus you can enjoy a yummy lunch at Katz's Deli, grab a pickle at the Pickle Guy on Essex Street, and then satiate your sweet tooth at Economy Candy Market on Rivington Street.
WW II Experience - With a variety of options, there's bound to be one near you: The Intrepid in NYC, Battleship NJ In Camden, Independence Seaport Museum in Philadelphia; NJ Aviation Hall of Fame in Teterboro
Pack a Picnic - Head to a nearby garden or nature preserve, enjoy a short stroll, then settle down with a picnic lunch. Ask the grandparents to share some of their favorite activities they did when they were younger.
Back in Time - Let the kids tell the grandparents they are going on a trip back to when they were kids.... and take them to Field Station Dinosaur, or Fosterfields Living Historical Farm, or George Washington's House in Morristown. Gotta have fun with them!
We hope you enjoy the weekend - hopefully you can spend tome with the grandparents. It's amazing what you can learn from them - and the fun you all can have together.
The NJ Kids Team

This Week
Hoboken Italian Festival
Thursday, September 5 - Sunday, September 8
Parade, rides, entertainment, ethnic foods, fireworks over the Hudson. Hoboken. Read More >>

Monarch Festival @Pyramid Mountain Natural Historic Area
Saturday, September 7, 12:00 PM - 04:00 PM
Take a guided 'Bug Safari,' and venture through the butterfly garden. Meet live monarchs, from egg to adult, as well as the many other creatures that depend on milkweed. Feel the thrill of witnessing ... Boonton. Read More >>

Careers in Science Day
Saturday, September 7, 10:00 AM - 06:00 PM
At Field Station: Dinosaurs, there is no greater hero than a scientist. We celebrate them every day, and especially this weekend, when we welcome scientists of all types to talk about their work. Whet... Secaucus. Read More >>

8th Annual Irish Fest of Ship Bottom
Saturday, September 7, 11:00 AM to 10:00 PM
Sunday, September 8, 10:00 AM to 5:00 PM
Great Irish show band, Pipes and Drums of Ocean County, step dancers, vendors of food, soda, beer, and Irishwear. Proceeded by the Shamrock 5K Fun Run. Seating and dance floor under an ultra large tent. Gate Admission: $10.00 Children under 15 years old FREE Rain or Shine!!!
Read More >>
KIDS SAFETY FAIR hosted by Old Navy at Monmouth Mall
Saturday September 7, 12 - 4 PM
Old Navy cares about your family's well-being and safety. To engage our community about this important topic, Old Navy will be hosting a Kid's Safety Fair located in the Food Court Rotunda. Our community partners and the National Center for Missing and Exploited Children have teamed up with Old Navy to promote awareness and information on how to keep our children safe. Come Fun, Come All.
Read More >>

Railroaders Weekend Celebration at Allaire State Park
September 7 & 8
Open house with steam and diesel train rides, live music, & exhibits.
Read More >>
Games Galore at Historic Walnford, Upper Freehold
September 7 & 8
Enjoy an afternoon of historic pastimes with fun for all ages and abilities, from brain teasers to lawn games.
Read More >>
22nd Annual Edgewater Arts & Music Festival
Sunday September 8, 10:00 AM - 06:00 PM
Various jazz artists perform throughout the day. Free parking for all 3 events at Edgewater Commons. Free continuous shuttle jitney runs from 11:00 AM 6:00 PM between show locations. Edgewater.
Read More >>
1920's Country Fair at Fosterfields
Sunday September 8, 12:00 PM - 05:00 PM
Each year, over 1500 visitors enjoy this fun-filled event at Fosterfields Living Historical Farm in Morris Township. This recreated 1920s Country Fair has farm animals, wagon rides, music, exhibits, ... Morris Township.
Read More >>
Sunday September 8, 11 am - 5 pm
Join us for the classic Red Bank Street Fair! The street fair will feature: Juried crafters, food, fun, artwork, craft products and services for sale and all to benefit the Red Bank Police Department - Red Bank Business District -Free Parking in Municipal lots and on-street parking.
Read More >>
Live Animal Talks at Jakes Branch Nature Center
Sunday September 8, 1:00 - 1:30 PM
Come in and meet the animals at Jakes Branch County Park. Visitors will get an up close look at the park inhabitants and learn about each species. No registration is required. Free.
Read More >>
Open House Week @ YMCA of Montclair
September 9 - 15 Drop in and participate in our fitness classes (must be 13 or older). Join during Open House Week and receive one free month of membership (new adult members only, some restrictions apply). Win prizes: 6-month adult membership, 3-personal-training-sessions package, or a session of swimming lessons. Family Day on Sunday September 15 from 12 to 4 pm. Tour our Park Street location and enjoy a jam-packed day filled with FREE activities for all, including Hip Hop Dance, Zumba, Yoga, Open Swim and Dodge Ball. Read More >>
Upcoming Events
Join Us at NJ Kids Club at The Outlet at Bergen Town Center
Thursday, September 19, 10:30am-12pm
Storytime, music, dance crafts, raffles. Free Giveaway: "Duck" Lunch Bags. FREE!! Route 4, Paramus, NJ, Read More >>
Mommy & Me Day! at Imagine That Museum
Tuesday, September 24, 10:00 a.m. - 1:00 p.m.
Experience a day of fun for both the kids and the adults! All adults enjoy FREE Admission (with pre-purchased tickets) and have a chance to WIN some fabulous giveaways from local, family-friendly vendors! All moms will receive a special gift. Read More >>
| | | |
| --- | --- | --- |
| More Family Fun Events >> | More Fun Things To Do >> | |
Back To Top