Dear Friends,
It always seems that as soon as the initial back to school excitement wears off, our kids immediately start thinking about Halloween. Even before homework, they rush to review the latest delivery of Halloween catalogues and with red pen in hand, rabidly circle dozens of potential costumes, trying to decide the best possible outfit. And of course, we admit, we've already purchased far too many bags of candy (it seems they appear in the supermarket earlier and earlier every year) and yes, no denying it, a couple already have a small hole in the corner.... but who can wait till October 31st for a yummy bite of a Charleston chew!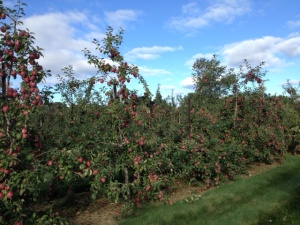 Truth is, with the crisp, cool weather that we are having right now, Fall is definitely in the air! And even if Halloween is still weeks away, we can't help but be excited by all the great Fall activities that are going on right now. And there's something for everyone - spooky haunted houses and scary hayrides, apple and pumpkin picking, foliage walks and more. Here are a few of our favorites going on this weekend:
Get lost in - and hopefully figure a way out of - a 10-acre maze at Stony Hill Farm in Chester, then grab a bucket and pick a few apples
Board the Haunted Hayride of Terror at C Casola Farms...if you dare!
Spend the day at Riamede Farms - pick your own apples and pumpkins, hayrides, and more
Celebrate the Mid-Autumn Moon Festival at Frelinghuysen Arboretum. Take a walk through the changing foliage or catch a performance of Chang-er Flies to the Moon' by the Chinese Theater Works. Crafts, refreshments, tours and more.
Watch as birds fly off on their annual Fall Migration at the Wetlands Institute
Here's to the cooler weather! Enjoy the Fall! And don't forget to check out our website at www.njkidsonline.com - you'll find extensive lists and descriptions of all the pick-your-own farms, Halloween thrills and chills, corn mazes, Fall Festivals, and more!
The NJ Kids Team

This Week
Edison Fall Family Spectacular Music Festival
Saturday, September 21
Car and motorcycle show, two stages of entertainment, fireworks and more. Edison. Read More >>
Magic Tree House: Dinosaurs Before Dark @ Bronx Zoo
Saturday, September 21 - Sunday, September 22
Come see this exciting show, performed by Kidz Theater's exceptional young performers, based on Mary Pope Osborne's award-winning adventure series, ... Bronx Read More >>
The Haunted Pumpkin Garden @ New York Botanical Garden
Saturday, September 21 - Sunday, September 22
Pumpkin sculptures of spooky scarecrows, frightening spiders, sneaky snakes, and more await discovery at every turn in the Everett Children's Adventure Garden. The display includes more than 500 intricately carved pumpkins that are sure to capture your youngster's imagination.... Bronx. Read More >>
Dinosaurs After Dark @ Field Station Dinosaur
Saturdays in September
Take a fun, mysterious journey into a shadowy, prehistoric world. Explore the dark woods and haunted trails of Snake Hill. Celebrate at the Dinosaur Dance Party, make s'mores and sing around the campfire... Secaucus. Read More >>
Sunday, September 22, 10:00 AM - 05:00 PM
Vendors, Food, Entertainment, KidZone. Rain or Shine. Read More >>
Ridgewood Fall Craft & Art Street Fair
Sunday, September 22, 12:00 PM - 05:00 PM
Featured at the fair will be over 140 quality exhibitors, festival food, music & a large children's area. Included will be inflatables, pony rides, a petting zoo, games & face painting. Held rain or... Ridgewood
Tuesday, September 24, 10:00 a.m. - 1:00 p.m.
Experience a day of fun for both the kids and the adults! All adults enjoy FREE Admission (with pre-purchased tickets) and have a chance to WIN some fabulous giveaways from local, family-friendly vendors! All moms will receive a special gift. Read More >>
| | | |
| --- | --- | --- |
| More Family Fun Events >> | More Fun Things To Do >> | |
Back To Top