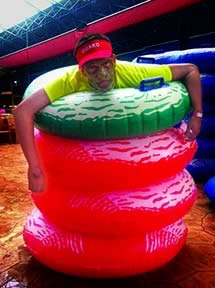 November Family Fun Begins Now!
Autumn Activities, Special Events, Fall Foliage Hikes and More!
It's November - and the autumn fun continues! Many of the farms and Halloween adventures are still going on this weekend, including at Sahara Sam's, where they are hosting a Monster Splash Foam Party. Imagine That! in Florham Park is switching gears and getting ready for Thanksgiving - the kids can make a napkin ring for the holiday table at their Weekly Crafting event. At Adventure Aquarium it's African Penguin Awareness Weekend, which means tons of fun and educational activities. And, of course, the trees are bursting with color, so why not just head outside and take a walk. Need some hiking ideas? Check out our website at http://www.njkidsonline.com/Hiking-and-Biking-Trails-in-NJ.php for some great hiking trails.
---
This Week
African Penguin Awareness Weekend @ Adventure Aquarium
Saturday, November 2 to Sunday, November 3, 10:00 AM - 05:00 PM
Join Adventure Aquarium for African Penguin Awareness Weekend - their annual celebration dedicated to everyone's favorite little flightless feathered friends. This yearly event features an array of "penguin-centric" activities, all of which help promote the conservation of African Black-Footed Penguins. ... Camden. Read More >>
Day of the Dead Celebration at Princeton Shopping Center
Saturday November 2, 03:00 PM - 05:00 PM
The Arts Council of Princeton and the Princeton Shopping Center present the annual Day of the Dead celebration. Celebrate Mexico's El Día de los Muertos with strolling mariachis, Mexican paper flower ... Princeton. Read More >>
BubbleMania @ Saddle River Valley Cultural Center
Saturday November 2
Lots of Bubbles! An extremely unique program combining high energy entertainment with artistic achievement, BubbleMania is loaded with visual comedy, quick wit, big band swing music... Upper Saddle River. Read More >>
Beyond the Naughty Step with Jo Frost at Count Basie Theatre
Saturday November 2
Back on TLC this summer, everyone's favorite Nanny, Jo Frost makes her debut at the Count Basie Theatre in Red Bank. The audience will enjoy an evening of "educ-ainment" as the Supernanny explores dif... Red Bank. Read More >>
Rockaway Orthodontics - 2nd Annual Halloween Candy Buy Back Event
Saturday November 2, 02:00 PM - 04:00 PM
Join us, in your Halloween Costume, at Rockaway Orthodontics for our 2nd Annual Halloween Candy Buy Back Event! Bring your unopened Halloween candy and receive $1 and 1 raffle ticket per pound... Rockaway. Read More >>
Primrose School Grand Opening in Mountainside
Saturday, November 2, 10:00 AM - 02:00 PM
Join the fun as we celebrate the GRAND OPENING of our new school! It will be a day of family fun with door prizes, face painting, balloons and more! Enter our raffle to win one free week of tuition. Mountainside. Read More >>
Short Hills/Millburn Street Fair and Craft Show
Sunday, November 3
Come down to Millburn NJ for their annual Short Hills/Millburn Street Fair and Craft Show! With the holidays right around the corner, this is the perfect way to get started on your Christmas list! ... Millburn. Read More >>
The 2013 ING NYC Marathon
Sunday, November 3, 09:30 AM - 09:30 PM
The ING New York City Marathon, with more than 47,000 finishers, two million spectators, and a worldwide television audience of 315 million, is the largest one-day live sporting event in the world. New York City. Read More >>
Team Makers and WOW World Of Wings Get Together For a Great Day Of Fun On The Kids Day Off!
Thursday and Friday, November 7 & 8, 9:00am-3:15pm
Sign up to participate in our special School's Out Vacation Camp Event! Children enjoy a full day of games, activities, andexhibits, along with tons of other fun attractions! Teaneck Read More >>
Field Station Dinosaurs Open During Teacher's Convention Week
Thursday and Friday, November 7 & 8
Special hours November 7th and 8th. Step back into prehistoric times and wander among over 30 life size dinosaurs. Learn, explore and discover! Secaucus. Read More >>
---
Teacher Convention Week Vacation Break Ideas
No school? No problem! There is tons to do! Field Station Dinosaur One Dinosaur Way Special hours November 7th and 8th. Stony Brook Milstone Watershed- Autumn Adventure Mini-Camp - Outdoor autumn activities include ....
Read More >>
Back To Top