Dear Friends,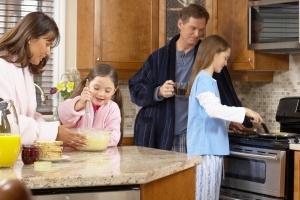 This year, one of our local Brownie Troops has decided to adopt the theme: Healthy Body, Healthy Mind. At their first meeting, the kids talked about what it means to be healthy, pledged to try and eat more fruits and veggies, get outside more and make wise choices. They also decided that healthy minds needed more sleep and less TV and computer.
It's not always easy to live a healthy lifestyle –but what a great goal for all of us to work towards, and its not just about eating right, but is about taking care of our mind and our body. NJ Kids has always been there to help you get up and go, but did you know we have a lot more ideas on our website to help you and your family lead a healthier life as a whole? Check out our reviews section on our website - we've got recipes to help kick start your dinners, tips from experts on everything from child rearing to organization and health, and book and movie reviews to help you find the most age-appropriate books and entertainment for your child. We've also got tips on the best shows, sites and weekend getaways so you can recharge as a family.
There's no easier way to a healthy body and mind than spending time together. Maybe adopt the same theme this year as the Brownie Troop and tailor your activities around a healthy lifestyle: consider more outdoor hikes; take a visit to a local farm and pick some apples; take a tour of Generation Fit at the Newark Museum; get wet at an indoor water park like Sahara Sam's. The ideas – and the benefits – are endless!
Here's to a healthy body and healthy mind.
The NJ Kids Team

This Week
621 Eagle Rock Avenue, Roseland, NJ 07068
FREE! 4-H Crafts and Games,Bird Watching º Canoeing º Hiking, Face Painting, Native American Life, Live Beehive Display, Petting Zoo, Pumpkin Carving Demos, Pumpkin Patch, Autumn Photo Opportunity, Live Animal Display,Nature Arts & Crafts,Woodturning, Photography,Healthy Snacks, Eco-Vendors...And More. Live Music!
Dinosaurs After Dark @ Field Station Dinosaur
Saturdays in September
Take a fun, mysterious journey into a shadowy, prehistoric world. Explore the dark woods and haunted trails of Snake Hill. Celebrate at the Dinosaur Dance Party, make s'mores and sing around the campfire... Secaucus. Read More >>
Blackbeard's Grave Halloween Spooktacular
Friday October 4 - Sun October 6
Blackbeard's Cave transforms to Blackbeard's Grave every Fri, Sat & Sun. Thrill seekers beware of the terrifying Dark Carnival mind terrors. Six hideous attractions. For the little ghouls and goblins a scare free zone of trick-or-treat trails, pumpkin painting and so much more.
Milltown Day Fall Festival
Saturday October 5
Milltown Day's Fall Festival is Saturday, October 5th from 9 a.m. to 4 p.m. in Borough Park (JFK Blvd. & Violet Terrace, next to the community pool). This year's free event will include Pumpkin Decor... Milltown
The 8th Annual Hackensack Street Fair
Saturday October 5, 10:00 AM - 06:00 PM
There will be featured entertainment, rides for the children and adults, themed rides and bounces. In addition, there will be a costume character review, clowns and stilt walkers. And of course the be... Hackensack
Star Wars Reads Day at Barnes & Noble at Monmouth Mall
Saturday October 5
A nationwide celebration of all things Star Wars. Activities for the whole family, from Story times and crafts to costume contests, character visits and author signings. Inside Barnes & Noble
Saturday October 5 - Sunday October 6
A fun-filled family weekend! Hayrides, pumpkin painting, face painting, storytellers, tasty food, music and dancing, fun photo ops, Garden tours and lots more! Plus an autumn plant sale and an Artisan craft fair with many hand-made items. Free parking & admission.
Saturday October 5 - Sunday October 6
This FREE weekend event will feature live music, a petting farm, rides, giftware, food, fireworks, beer, wine and fun! This festival is being held at the historical Bayonet Farm! Come join them for a day of family fun!
The Lord Stirling 1770s Festival
Sunday October 6
Return to the past and experience daily colonial life and craft industry at the annual Lord Stirling 1770s Festival. Colonial craftspeople ply their trades while a Town Crier announces the local news. A Revolutionary War Military detachment camps on the former estate lawn of Lord Stirling and conducts maneuvers. Children of all ages enjoy the hayrides, clay crafts, stenciling, tin piercing, and colonial games.

Bear Mountain Oktoberfest in NY
Sunday October 6, 12:00 PM - 06:00 PM
German Food and Beer,Entertainment, Craft Vendorsand Much More... Weekends, September 14-October 27 plus Columbus Day-October 14 Free admission. $8 per vehicle parking fee. Bear Mountain
| | | |
| --- | --- | --- |
| More Family Fun Events >> | More Fun Things To Do >> | |
Back To Top