Dear Friends,
I've starting spending an hour or two every month visiting the web pages of my favorite sites around NJ and jotting down a list of upcoming special events. A visit to a museum, arboretum or historical landmark is always a fun outing - but a special event can make it even more exciting. Here are just a few upcoming events in the next month or so I thought you'd like to know about: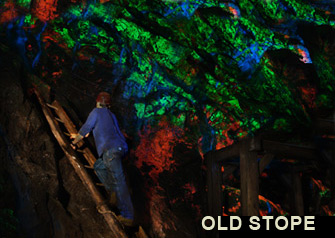 Hit the Mine Run dump and dig for a zinc ore specimen at the Sterling Hill Mines and Museum's Mine Collecting Day. Ages 7 and up. Saturday, May 11th
Enjoy a Teddy Bear Picnic (and other fun activities) at the Garden State Discovery Museum. Saturday May 11th
Explore Curious George's neighborhood and take a turn at tons of hands-on activities at the Curious George: Let's Get Curious exhibit at the Liberty Science Center. Through May 12th
Did Dinosaurs Chew? Visitors will create a model of a dinosaur gizzard and examine gastroliths from the Jurassic period at the Newark Museum (plus other activities). Saturday, May 18th
Come meet Jelly and Jam, two American Black Bears at Turtle Back Zoo as they celebrate Bear Awareness Day. Saturday, May 18th.
Go behind the scenes on a tour of the aquarium at Jenkinson's Aquarium. Saturday, May 18th
Costumed contests, Super hero Games and more at the Super Hero Party at Funplex in East Hanover. Sunday, May 19th
Get out and move at the Fit and Fun Family Festival at the Camden Children's Garden. May 25th & 26th
Curl up for a story (and enjoy the scenery) aboard the New Hope and Ivyland Railroad on their 45-minute story time trip. Thursday, June 13th
So go ahead - get out your calendars and start planning! Enjoy!
The NJ Kids Team

Apple Technology for Children with Disabilities
Saturday, May 11
Parents of students with disabilities are invited to a free forum and workshop to learn more about local special education programs and technology that is making it easier for special needs children ... Livingston.
Read More >>
Saturday, May 11
Bring the kids! Fishing Contest: 8:00 am 2:00 pm, Free to all, Bait Provided, Rods available on loan. Fishing information and assistance are available on request. Exhibits: 10:00 am ... Fort Lee.
Read More >>
Saturday, May 11
Features local crafts artists, local musicians, children's activities and food. Glen Ridge.
Read More >>
Saturday, May 11 - Sunday May 12
Embrace the strange! "Weird Snake Hill Tours", oddities from the New Jersey State Museum, and learn about the world's craziest dinosaurs with paleontologist Jason Schein. Celebrate all that is weird ... Secaucus.
Read More >>
Saturday, May 11
You bring the kids and we will entertain them! Join us for the 3rd Annual Cookies for Kids' Cancer Free Family Fun Day.R ain or Shine! Donations welcome. Special performances by Uncle John's Musical Puppet Show ... Millburn
Read More >>
Mother's Day Rubin Run at the Kaplen JCC on the Palisades
Sunday, May 12
Free Mother's Day Brunch. Kids Carnival. Proceeds from this major fund-raising event will support healthy lifestyle programs at the JCC designed to enhance the quality of life for children, teens an... Tenafly
Thursday May 9 5 - 8 pm
A fun night out for moms with fashion, fortune and freebies! Participate in a Fashion Workshop and learn "How to Dress Your Body Shape." Love your shape and learn how the hottest spring trends can flatter your figure!Plus enjoy a fortune cookie and a chance to win one of many prizes! You'll also receive special offers and other perks!
Read More >>
Friday May 10 6:30 - 8 PM
Bring your lawn chairs, blankets and pillows and settle in for a night under the stars!
Read More >
Saturday, May 11 01:00 PM - 03:00 PM
Paint the Town Pink was started by Riverview Medical Center with the goal to encourage women aged 40 and older to pledge to have their annual mammogram, as well as raise funds to provide mammography ... Eatontown.
Read More >>
Saturday May 11 Starts at 10 AM
This non-competitive event features tots racing in their Cozy Coupes or similar self-propelled vehicle along a marked, paved trail. Competitors will be divided into age groups and race at different times.
Read More >>
SOUTH JERSEY
Saturday May 11 10 AM - 5 PM
Historic Smithville is hosting a Children's Festival on May 11, this is a free festival. The Cape May zoo will presenting with live animals and the Atlantic City Aquarium will be at the Village with a Touch Tank. There will be a bubble station along with other children's activities. The Noyes Museum, Cold Springs and B.J.'s will be at the Village hosting children's activities. The following, although not free, are fun for the kids the train, paddleboats, carousel & arcades will all be open.
Read More >>
Saturday May 11 10 AM - 3 PM
Mother's Day discount for the Queen of your hive. Mom's admission is free! Insectropolis is a fun and unique insect learning center that dazzles visitors of all ages. There is plenty to see and do here! Set within the architecture of a bug-themed city, our creative displays entertain guests as they learn about these fascinating creatures.
Read More >>
Sunday May 12 Noon - 9 PM
The downtown Toms River Arts, Crafts & Music Festival takes places along Washington Street from 12noon-9p.m. Enjoy live music, arts & crafts, kid's games and more.
Read More >>
NYC


Saturday, May 11 - Sunday May 12
Play lawn games, fly a kite, and have a picnic among the Garden's spectacular spring blooms. A professional photographer will be on hand to snap pictures for you to take home. Kids can enjoy hands-on ... Bronx.
Read More >>
Back To Top