Dear Friends,
There's a lot to celebrate in June! There's National Gardening Exercise Day (6th) National Chocolate Ice Cream Day (7th) Best Friends Day (8th) Flag Day (14th) Eat your Vegetable Day (17th) and Meteor Day (30th). June is also National Aquarium Month, National Fresh Fruit and Vegetables Month, National Dairy Month and National Candy Month (the kids will love that one!). And of course, let's not forget Dad - Father's Day is June 16th!
Definitely a lot going on this moth, but thankfully, the weather has finally turned and with the official start of summer just a few weeks away (the summer solstice is June 21st), it's time to get up and get out and enjoy the warm sunshine!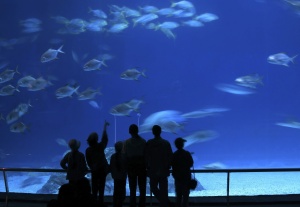 Want to be creative? How about enjoying a single National Celebration Day - I bet you can do it! Invite your best friend to eat some fresh fruit and veggies (check out Demarest Farms for some early summer yummies) as you stroll through a local garden (Camden's Children Garden) wearing red, white and blue, before heading off to an aquarium (Adventure Aquarium is right next door or head to the shore to Jenkinson's Aquarium) and a chocolate ice cream treat topped with bits of candy (can't beat ice cream along the boardwalk), ending the day with a moonlit stroll, gazing at the night sky looking for meteorites. Oh, and invite dad to tag along!
Well, might be a lot for a single day - even if you can't manage all that in one day, June is the perfect time for fun family activities! So go ahead - grab your camera (National Camera Day is the 29th) and tack up the 'Gone Fishin' sign (Go Fishing Day is the 18th). Just don't panic (International Panic Day is the 18th) - there's always tomorrow! Enjoy!
The NJ Kids Team

This Week
New Jersey Renaissance Faire At Liberty Lake
Saturday June 1 and Sunday June 2
Jousting, sword fighting, music, comedy, food, and a village of over 60 eclectic vendors. This year's theme- William Wallace (Braveheart) and the struggles of Scotland. Musical guest include the world famous Albanach. For more info, and discount tickets, go to
www.NJRenFaire.com
.
Read More >>
Saturday June 1 & Sunday June 2
The New Jersey Civil War Heritage Association sponsors a Civil War School of the Soldier as an instructional drill for Civil War re-enactors as well as to educate the public about New Jersey in the Civil War. Featuring infantry and artillery training camps, re-enactments, live bands and much more. Trains leave every half hour from noon to 4:30 PM.
Read More >>
Fort Lee Arts & Music Festival
Sunday, June 1-2, 10:00 AM - 06:00 PM
Two stages of free entertainment, a Harley Davidson Motorcycle Juried Show (in Municipal Lot), craft vendors, juried art show judged by Fort Lee Artists Guild open to all, food vendors, free face pain... Fort Lee. Read More >>
Saturday
10th Annual Rutherford Multicultural Festival
Saturday, June 1st, 10AM - 07PM
International Food, Dances and Music from around the world! Music, Dance, Food from around the world, Crafts, Games, Face Painting, Chinese Dragon Dance... Rutherford. Read More >>
Funfest 2013
Saturday-Sunday, June 1-2, 11AM - 06 PM
Entertainment, rides, games, crafts and food. Hoboken. Read More >>
National Trails Day at Washington Valley Park, Bridgewater
Saturday June 1
Come celebrate National Trails Day and help them maintain the beautiful trails of Washington Valley Park. Rain date is June 2. Free. Read More >>
What is Natural Horsemanship? Demonstration and Q&A at Sunnyside Equestrian Center
Saturday June 1 9 - 10 AM
The basic principles of Natural Horsemanship can be summed up in four words: Relationship, Understanding, Communication, and Trust. Whether you are a lover of horses from a distance or an avid rider, come meet Bekah Koutsos, 2 Star Parelli Professional, and find out more about how you can work with a horse in the most loving, effective and efficient way possible for lasting results and success. This program is FREE and no registration is required. Read More >>
Vetrock 2013
Saturday June 1
An outdoor festival of music, food, arts and craft, and a celebration of those who have served in the United States military, who are charged with maintaining the freedoms we as Americans enjoy each and every day. Enjoy a 200 vehicle classic car show. Read More >>
Sunday
Hot 97 Summer Jam XX @ MetLife Stadium
Sunday, June 2
Celebrating 20 years of Hip Hop and R&B! With over 55,000 attendees and countless fans worldwide, HOT 97 Summer Jam XX is not only the biggest and most anticipated annual Hip Hop concert of the year,... East Rutherford. Read More >>

Kids Expo at the Lakewood BlueClaws Game
Sunday June 2 - 1:05 PM
Come see NJKids Online at the BlueClaws Game on Sunday, June 2nd for a full day of fun at the 1:05 pm game, presented by the Kimball Medical Center Centennial. The Russian Trio Baracrobats will be at the game for several performances between innings. It's also the annual Kids Expo, with pony rides, music from Mr. Scott the Music Man, inflatables, vendors, and more. Plus, Kids Eat Freethanks to ShopRite, like every Sunday and Monday
. Read More >>
Family Fun Days at Monmouth Racetrack
Sunday June 2
Family Fun Days are every Sunday and Holiday Memorial Day to Labor Day from 12 noon - 4 pm. All Activities are FREE with grand stand admission and include: Pony Rides, Face Painters, Clowns, Bounce House, and Live Music. Read More >>
Back To Top