Dear Friends,
For many of us, Memorial Day marks the unofficial start to the summer season - time for backyard barbecues and long weekend beach trips. But the true meaning of this weekend ought not to be forgotten - and we should all take the time to recall the soldiers who died in the service of our country.
Indeed, there are so many ways to celebrate and honor our soldiers and our country this Memorial Day. Here are a few ideas: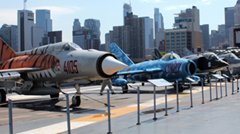 Tour a Battlefield and see firsthand one of the dozens of revolutionary war battle sites throughout NJ where our soldiers fought for the birth of our nation. Suggestions: Washington's Crossing, Battle of Trenton, Princeton Battlefield and Battle of Monmouth.
Climb aboard the flight deck at the Intrepid Sea, Air and Space Museum in NYC and take interactive journey, learning about the heroic men and women in our armed forces.
Catch a parade and enjoy the sights and sounds of America as you salute our veterans and their fallen comrades.
Step back into time at a Historical Village, such as Historic Cold Spring Village, and learn about the life and times of a Civil War soldier
Understand the hardships of a Revolutionary War soldier at a Revolutionary War encampment such as Jockey Hollow or Middlebrook.
These are just a few ideas - you can find many more at our website. Please help keep the true meaning in Memorial Day - at NJ Kids we celebrate and honor the service of the men and women in our armed forces. And to those who made the supreme sacrifice for our country, we say thank you - and we will never forget you.
The NJ Kids Team

This Week
Friday

Kids Night Out at the Small Factory
Friday May 24 & Saturday May 25 6:30 - 10:00 PM
Small Factory opens its Fair Haven studio for children, ages 4 to 12, to watch movies, eat theater snacks, play on the computers, and sing and play instruments in the sound booth. These nights are also great opportunities for parents to enjoy a few hours of conversation and a quiet dinner at any one of the award-winning local restaurants. Pre-registration is required. Call 732.212.1088. Read More >>
Saturday
NJN Hispanic Youth Showcase @ NJ PAC
Saturday, May 25, 07:00 PM - 09:00 PM
See stars of tomorrow in this unique, multi-disciplinary showcase that features New Jersey's finest young Hispanic dancers, musicians and singers. Newark. Read More >>
Mike the Knight Performance at Bridgewater Commons
Saturday May 25 11 AM & 2 PM
It's time to 'Be a Knight and Do it Right' as Mike and his medieval friends transport the audience into a wonderful and imaginative world full of tales and legends! This fun-filled mission full of discovery, determination and friendship will have knights and princesses of all ages engaged from start to finish! Gallop on over to the stage and get ready to be a knight in training as Mike the Knight and his loyal friends proudly present, MIKE THE KNIGHT AND THE MISSION FOR HIDDEN TREASURE! A brief meet & greet will follow each of the two performances. Time: 11am & 2pm. Read More >>
River Adventure Cardboard Boat Race at Morey's Piers in Wildwood
Saturday May 25
Design a boat, build a boat and race a boat at the second annual cardboard boat race at Raging Waters Waterpark. FREE. Race starts at waterpark closing. Read More >>

Fit and Fun Family Festival at Camden Children's Garden
Saturday May 25 & Sunday May 26 - 1 - 4 PM
The Camden Children's Garden wants you to be healthy! This festival will highlight easy and fun ideas for a healthy lifestyle, with a focus on simple physical activities and nutritious eating. Join us for crafts, a veggie make-n-take planting activity and educational activities that support healthy living. Read More >>

Art Tales at the Princeton University Art Museum
Saturday May 25 10:30 AM - 1:00 PM
Join us on Saturday mornings for family fun in the Art Museum. Drop in anytime between 10:30 and 1:00 to hear stories from around the world. Our engaging storytellers will ignite your imagination as they take you on a magical journey filled with adventure. Learn about the customs and traditions of different cultures through the stories they told and the art they created. Then make a puppet and get ready to tell stories of your own. All ages are welcome. Read More >>
The Borough of Bradley Beach Memorial Day Festival
The Borough of Bradley Beach holds its annual Memorial Day Festival on Saturday, May 25 & Sunday, May 26 beginning with a parade stepping off at 10AM on Saturday featuring a wreath honoring American servicemen and women will be placed on Ocean Avenue near the gazebo. There will be craft and food vendors, kids' rides, live entertainment and more. The festival is rain or shine. Read More >>

Dress Like Pirate Day @ Blackbeard's Cave
Saturday May 25 - Noon - 6:00 PM
Dress like a Pirate Day at Blackbeard's Cave in Bayville NJ. The first 300 children will receive a replica gold doubloon and sign on to Blackbeard's crew. Meet the Valhallas Pirates with live sword fighting and cannon demonstrations. The plundering continues into the night with music by the Brigands at the outdoor Fubar with Hog-N-Grog Join B98.5 and The Breeze 107.1 with live broadcast. Read More >>
Sunday


9th Annual Spring Street Fair
Sunday, May 26, 11:00 AM - 05:00 PM
This fun-filled day will feature more than 100 artists, crafters, and vendors. Fabulous food, live music, and entertainment for children and adults will be available all day. Last year, we were thrilled to receive lots of praise and compliments like, "This is the way West Orange USED to be!!... West Orange.
Read More >>
Family Fun Day at Monmouth Racetrack
Sunday May 26 Noon - 4 PM
Family Fun Days are every Sunday and Holiday Memorial Day to Labor Day from 12 noon - 4 pm. All Activities are FREE with grand stand admission and include: Pony Rides, Face Painters, Clowns, Bounce House, and Live Music.
Read More >>
StandUp4SEALs First Annual Beach Adventure Race in Ocean City
StandUp4SEALs First Annual Beach Adventure Race begins 7:30am at 4th St. beach.
Race includes a sand obstacle course for adults and a fun sand challenge run for kids under 12. The Kids Fun Run gives the younger people in our lives a chance to show their support for the men and women that serve our country. Kids will start at 4th Street Beach and run North to Lifeguard stand at St. Charles and back to 4th Street, meeting some fun, safe obstacles along the way. The Kid's Fun Run will begin at 9:30am for the 11-12 year olds with three heats following every 15 minutes for the other age groups. Read More >>

Tuesday
Meet Olympic Gold Medalist Aly Raisman @ Westminster Hotel
Tuesday, May 28 04:30 PM - 05:30 PM
Amazing opportunity for girls to meet Olympic gold medalist (and Dancing with the Stars Finalist) Aly Raisman as part of the annual Mikvah Chana benefit. For young girls ages 14 and under. Aspiring y... Livingston. Read More >>

Back To Top