Dear Friends,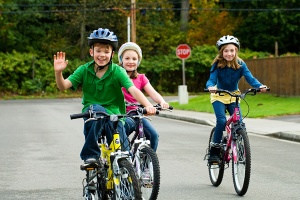 May is National Bike Month! What a great chance to head outside and hit the road for some family fun. Whether you stick to a ride around the block or venture farther from home, bike riding is the perfect way to get some exercise and enjoy the beauty of New Jersey. And you don't have to be a serious mountaineer to experience off the beaten path rides. Many state parks have paved roads perfect for an afternoon cycle, plus there's tons to do at these sites if little legs get tired! Here are just a few to get you started:
Great Swamp National Wildlife Refuge- Two-mile wildlife tour route is open 7 days a week from sunrise to sun set; stops along the way describe the different habitats. Also: nature center, boardwalk viewing, hikes.
Holmdel Park - 2.1 mile Ramanessin Trail along the Ramanessin Brook; also - paved roads for biking, easy hikes, historical village, playgrounds.
Jockey Hollow National Historical Park - Several paved looped roads, plus hiking trails, visitor center, Washington's encampment, nature, picnicking.
Delaware and Raritan Canal State Park - 70 miles of bike trails winding along the canal.
Jersey Shore - Boardwalks link many towns; bike riding permitted at certain hours; plus, there's endless beach fun.
Liberty State Park - Paved roads with waterfront, Statue of Liberty and Manhattan views, plus nature center, historic railroad depot, and ferry to Lady Liberty and Ellis Island.
Central Park, NYC - Six-mile loop (can be shortened); zoo, playgrounds, picnicking.
Need more ideas? Click here for a great list of state parks.
The NJ Kids Team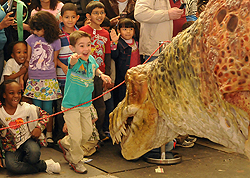 Dinosaur Day at the Newark Museum.
Sunday, May 5, 12-4:30 pm.
Educational and fun activities for kids and the dinosaur lover in all of us. 15' interactive T-Rex accompanied by the Dinosaur Troubadour singing songs that everyone will want to join in. Bill Robinson is back with his live animal shows which include birds, snakes and other reptiles. There will be geological demonstrations provided by scientists from Rutgers, the State University of New Jersey, the New Jersey Paleontological Society and the American Museum of Natural History. Read More >>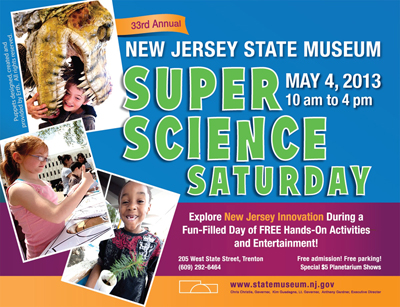 The New Jersey State Museum and Planetarium Present the 33rd Annual Super Science Saturday
Saturday, May 4th, 4am-4pm
The New Jersey State Museum and Planetarium present the 33rd annual Super Science Saturday. The festival celebrates New Jersey innovation during a fun-filled day of FREE hands-on activities, live theater, continuous demonstrations and much more! Special $5 Planetarium shows run throughout the day and admission and parking in the State House garage are free! Read More >>

Fun Things to do this week in North Jersey
WBGO Kids Jazz Concert Series: Blues is Underneath Jazz at NJPAC
Saturday May 4
Discover America's original musical art form at the WBGO Kids Jazz Concert Series - a free concert series bringing jazz culture and performance to your neighborhood. WBGO presents these concerts durin... Newark. Read More >>

Westfield Spring Fling
Sunday May 5 10 AM - 5 PM
Come join us in Downtown Westfield for a day of fun for the whole family. The kids will enjoy the rides, facepainting and activities. The parents will have fun shopping at the many crafters booths. There will be non stop entertainment from local bands. Read More >>

Fun Things to do this week in Central Jersey

Family Funtathlon at Thompson Park, Lincroft
Saturday May 4 8:00 AM - 5:00 PM
This exciting event offers families the opportunity to compete in a variety of outdoor adventure challenges including canoeing, archery, athletics, problem solving and more! Teams comprised of two to six members (any combination of adults/children) & race against the clock and each other as they traverse Thompson Park solving problems and completing challenges.
Read More >>
National Geographic Kids Club at Freehold Raceway Mall
Saturday May 4 9:00 AM - 10:30 A
The Freehold Raceway Mall Kids Club is a great opportunity for your child to learn in a fun, interactive setting. They've teamed up with National Geographic Kids to create activities and games that focus on discovery through play. This month's theme is Dinosaur Discovery. Read More >>
Saturday May 4 & Sunday May 5 10 AM - 5 PM
Kite Day is a perfect time to explore the farm during our FREE spring festival. Bring your own kite or choose a ready-made kite from the wide selection in the store. Or better yet, make a "guaranteed to fly" kite. Whichever you choose, test fly your kite in our wide-open 10-acre pasture with all the farm animals looking on. The farm will ring with country music and entertainment all weekend. the whole family can tour the orchards and fields while riding in a tractor-drawn farm wagon. The sheep will be sheared on Sunday and children can take home a piece of real fleece. There will be special activities and games for children in the barnyard.
Read More >>
Westfield Spring Fling
Sunday May 5 10 AM - 5 PM
Come join us in Downtown Westfield for a day of fun for the whole family. The kids will enjoy the rides, facepainting and activities. The parents will have fun shopping at the many crafters booths. There will be non stop entertainment from local bands. Read More >>




More Family Fun Events >>



More Fun Things To Do >>



Back To Top