Dear Friends,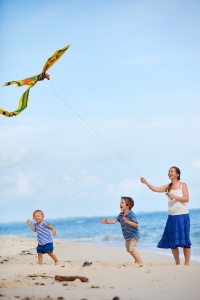 Mother's Day has come and gone, and, for most of us, it's back to the real world. Certainly, we all relished the homemade cards and gifts and enjoyed the breakfast in bed (tackling the kitchen where the breakfast was prepared is another story) but now the 24-hour respite is over and there are school lunches to prepare, laundry to sort, wash, fold and put away, after school chauffeur duties and dinner to cook.
Yes, it can seem like Groundhog Day, again and again - but it doesn't mean we can't - and shouldn't - carve out even a few minutes every day for a little 'Me' time. You definitely can't be a good mom (or dad!) without recharging, refueling and renewing yourself. And you don't need a lot of time. Here are a couple of ideas:
Read a book - and don't feel guilty
Take a walk at a local arboretum, state park or nature reserve - it's peaceful, quiet and relaxing
Dip your feet into the sand at the beach and look for seashells
Visit a local art museum - and actually enjoy an exhibit for more than 60 seconds
Pick up a new hobby, one that doesn't involve finger paint, moon sand or Playdoh
But don't forget about Playdoh - take it out when no one else is around and squish and mold the dough for fun
Take a nap
Watch TV, during the day
Enjoy the bathroom alone.
So, don't wait until next year for Mother's Day. Make every day your day. You deserve it
The NJ Kids Team

This Week
The Newark Bears will open the 2013 season at the newly renovated Bears & Eagles Riverfront Stadium, when they take on the Rockland Boulders on Friday, May 17 at 7:05 p.m. Head over to the stadium for a fun-filled night of baseball and events, including: The fan-favorite Newark Bears post-game fireworks show and Locker Wars: Have the opportunity to take home hidden treasures, just like on the popular show Storage Wars! And More!!! Read More >>
Family Garden Party @ Essex County Presby Memorial Iris Gardens
Saturday May 18 10AM - 03:00 PM
Walk through a garden blooming with more than 100,000 iris flowers. Live music and kids activities. Souvenir Bloom Room gift shop. Bring a picnic or visit one of our local food vendors ... Upper Montclair. Read More >>
Fairy & Pirate Festival
Saturday May 18
Fairy & Pirate Festival - Turkey Book Park -FREE Come in costume! Face, Painting, Bounce House, Giant Slide, Games, Treasure Hunt and so much more! Check out the website for more details! Mount Olive. Read More >>
Fishing Derby @ Weequahic Park
Saturday May 18, 08 - 11:15 AM
Saturday, May 18, Weequahic Park, Newark For children ages 15 and under. Free to enter. Win a prize! Bring your: Fishing pole, bait, chair, bucket ... Newark. Read More >>
BCHS EVENT: Pinkster Fest A Colonial Celebration of Spring
Sunday, May 19, 01-5PM
Come celebrate Spring at HNBL! Pinkster is the Dutch name for Whitsunday or Pentecost. Donation: $7 adult, $5 kids, BCHS members free. River Edge. Read More >>
CENTRAL JERSEY


Celebrations Around the World at Princeton University Art Museum
Saturday May 18 - 10:30 AM
Join us for a day of travel and adventure as we explore art through the ages and from around the world. Family Day offers hands-on activities, live performances, storytelling, and a scavenger hunt. Refreshments will be served. Free and open to the public.

Read More >>
Saturday May 18 - 10:00 AM - 6:00 PM
Workshops - Exhibitors - used Curriculum - plus a children's program.
Read More >>
Learn about outdoor adventure opportunities in our area* Meet vendors for activities such as canoeing, kayaking, backpacking, climbing, skiing, and biking.* Discover local and regional outdoor adventure and sportsmen's clubs.* Attend free lectures, demonstrations, mini-clinics and nature hikes.* Test a variety of equipment: touring kayaks, white water kayaks, canoes, paddle boats, 25 foot climbing wall, and much more. Bring the whole family for this adventure filled day.
Read More >>
SOUTH JERSEY


Saturday May 18 - 11 AM - 4 PM
Grab your bike, trike, or scooter and don't forget your helmet because are setting up the ultimate bike track in the Museum's front parking lot! Race, ride and learn more about street safety. Make a flag for the back of your bike or ribbons for your handle bars!!
Read More >>
Sat May 18 & Sun May 19 - 10 AM - 5 PM
May 18th & 19th is their annual Mayfest. They have over 100 Juried Crafters, an International Food Court, Music, Kids Activities, non- Profit organizations and more... All of this is on top of the over 60 shops, Carousel ride, Train ride, Paddleboats, 7 eateries, and antique arcades that are already located at the Village year round!
Read More >>
7th Annual. Kick-off the summer with the down home sounds of bluegrass and the sweet smell of barbecue. Crafters, vendors, food, refreshments, family activities, demonstrations, decoy carvers, boat building and boat rides. New for 2013... Todd's Musical Petting Zoo plus a pie bake-off contest.
Read More >>
Sunday May 19 - 11 a.m. to 3 p.m.
Enjoy activities with real pirates as performed by The Philadelphia Fight Ensemble. Take a pirate cruise aboard Atlantic City Cruises "Cruisin' One" out of Gardener's Basin at 3 p.m. Fee: $6 adults, $12 children (609) 449-1360 or
www.abseconlighthouse.org
Back To Top