Dear Friends –
Summer is in full swing – and, if your family is anything like mine, as the temperature rises, we like to shed as many layers as possible and head off to the local pool or beach. But whether the kids are clowning around in the pool or you're jumping waves down by the shore, or even simply floating along the 'river' at a nearby waterpark, it's important to review water safety tips. Here are a few from the American Red Cross: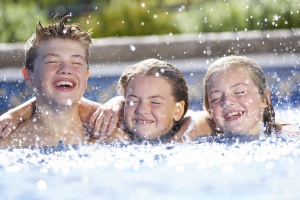 POOL SAFETY TIPS:
Swim only in designated areas supervised by lifeguards
Always swim with a buddy – do not allow anyone to swim alone
Never leave a young child unsupervised by the water
Install and use barriers around all home pools and hot tubs
If you have an above ground pool, remove the ladder and secure the safety cover when not in use.
Keep toys not in use away from the pool and out of sight
Always teach child to ask permission before they go swimming
BEACH SAFTY TIPS:
If you plan on going boating, wear a life jacket
Don't dive headfirst
If you are caught in a rip current, stay calm and don't fight the current. Swim parallel to the shore until you are out of the current. Once you are free, turn and swim toward shore.
If you can't swim to the shore, float or tread water until you are free of the rip current and then head toward shore.
If you feel you can't make it to the shore, draw attention to yourself by waving and calling for help.
Stay at least 100 feet away from piers and jetties. Permanent rip currents often exist near these structures.
IMPORTANTLY:
If a child is missing, check the water first. Seconds matter
Always have a cell phone handy to call for help
Want to check your water safety acumen? Take this quiz from the American Red Cross: http://www.redcross.org/prepare/disaster/water-safety/quiz
Stay cool. Stay safe.
The NJ Kids Team
This Week
State Fair Meadowlands
Till July 7
As New Jersey's best value in family-friendly entertainment, we invite you to join us for 17 days of action-packed fun for the entire family East Rutherford. Read More >>
Free Fireworks at Keansburg Amusement Park
Thursday, July 4
Keansburg Amusement Park will be hosting two nights of spectacular fireworks shows at dusk each night. Keansburg. Read More>>
Oceanfest at Pier Village Long Branch
Thursday, July 4
Each year since 1990, crowds numbering in the hundreds of thousands have descended upon the city's oceanfront promenade from points all over the Mid-Atlantic region for Oceanfest - an all-day, family ... Long Branch. Read More >>
Macy's Fourth of July Fireworks
Thursday, July 4
New York City. Read More >>
Summer Concert at New Jersey Botanical Garden
Friday, July 5
Bring a lawn chair; concert moves to the Carriage House in bad weather. $5 donation requested. 6:30pm. Ringwood. Read More >>
Downtown Music Festival and Taste
Friday, July 5
Downtown West Orange restaurants will be showing off their delicious dishes at the Taste of Downtown Food Court. No admission fee, buy tastes of the various foods while enjoying great music throug... West Orange. Read More >>
Fort Lee Film Commission's Movies & Music Under the Stars
Saturday, July 6
Join us each Saturday night from July 6th through September 7th at the Jack Alter Fort Lee Community Center at 7 PM. Live music from 7-8:30 PM followed by a movie screening at sunset all on the outdoo... Fort Lee. Read More >>
Somerset Patriots vs. Camden Riversharks/Fireworks!
Saturday, July 6, 06:00 PM - 10:00 PM
Enjoy Somerset Patriots Baseball followed by a Post Game Fireworks Show presented by Freeman Spine & Pain Institute as part of our Independence Day Weekend Celebration. Join us for Hawaiian Night! ... Bridgewater
Family Fun Days at Monmouth Racetrack
Sunday, July 7, 12:00 PM - 04:00 PM
Family Fun Days are every Sunday and Holiday Memorial Day to Labor Day from 12 noon - 4 pm. All Activities are FREE and include: Pony Rides, Face Painters, Clowns, Bounce House, and Live Music. ... Oceanport. Read More >>
FREE Summer Concert!
Sunday, July 7
Come and Listen to the Music! Go to the website for details! Bridgewater. Read More >>
17th Annual Sweet Sounds Downtown Jazz Festival
Tuesday, July 9, 07:00 PM - 09:00 PM
Every Tuesday evening in July and August (with Wednesday night rain dates) from 7pm to 9pm, throughout the downtown. We are planning nine nights of Jazz this year. Westfield, Read More >>
| | | |
| --- | --- | --- |
| More Family Fun Events >> | More Fun Things To Do >> | |