Dear Friends –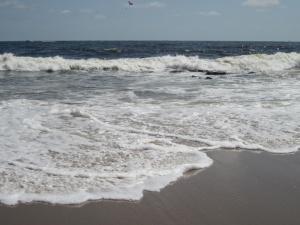 Part of the fun working for NJ Kids is the chance to get out and about our state and visit a variety of great sites. We all have our favorites….which got us thinking! We know what we like – but what about you, our readers? What are some of your favorite places to go?
So now's your chance! We are working on a 'Readers' Pick' feature and we need your help. Go to: ( ) and tell us about your favorite summer time things to do. We can't wait to see your ideas - hopefully we will all discover some new gems! To get us started – the NJ Kids Team shares their favorite Summer Time spots:
Sandra, Publisher: Ice rinks in the summer, the pool at Lifetime, a picnic at the Jersey shore and the beach boardwalks, biking the Greenway in NYC, any concerts and street festivals.
Kim, Client Manager: Pt. Pleasant at the Jersey shore: Lay out the beach, eat at the Tiki Restaurant outdoors and then do the rides, get ice cream and drive home.
Lisa, Client Manager: Pedaling boating in Echo Lake Park and canoeing in Cranford. Also – the spray park in Colts Neck.
Sarah, Client Manager: Dorbrook Recreation Area – the Challenger Place Playground and Sprayground; iPlay America.
Laura, Webmaster: Seventh President Beach – look for shells, dinner and ice cream, Liberty Science Center and Land of Make Believe.
Jenny, Senior Writer: Picnicking along the water at Liberty State Park, anything with history such as hiking and learning at Jockey Hollow, strolling through an arboretum, catching a movie at Liberty Science Center
Are some of these your favorite spots? Got a couple of new ideas? Please don't forget to go to our website at http://www.njkidsonline.com/nj-kids-readers-favorites.php and add your voice! And come back soon to see our 'Readers' Picks'!
The NJ Kids Team

This Week
NJ Sandcastle Contest in Belmar
Wednesday July 17
The NJ Sandcastle Contest is New Jersey's largest sand-sculpting event for the past 25 years. Participate or just watch this year in this event which draws thousands of participants and spectators from all over the state. The contest is held on 18th Avenue Beach in Belmar, NJ and is presented by The Belmar Tourism Commission, D'Jais Beachcomber Bar & Grill and Springboard Public Relations.
Free Kids Bingo at Monmouth Mall
Wednesday July 17
Kids ages 10 and under are invited to play free games of bingo to win prizes donated by the Monmouth Mall and its stores. Located in the food court.
Monmouth Museum KIDS Math Monsters Program
Thursday July 18
Children ages 4 – 6 years can play fun math games and activities on Thursdays at 1:00 pm. Make a mystery clock, build a stuffed animal zip line, solve tanagram puzzles and more! Goodie Bags provided with fun projects to do at home.
Friday Nights at the Drive-in Movies at Duke Island Park
Friday July 19
Travel back in time with drive-in movies just like in the 50's - complete with large screen and popcorn. Free.
Museum Weekend at Field Station Dinosaur
Saturday July 20 - Sunday July 21, 10:00 AM - 06:00 PM
We celebrate museums this weekend, with booths and showcases from New Jersey's museums set up around the Field Station. Plus FSD's first Kid Museum, where kids get to bring in their own dinosaur toy, ... Secaucus
Night in Venice – Ocean City's annual boat parade
Saturday July 20
Ocean City's annual boat parade is one of the largest in the world. Starts at the Longport Bridge to Tennessee Ave. along the bay.
NJ State Crab Festival in Wildwood
Saturday July 20
"Crabby" fun for all ages! Blue Claw crabs! Beer Garden, "must try" crabby bloody mary! Vendors and exciting things for the kids including a crab race at 6 p.m. Live outdoor entertainment all day.
Lakewood BlueClaws Jersey Shore Music Festival
Saturday July 20, 11:00 AM - 10:00 PM
The inaugural Jersey Shore Music & Arts Festival will take place on July 20, 2013 at FirstEnergy Park (BlueClaws Stadium) in Lakewood, New Jersey. The Jersey Shore Music Festival will be a one day eve... Lakewood
New Jersey Reptile Show
Saturday, July 20, 09:00 AM - 04:00 PM
Thank you for visiting the New Jersey Reptile Show, an event that brings together reptile, amphibian, and exotics hobbyists with some of the country's top breeders and reptile supply vendors. ... Parsippany
Family Fun Days at Monmouth Racetrack
Sunday July 21
Family Fun Days are every Sunday and Holiday Memorial Day to Labor Day from 12 noon - 4 pm. All Activities are FREE and include: Pony Rides, Face Painters, Clowns, Bounce House, and Live Music.
Block Party at Liberty Science Center
Sunday July 21
Kids can create whimsical architecture, ocean-going vessels, space-bound rocket ships, futuristic cities, and fabulous forts using over 16,000 oversized blocks at the Block Party exhibit at Liberty Sc... Jersey City
| | | |
| --- | --- | --- |
| More Family Fun Events >> | More Fun Things To Do >> | |
Back To Top