Dear Friends,
Over the past few months, I've been so busy that, I admit, I've let a few of our general house rules slide. It just seemed easier to ignore the beds that weren't made or the plates that didn't get put in the dishwasher, then to have another argument.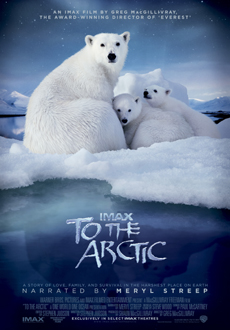 But, baby, I'm back - and I'm better than ever! I love waiting until my son is all the way downstairs before gleefully reminding him to turn off his bedroom light. And I cheerfully (and sarcastically!) feign amazement after my daughter somehow figures out how to work the faucet and fills her own water glass. And if you should ignore my request to take out the trash...you just might find a bag of garbage where your computer used to be.
Yes, we all have responsibilities in our family and chores are meant to reinforce this belief. But I also want my kids to understand that others aren't so lucky and that the world doesn't revolve solely around them.
Family outings can also help and I've taken to finding eye-opening experiences for the kids - visiting sites and exhibits that will teach them about the world around them and hopefully help them find a passion to make a difference. Here are a couple of ideas:
Head to the Liberty Science Center and catch a show of To the Artic to learn about one of the last frontiers and how it's changing.
Create your own fundraiser - pick a charity of your choice than ask family members (grandma and grandpa!) to sponsor your 'jump' - and jump to your heart's content at Bounce U.
Spend the day in NYC and tour the Holocaust Museum, the 9/11 Memorial, the National African American Museum or the Tenement Museum. These sobering museums will help remind older children about the hardships others suffered not so long ago,
Visit the Museum of Early Trades and Crafts and show the kids what life was like before electronics!
Let's take the time to teach our children to care - about our own families and our world as a whole.
The NJ Kids Team

Fun Things to do this week in North Jersey
WBGO Kids Jazz Concert Series: Music Legends at the Luna Stage
Saturday, April 27
Discover America's original musical art form at the WBGO Kids Jazz Concert Series - a free concert series bringing jazz culture and performance to your neighborhood. WBGO presents these concerts during... West Orange. Read More >>
Healthy Kids Day at YMCA in Westfield
Saturday, April 27
Kids and families get a jump on a lifetime of healthy fun! Special activities include: inflatable obstacle course, arts and crafts, carnival games, camp expo, Fun Junction, Overlook Teddy Bear Clinic... Westfield. Read More >>
Senses of Springtime Festival @ The Metropolitan Museum of Art
Sunday, April 28
Immerse yourself in the splendors of the Islamic world and the Ancient Near East! Usher in the new season at this festival for all ages-come dance, hear stories and music, create art, and explore the ... New York City. Read More >>
New Jersey Ballet's Pinocchio @ BergenPAC
Sunday, April 28
A wooden puppet who longs to be a real boy, Pinocchio must first learn about courage, loyalty and to always tell the truth. The ballet follows his adventures with an evil Ringmaster, a gang of Ruffian... Englewood. Read More >>
Free Class at The Piano Workshop of Chester
Friday, Saturday, April 26, 10:30 AM - 11:15 AM
Join a FREE Kindermusik demo class in which children become independent explorers and music makers while enjoying activities such as instrument exploration, vocal play, expressive movement, pretend ... Chester

Fun Things to do this week in Central Jersey

Friday April 26 10:00 - 5:00 PM
Trees are one of our favorite things at Terhune Orchards so we would like to celebrate Arbor Day with all our friends! Join your neighbors and friends on Arbor Day as we invite all the little ones (pre-school age) to the farm to listen to a "tree" story and receive a free blue spruce seedling to take home and plant. Then we'll do it again at 4 p.m. for school-aged children. Come enjoy the farm and celebrate the wonder of trees! No admission fee.
Read More >>
Wheels and Wishes Classic Car Auction and Show
Saturday April 27 10:00 - 5:00 PM
iBid Motors and Trinity Solar are sponsoring a classic car auction and show at The Westfield Armory to help raise money for the Sandy Ground Project and the Paul Jackson Fund. The show will feature a 1954 Chevy Corvette. Rain or shine. $10, kids under 12 free.
Read More >>
Behind the Scenes Tour at Jenkinson's Aquarium
Sunday April 28 9:30 AM - 11:00 AM
Discover what goes on behind the scenes at Jenkinson's aquarium while you tour the building from top to bottom! Pre-registration is required. Ages 5 and up only. $14 Adults. $10 Children.
Read More >>
Sunnyside Equestrian Center Open House
Sunday April 28 12:00 PM - 3:00 PM
Activities include barn tours, pony rides (fee), face painting and caricatures, children's crafts, & live music. Free Admission & Parking.
Read More >>
Communiversity, Princeton Festival of the Arts
Sunday April 28 1:00 PM - 6:00 PM
This year's celebration is slated for Sunday, April 28, 2013 (rain or shine), from 1:00 to 6:00 p.m. Communiversity Festival of the Arts 2013 will feature more than 200 artists, crafters, and merchants from around the tri-state area; continuous live entertainment on five stages; children's activities and games; a wide array of delicious food from around the globe; and a broad representation of the many businesses and organizations that play a prominent role in the vibrant life of the Princeton community. Admission to the event is free for the public.
Read More >>

Upcoming Events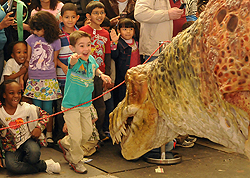 Dinosaur Day at the Newark Museum.
Sunday, May 5, 12-4:30 pm.
Educational and fun activities for kids and the dinosaur lover in all of us. 15' interactive T-Rex accompanied by the Dinosaur Troubadour singing songs that everyone will want to join in. Bill Robinson is back with his live animal shows which include birds, snakes and other reptiles. There will be geological demonstrations provided by scientists from Rutgers, the State University of New Jersey, the New Jersey Paleontological Society and the American Museum of Natural History. Read More >>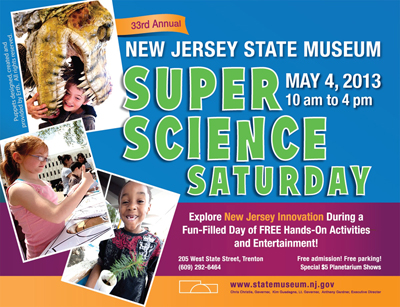 The New Jersey State Museum and Planetarium Present the 33rd Annual Super Science Saturday
Saturday, May 4th, 4am-4pm
The New Jersey State Museum and Planetarium present the 33rd annual Super Science Saturday. The festival celebrates New Jersey innovation during a fun-filled day of FREE hands-on activities, live theater, continuous demonstrations and much more! Special $5 Planetarium shows run throughout the day and admission and parking in the State House garage are free! Read More >>
Back To Top