What to do when Spring hits? Here's our list...
Many will take you to the zoos, parks, woods, farms or even the beaches. This lists a mix of bunny photos, egg hunts, earth festivals, bloomfests found throughout our great state. Find more fabulous stuff online.
National Cherry Blossom Fest In DC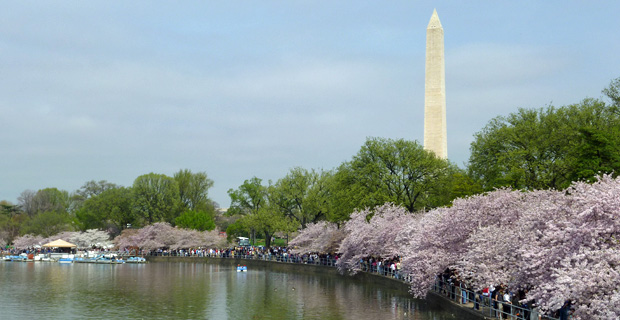 Come see cherry blossoms dotting the D.C. area. Celebrating the 1912 gift of 3,000 cherry trees from Japan to DC. Mar 20th - Apr 14th
Easter Bunny Photo Time.
Meet the Easter Bunny for pictures and photos. Customers may book reservations ahead of time to skip the line. Mar 29th - Apr 20th at the Simon Malls: * Livingston Mall in Livingston * Menlo Park Mall in Edison * Newport Centre in Jersey City* Quakerbridge Mall in Lawrenceville * The Shops at Riverside, in Hackensack
Easter Egg Hunt At Diggerland

Over 4,000 eggs hidden in Easter Egg patches at Diggerland. Every egg has a prize. Hunt for kids 12 & under. Admission ticket required for this popular event. 100 Pinedge Drive, West Berlin, 856.768.1110. Apr 1, 12pm
2019 Subaru Cherry Blossom Festival Of Greater Philadelphia
Week long festival with events such as Sushi making, flower arranging, Taiko Drum Performances, Kabuki demos and more. Main event is Sakura Sunday April 14, 10AM-5PM, $ Admission. Featuring Japanese culture, live music, dance, martial arts, fashion, food and fun. Held at the Horticulture Center in Fairmount Park, 100 N Horticultural Dr, Philadelphia, PA. 267.348.0250. Apr 6-14
Petalpalooza @ National Cherry Blossom Festival
If you're traveling to the DC area, the Waterfront is "home of the cherry blossoms". Spectacular family friendly festival with games, kids activities, live music, Japanese culture, and evening Fireworks display.
The Wharf, 1100 Maine Ave SW, Washington DC. 877.442.5666. Apr 6, 12pm-9:30pm
Cherry Blossom Festival @ Branch Brook Park
Go on a guided bus tour under a canopy of cherry blossoms and learn about Branch Brook Park. $ Admission. 973.268.3500, Apr 6-14
Whippany Railway Museum 27Th Annual Easter Bunny Express
Hop aboard with the Easter Bunny. Take a fun 45-minute Easter Bunny Express round trip train ride along the Morris & Erie Whippanong Trail. The train departs on the hour from 1pm to 4pm. Purchasing
tickets online in advance recommended. Whippany, 973.887.8177. Apr 7, 13, 14, 20
Essex County Family Day At Branch Brook Park
Free Admission. Spend an afternoon among cherry blossoms. Fun for kids of all ages. Participate in crafts, face painting, hula hooping, paddleboats and more! Fishing derby. 12-2pm. Concert Grove, Park Street Entrance, Newark, 973.268.3500. Sat, Apr 13, 11am-3pm
National Cherry Blossom Festival Parade
Free. If you're in the DC area, go celebrate Cherry Blossoms and watch a spectacular parade with giant colorful balloons (Olivia the Pig, Brainy Smurf, Care Bear, Voltron), floats, and marching bands. Celebrities, entertainers and performers. Constitution Ave, 9th to 15th Streets NW, Washington DC. 877.442.5666. Apr 13, 10am-12pm
Cherry Blossom Viewing (Sakura Hanami) At Japan Society NYC
Celebrate Spring. Enjoy a playtime picnic and under a fantastical indoor cherry blossom tree. Make your own magic growing sakura tree to take home! Ages 3-5. $ Ticket. 333 East 47th Street, New York, NY, 212.832.1155. Sun, Apr 14, 1-2pm
Branch Brook Park Bloomfest
Free. Enjoy a family day in New Jersey's pinkest park! A packed schedule of events includes Japanese cultural demonstrations, children's activities, live music, a craft marketplace, food and more! Cherry Blossom Welcome Center, Clifton Ave Entrance, Newark, 973.268.3500. Sun, Apr 14, 11am-5pm
Cha! Cha!'S Egg-Cellent Easter Adventure At Rainforest Cafe
Ticketed event. Have breakfast with the Easter Bunny from 8am-10am. Visit with the East Bunny and Cha! Cha! Easter Egg Hunt and goodie bags for kids. Menlo Park Mall, 55 Parsonage Rd, Edison, 732.452.0011. Sat, Apr 13
2019 Easter Egg Hunt In Hoboken
Free. Registration required. Hudson County Easter Egg hunt with over 33,000 Easter eggs. Take photos with the Easter Bunny, face painting, crafts, and games. 2 time slots - morning and afternoon hunt for kids 10 and under. Mama Johnson Field (4th & Jackson), Hoboken, 201.795.5485. Apr 13, 10am-11:30am or 1:30pm-3pm
Eggstravaganzoo 2019 @ Cape May County Park And Zoo
Free. Bring your camera, meet and take pictures with the Easter Bunny. Educational displays, scavenger hunt, crafts and live animal encounters. Don't be late - Easter Egg Hunt in the park from 10am to 10:10 am.
707 North Route 9, Cape May, 609.465.5271. Sat, Apr 13, 10am-2pm
Delaware River Railroad Easter Bunny Train Ride And Egg Hunt.
Ride the Easter Bunny Train and visit with Mr. E. Bunny on the train. Ride along the scenic Delaware River, leaving from Phillipsburg and arriving at Lime Kilns. In front of the Lime Kilns will be an Easter Egg Hunt. Jugglers and music on train. 100 Elizabeth St, Phillipsburg, 877.872.4674. Apr 13, 14, 20
29th Annual Raritan Headwaters Stream Cleanup.
Stream & land cleanup to help protect our waters and eco-system. Bring your own reusable water bottle and trash pickers. Raritan Headwaters will provide trash bags, gloves, water and snacks. Children welcomed to participate and should be supervised. Wear appropriate clothing. Site locations in Hunterdon, Morris, Somerset Counties; raritanheadwaters.org. Sat, Apr 13, 9am-12pm
Egg Hunt At Jenkinson's
Dig for eggs! Annual Easter Egg hunt on the beach. Open to kids up to 10 years old. 300 Ocean Ave, Pt. Pleasant Beach, 732.892.0600. Sun, Apr 14, 1pm
Easter Egg Hunt At Seaside Heights
Free Easter Egg Hunt on the beach at Seaside Heights. Over 15,000 pastel eggs filled with prizes. Seaside Heights Beach & Boardwalk. Sun, Apr 14, 1pm
Ridgewood Easter In The Park
Open to all. The Easter Bunny arrives at the Park at 11am. Families can take pictures with the Easter Bunny from 11am-2pm. Ben& Jerry's Easter Egg Hunt for 4 to 7 year olds at 11:15am. Memorial Park at Van Neste Square, E. Ridgewood Ave, Ridgewood, 201.445.2600. Sat, Apr 20
Easter Bunny Breakfast At Sahara Sams
Enjoy a breakfast buffet with the Easter Bunny before a day of splashing! Snap some selfies photos with the bunny. Kids will receive candy filled goodie bags. Sounds excellent! Add-on ticket must be purchased in advance. Not available at the door. Sat Apr 20, Sun Apr 21, 9am-10am
Easter Parade At Jenkinson's Boardwalk.
Join us for the annual Easter Day parade at Jenkinson's Boardwalk. Categories: Cutest Boy, Cutest Girl, Float, and Bonnet. 300 Ocean Ave, Pt. Pleasant Beach, 732.892.0600. Sun, Apr 21, 1pm-2pm