What Exit Do We Get Off ?
With 130 miles of coastline spanning from Sandy Hook to Cape May of unmatched beaches with treasured lighthouses, fishing and historical villages and scenic views, one does not need to leave this wonderful state. Featured here are our great day trip planning and getaway ideas. Each beach exit offers varied activities and another scenery. You will find wacky activities, traditional Jersey fun boardwalk excitement and competitions of all sorts, as well as historic sites and nature walks. Each exit offers highlights of the beach and special upcoming events and nearby family friendly attractions. So which exit suits you?
EXIT 117 – SANDY HOOK
A 7-mile stretch of sandy beaches bordering both the bay and the ocean. Enjoy swimming, sunning and surf fishing. Nearby activities: Gateway National Park, including Fort Hancock Nike Missile Base and Fort Hancock Museum; Twin Lights; Maritime Museum; hiking; biking; birding. Nearby Attraction: Keansburg Amusement Park and Runaway Rapids Water Park. Wednesdays - 6pm: Free Beach Concerts from Jun 6- Aug 15. Jun 9: Hooked on Fishing, not on drugs.
EXIT 105 -- SEVENTH PRESIDENT'S BEACH AND LONG BRANCH
Enjoy the beach, boardwalk and Seven Presidents Oceanfront Park, a 33-acre county park with facilities for swimming, boating and picnicking. Nearby attraction: Pier Village with shops, restaurants, and skateplex. Jul 4: Oceanfest at Long Branch. Bands by the Beach every Tuesday from Jun 10- Aug 26. Thursdays by the Sea in Long Branch every Thursday from Jun 14- Aug 30
EXIT 102 -- BRADLEY BEACH
Family friendly with kids' parks, Victorian Style houses, concert music series, and other entertainment. Surrounded by nearby beaches including famous Asbury Park, Avon By The Sea, and Ocean Grove. Walk along the revitalized Boardwalk of Asbury Park and you'll find unique shops, eclectic restaurants and other entertainment. Check out Silverball Pinball Museum, Paramount Theater, Asbury Splash Park, Ghost & Vampire Tours, Asbury Amusement Factory, Antique Emporium. Experience Ocean Grove shops, arts and crafts shows, and the giant flea market at the Great Auditorium. Jun 23-24: Lobsterfest. Jul 13-14: Shakespeare at the
EXIT 98 -- BELMAR
Stretches across 1.3 miles with a revamped boardwalk for walking, jogging, people watching or relaxing. There are colorful and fun beach playgrounds every few blocks. Try the surf camp for kids of all ages, or beach volleyball (nets all set up, just bring the ball). Check out Belmar Parasail, fishing charters. Plenty of shops and restaurants. Movies on the Beach- Every Saturday from Jul 14 to Sept 8
EXIT 98 -- ASBURY PARK
Asbury Park is a historic shore town known for its sandy shore and a revitalized boardwalk lined with unique shops, eclectic restaurants, arcades and cafes. Lot's of new development throughout. The city's live music ven-ues include the Stone Pony, which has hosted native New Jerseyans Bruce Springsteen and Jon Bon Jovi. The Silverball Museum's video games, arcade games and pinball machines date from the 1930s to the present. Nearby Ocean Grove is another beach town with a cute downtown shopping area, and concerts and music. Asbury Park's Jams on the Sand- Every Thursday from Jun 21- Aug 30
EXIT 98 -- SPRING LAKE
Considered one of the most beautiful seashore towns boasting 2 miles of uncluttered beach and the longest non-commercial boardwalk. You will find well kept Victorian mansions, bed and breakfasts, a quaint downtown area with over 50 fine shops and boutiques, gourmet restaurants and Spring Lake. Jun 9: Art in the Park. Jul 6-22: Shrek at the Spring Lake Theater- Every Friday through Sunday.
EXIT 98 – POINT PLEASANT
All the beach fun plus a mile long boardwalk. Walk along the famous Jenkinson's boardwalk with dozens of rides along-side games of chance, some of the most competitive miniature golf and Jenkinson's Aquarium. Kiddie Beach Shows and concerts, fishing excursions and the Antique Emporium. Jul 6 and 16 and Aug 3 and 13: Mermaid Days at Breakwater Beach. Jun 29: Scavenger Hunt at Casino Pier.
EXIT 98 – MANASQUAN
Elks Beach in Manasquan is the only beach dedicated to the handicapped in the Jersey Shore area, providing handicapped parking and a wooden boardwalk to a platform on the beach. In addition, there are several large handicapped chairs available for the use. Other attractions and things to do include: Algonquin Arts Theatre, Fisherman's Cover Conservation Area, Edgar Felix Memorial Bikeway (nature and parks, biking trails), and Paddle boarding. July 1: Concert and Fireworks. July 18: Inlet Celebration. Manasquan. Thursday Concert on the Main Beach. September 2: Labor Day Celebration with concert and fireworks.
EXIT 89- BRICKTOWN
Brick Township operates three ocean beaches and one riverfront beach at Windward Beach Park. Clean, family friendly beaches with easy parking, snack bar, toilets, life guards. Bricktown Summer Concert Series- Every Thursday from Jul 5-26
EXIT 63 – LONG BEACH ISLAND
Enjoy 18 miles of fun from kayaking, fishing, bicycling, boating, con-certs and tours. Attractions: Fantasy Island amusement park, mini-golf, Surflight Theater family shows, Tuckerton Seaport and Batsto Village, Barnegat Lighthouse (climb 217 steps to the top), walk back in time at the LBI Maritime Museum, Thundering Surf Waterpark, Schooner's Wharf. Jun 23-24: Annual Baymen's Seafood and Music Festival.Jul 4: Food Trucks and Fireworks- Jul 7-8: TRUCKer-ton with a Side of Bacon.
EXIT 40 – BRIGANTINE
Relax on pristine white sandy beaches or get active and try your hand at sport fishing and windsurfing. Kids love Shark Park Playground. Other sites include the Marine Mammal Stranding Center, Brigantine Lighthouse and Brigantine Beach Historical Museum. Across the bridge is the world famous Atlantic City Boardwalk. Take a walking tour of the first boardwalk in the U.S. Then soak up the sun and jump the waves at the beach. Shop at the AC Shopping outlets. Aug 4: Amateur Sand Castle Building Contest. Jul 11 and 27, Aug 1 and 22: Movies Under the Stars.
EXIT 30 – OCEAN CITY
Located at the tip of Cape May County, Ocean City is family-friendly beach town with Gillian's Wonderland Pier Amusement Park, Playland's Castaway Cove, Boardwalk Adventures Water Park, Corson's Inlet State Park, arcade, boardwalk, mini-golf, Ocean City Pops Orchestra concerts. Summer Concert Series- Jun 18- 20, Jun 25-26, Jul 9, 16, 29, Aug 5, 12, 26. Jun 13: Miss NJ Pageant. Jun 28-30: Comic Book & Memorabilia Show. Funtastic Tuesdays. Wacky Wednesdays. Jul 4: Bike Parade. Jul 4: Fourth of July Celebration with kite flying competition and fireworks. Jul 5: Sand Sculpting Contest. Family Night Thursdays. Jul 11: Freckle Contest.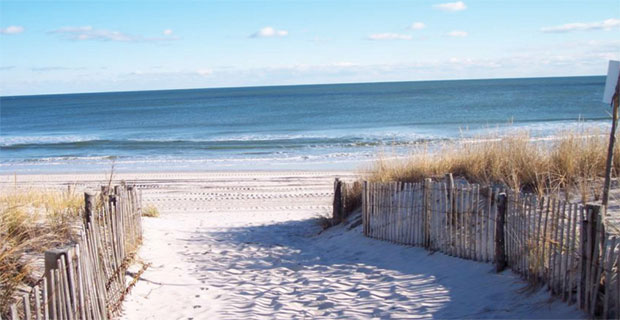 EXIT 17 -- SEA ISLE CITY
There are beaches for everyone from catamaran and sailboat launching beaches, kayaking beaches, rafting beaches, surffishing beaches, to volleyball beaches and kiteboarding beaches.You'll also find biking and inline skating, sailing lessons, family fun nights and family dance parties at Excursion Park plus free concerts and movies under the stars, full moon beach yoga, and a historical museum. Jun 16-17: Skimmer Festival Movies Under the Stars- Every Monday Jul 2 to Aug 27, 8-10pm
EXIT 10A – STONE HARBOR
Flanked by the Atlantic Ocean on the East and the Inter-coastal Waterway on the west, Stone Harbor is known as Seven Mile Island and has endless beautiful, family beaches. Non-beach activity: Wetlands Institute, a nature center, featuring exhibits on marine live; dune walks and kayaking. Downtown Stone Harbor with cute unique shops and places to eat, and a Birding & Wildlife Cruise. Jun 25-Aug 27: Family Fun Nights- Every Monday. Jun 27-Aug 29: Cornhole Nights- Every Wednesday. Jul 9: Baby Parade. Jul 10-Aug 28: Tuesday Summer Concert Series. Jul 22-28: Santa's Summer Vacation. Jul 28: Wetlands Institute Summer Celebration. Jun 26-Aug 21: Tuesday Free Movie Nights in the Plaza.
EXIT 4B – WILDWOOD
Voted one of the top New Jersey beaches, Wildwood has it all – powder white beaches, an abundance of sport opportunities, amusement parks, water parks and more. Best of all – no badge fee! Other activities include historical tours, zoo, dolphin tours, horticultural gardens and more. Check out Morey's Piers and Beachfront Water Parks, Splash Zone Water Park, Wildwood Convention Center, George Boyer Historical Museum, Seaport Aquarium, Doo Wop Preservation League Museum, Wildwood Insectarium. Downtown Wildwood Farmer's Market- Every Sunday. Jun 22-24: North Wildwood Italian American Festival. Jul 7: Wildwood Crest Sand Sculpting Festival. Jul 7-8: Wildwood Cornhole Tournament. Jun 8-9: New Year's in North Wildwood Mummers Brigade and String Band Show. Jun 27-Aug 29: Wildwood Crest's Wednesday Summer Concert Series.
EXIT 0 – CAPE MAY
Located at the southern tip of Cape May Peninsula where the Delaware Bay meets the Atlantic Ocean, Cape May is a perfect destination for both couples and families. There are beautiful powdery beaches, plus its biggest attractions, the Cape May County Park and Zoo, Nature Center of Cape May, and Naval Air Station Wildwood Aviation Museum at Cape May Airport. Jul 15-Aug 31: Wednesday Concert Series. Jul 6: Army Band Concert. Aug 3: Cape May Baby Parade.