Discover Family Friendly Jersey Shore Boardwalks
Who doesn't love a good boardwalk? Funnel cake anyone? There are plenty of kid friendly ones all along the Jersey Shore. See ocean waves, feel the cool summer breeze or warmth of the sun, wander into a T-Shirt shop, order up some custard or soft serve ice cream, try to win a stuffed animal, get some exercise, clear your mind, and have a good olde time.
Walking any boardwalk is an activity the whole family can enjoy. Get those feet moving, head down the Garden State Parkway (GSP), hit the "boards" and start creating wonderful memories.
Jenkinson's Boardwalk at Point Pleasant
300 Ocean Ave, Point Pleasant Beach, NJ (GSP exit 98S or exit 90N)
Kid friendly one mile boardwalk featuring Jenkinson's Aquarium and Jenkinson's Amusement Park. Good day trip from all parts of NJ. Arcades, mini-golf, sweet shops, and boardwalk food are a big hit. Weekly fireworks every Thursday at dark. Free family friendly movies on the beach every summer Friday at dark.

Beach Combing Mondays. Hermit Crab races on Wednesdays (bring your hermit crab). July 26, 2018: Christmas in July.
Wildwoods Boardwalk
Wildwood, NJ (GSP exit 4N or exit 4B-S)
Let's get wild! Experience 38 blocks of classic boardwalk fun. Walk it or ride aboard a Sightseer Tram Car. Check out over 100 amusement rides, water rides & attractions, arcades, shops, eateries, and more! Enjoy free outdoor concerts and free Friday night fireworks. Cool thing to do: Ride your bike on the boardwalk weekdays from 5am-11am, weekends and holidays till10:30am.

July 7-8, 2018: Sand Sculpting Festival. July 13-15, 2018: BBQ Championship & Anglesea Blues Festival. July 14-15, 2018: Beach Blast Soccer. July 21, 2018: Christmas in July with Santa Claus. July 31, 2018: Wildwood Baby Waddle.
Ocean City Boardwalk
Ocean City, NJ (GSP exit 30N or exit 25S)
Take a stroll along the newly renovated 2.5 mile boardwalk at Ocean City. Known as "The Boards", super kid friendly with arcades, mini-golf, candy stores, go-karts, also 2 can't miss amusement parks: Gillian's Wonderland Pier and Playland's Castaway Cove. Every Thursday night in July & Aug. is Family night with free live entertainment. Summer biking on the boardwalk from 5am-noon.

July 4, 2018: Bike Parade & Fourth of July Celebration with kite flying competition and fireworks. July 5, 2018: Sandsculpting Contest. July 11, 2018: Freckle Contest. Summer Concert Series: July 9, 16, 29, Aug 5, 12, 26. Funtastic Tuesdays. Wacky Wednesdays.
Atlantic City Boardwalk
Boardwalk, Atlantic City, NJ (GSP exit 36)
Explore one of America's most iconic boardwalks, a colorful 4 mile walk along the water. Check out Ripley's Believe It or Not, Steel Pier Amusement Park, mini-golf, arcades, shopping, and restaurants. Peddle your bike on the boardwalk: Weekdays 6:45am-noon, Sat. & Sun. 7:30-noon.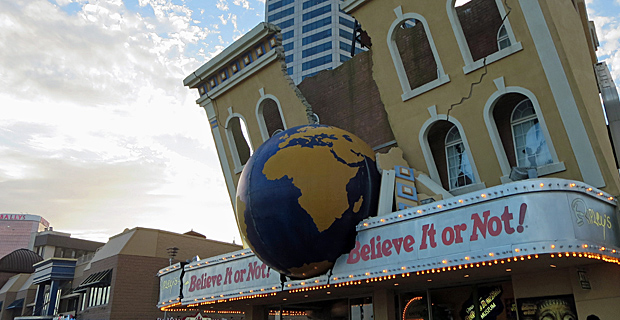 Cape May Promenade
Beach Ave, Cape May, NJ (GSP exit 0)
Beautiful paved 2-mile promenade walk along the water with spectacular ocean views. Small shops, candy stores, arcades, and ice cream. Biking allowed 4am-10am.

July 15-Aug 31, 2018: Wednesday Concert Series. July 18 & 25 Cape May Point Lighthouse Family Fun Day. 9AM-2PM. Aug 3, 2018: Cape May Baby Parade.
Seaside Heights Boardwalk
410 Boardwalk, Seaside Heights, NJ (GSP exit 82)
Stretching almost 2 miles from end to end, this boardwalk is filled with fun family activities, amusement rides, arcades, waterparks, mini-golf, music, funnel cakes, ice cream, and more! Free family movie night every Sunday & Tuesday at dusk on the beach throughout the summer.

Thursday Midnight Madness at Casino Pier. 8PM-12AM. July 6 & 16, 2018: Mermaid Day at Breakwater Beach.
Long Branch Boardwalk & Pier Village
Ocean Ave, Long Branch, NJ (GSP exit 105)
If you're looking for just a pretty boardwalk to go walking, Long Branch Boardwalk is it. Almost 2 miles long, with scenic views of the ocean. Family Fun Night every Sunday through labor day at Pier Village - visit the arcade and Boardwalk Fun N' Games, check out Festival Plaza for bounce houses, slides and inflatables. Free family movie night every Wednesday at Festival Plaza. Thursdays by the Sea at Pier Village 7-8PM.
Belmar Boardwalk
Ocean Ave from 1st to 20th Ave, Belmar, NJ (GSP exit 98)
Newly rebuilt, the Belmar Boardwalk is simply a great place to take a walk. Breathe in the fresh air and enjoy the scenery. Starting July 14th, family movie night every Saturday at dusk along 8th Ave.
Spring Lake Boardwalk
Ocean Ave, Spring Lake, NJ (GSP exit 98)
Spring Lake's non-commercial & wide stroller friendly boardwalk along the beach seems to go on for miles. Take in the pretty sites, homes, and surroundings. Bike riding allowed from 10pm-8am.
Sea Isle City Promenade
29th to 57th Street, Sea Isle City, NJ (GSP exit 17S)
Paved walkway almost 1.5 miles long. Wonderful place to take a leisure stroll with the kids. Biking allowed weekdays 5am-3pm, weekends 5am-noon. Free family movie Friday nights under the stars at Excursion Park.
Asbury Park Boardwalk
1300 Ocean Ave, Asbury Park, NJ (GSP exit 98)
Asbury Park's revitalized boardwalk is lined with unique shops, eclectic restaurants, arcades and cafes. It's a historic shore town known for its sandy shore and currently there's lots of new development throughout. Shopping, cafes and dining all nearby. Enjoy Asbury Park's Jams on the Sand, every Thursday from June 21- Aug 30, 2018.