Need Plans for the Memorial Day Weekend? Check out these wild, crazy, FUNTASTIC events.
There's plenty going on this weekend. We've compiled a list of the top featured events, from fairs and festivals to live music and crafts and carnivals (and of course all the yummy food that come with along!). Some require tickets. Please contact venues for advance ticket purchases
.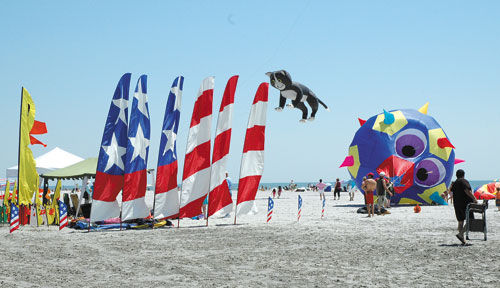 Wildwoods International Kite Festival
When? May 22 – 25
Where? Beach at Rio Grande Avenue in Wildwood and inside the Wildwood's Convention Center
This is largest kite festival in North America featuring kite makers from around the world. You will see the most incredible colorful creations. Saturday and Sunday include the East Coast Stunt Kite Championships on the beach starting at 9 a.m. daily, as well as kite exhibits and workshops. A Kite Festival Auction will be held in the Wildwoods Convention Center at 7 p.m. on Saturday night and is open to the public - many unique kites and collectibles will be auctioned off. Monday will feature the World Indoor Kite Competition from 11 a.m. - 12:30 p.m. inside the Wildwoods Convention Center where kite fliers will showcase their impressive ability to fly a kite without wind. FREE to spectators! 732.822.4884 or visit http://www.SkyFestivals.com.
Jersey Shore Food Truck Festival
When? May 23 – 25, 11:30am-6pm
Where? Monmouth Park Racetrack Rt. 36 and Oceanport Ave, Oceanport
The Jersey Shore's Food Truck Wars is pitting over 40 regional trucks head to head in this competition of the tri state area's best mobile-made eats! Come out for a day of delicious food, entertainment and a Family Fun Day. Admission is only $3 to the park. Prices vary per vendor.
Blues, Wine & BBQ Festival
When? May 23-24, 12-5pm
Where? Schooley's Mountain Park in Long Valley
Come to the largest Memorial Day Weekend Wine & BBQ cookout. Shake, rattle and roll through wine tastings and tasty authentic BBQ from the best BBQ pit trucks who will be roasting, basting and smoking to your delight! Tickets at 609.588.0085.
NJ Renaissance Faire
When? May 23 – June 7, for three weekend, 10am-6pm
Where? Liberty Lake, Bordentown
In its 6th season. Join for family fun and frivolity where magical characters emerge from the woodlands. You may see Robin Hood, King Arthur, the Three Musketeers and William Wallace. Weekend One is this weekend with a Scottish Weekend theme. Who will you see? Tickets at njrenfaire.webconnex.com
2nd Annual Pork Roll Festival
When? May 23, 10am-8pm.
Where? Mill Hill Park in Trenton
The 2015 Pork Roll Festival promises to be "bigger, better and thicker" with a jam-packed schedule of live music and food vendors selling their favorite festival foods and of course, pork roll creations. You will also experience Trenton's history, art, music and cultural diversity. This festival is to promote efforts to restore Trenton's Battle Monument, a National Historic Treasure which pays tribute to Washington's defeat of the British and the Hessians in the Battle of Trenton. Donations.
4th Annual Electric Daisy Carnival
When? May 23-24
Where? MetLife Stadium, Rutherford
For music lovers, this is the carnival that brings theatrical performers and electronic music together under state of the art lighting, pyrotechnics, special effects and sound design. Tickets.
Fleet Week NYC
When? May 20-26
Where? NYC
Fleet Week is a week long celebration in NYC honoring the seafaring wing of the U.S. armed forces. The 27th annual Fleet Week takes place this week with a weeklong itinerary of events, including the New York Harbor (Intrepid), Pier 92, USS The Sullivan pier in Staten Island, Military Island, Eisenhower Park, the Flagship Brewery (Music Festival) and the Soldiers' and Sailors' Memorial Monument.
Or Attend a Street Fair & Craft Show.
Check out your local street fairs and arts and crafts shows. These are scattered throughout Jersey. Here are a few:
Maplewood Street Fair & Craft Show
When? May 24
Maplewood, NJ
Over 200 Artists, Crafters and Vendors. Free Admission, Free Parking.
Woodland Park's Memorial Day Street Fair
When? May 25, 10AM-5PM|
Where? McBride Ave. from Lackawanna Ave. to Memorial Drive.
The Woodland Park Recreation Department will hold a Giant Street Fair. The street will be transformed into a giant town block party. Their special kids section will be brimming with all kinds of fun stuff to do. There will be kiddie rides, face painting, sand art, temporary tattoos, pony rides & petting zoo. Everyone will surely enjoy the open air cafes along the street fair route offering a wide selection of delicious foods such as hot dogs, ice cream, chicken fingers, zeppoles, shish ka bobs, fresh squeezed lemonade, Italian Ices, french fries, hamburgers, sausage and pepper sandwiches, cheesesteaks, roasted corn and much more.
Fair Lawn Street Fair & Craft Show
When? May 31
Where? Fair Lawn, NJ
Over 200 Artists, Crafters and Vendors. Free Admission, Free Parking.
Red Bank Riverfest Food & Music Festival
When? May 29 – 31
Where? Marine Park, Red Bank
Delicious culinary delights by area restaurants, festival caterers, and The Big Bite Tour combined with non-stop entertainment by your favorite local and regional musicians.