Sizzling Summer Festivals are Perfect for Families & Kids....
Hooray!! Summer is finally here. Let's go outside and enjoy some fabulous New Jersey July 2019 festivals. Go to a local county fair, cheer on racing pigs, chow down on tasty shrimp, or check out amazing giant balloons. Tons of family fun!
State Fair Meadowlands
Through July 7, 2019
Exciting NJ State Fair Meadowlands experience. Fun for kids of all ages. Open weeknights and weekends. Don't miss Cycle Circus Live or the Paul Bunyan Lumberjack Show. Over 150 rides, shows, attractions and music entertainment. Plenty of food and games. 1 MetLife Stadium Drive, East Rutherford, 201.355.5911
QuickChek New Jersey Festival Of Ballooning
Friday-Sunday, July 26-28, 2019
Awesome summer hot air balloon and music festival. QuickChek Festival of Ballooning will feature over 100 special shape and sport hot air balloons. Fun family entertainment, musical concerts, vendors, food, fireworks, balloon glow and more! Don't miss Dan Zanes & Claudia Eliaza Kids' Concert, Fri. July 26th @1:30PM. Ride a hot air balloon if you want to soar! Solberg Airport, 39 Thor Solberg Rd, Whitehouse Station, 1-800-HOT-AIR9
Little Falls 4th Of July Street Fair
Thursday, July 4, 2019 10AM-5PM
Festive block party atmosphere with vendors, crafters, kiddie rides, pony rides, musical performers, and delicious food. Main Street & Stevens Ave, Little Falls.
29th Annual Oceanfest At Long Branch
Thursday, July 4, 2019
All day family Oceanfest with balloon artists, clowns, face painters, and sand sculptures. Take a walk along Long Branch's famous beachfront and enjoy dance performances and musical acts. Sample food from vendors and check out crafters. Spectacular Fireworks Display at night. 1 Ocean Blvd, Long Branch.
Independence Day Celebration At Historic Cold Spring Village
Saturday & Sunday, July 6-7, 2019, 10AM-4:30PM
Take part in a variety of patriotic family activities, programs, games, and music. Restored historic village buildings will be open, featuring demonstrations of Early American trades and crafts. War of 1812 Militia Muster for children ages 5-12 on Sun. 720 US 9, Cape May, 609.898.2300
Wildwood Crest Amateur Sand Sculpting Festival
Friday, July 12, 2019, 9AM-2PM
FREE for spectators. Sand art anyone? Amateur sand sculpting contest and sand sculpture designs right on the beach. For entertainment: live music on the beach, beach games and more. Bring the whole family out! Beach at Heather Rd, near Wildwood Crest Beach Pier, Wildwood Crest, 609.523.0202
L.E.A.D. Fest State Fair At Mercer County Park
Wednesday-Sunday, July 10-14, 2019
Enjoy carnival rides, entertainment, attractions, games and food at Fest State Fair. Exciting activities include The Magic of Lance Gifford, live animals, Robinson Racing Pigs, and more! $ Admission. 1638 Old Trenton Rd, West Windsor, 609.610.0910
Ocean County Fair
Wednesday-Sunday, July 10-14, 2019
FREE kids 10 & under. Ocean County Fair will have carnival rides, food and vendors. Horse show events, Cowboy Larry bringing you a good time with bullwhips & ropes, 4-H tent, fun games and activities. Live musical acts each night. Robert J Miller Airpark, Route 530 and Mule Rd, Berkeley Township, 732.914.9466
Freehold Township Concert & Festival In The Park
Saturday, July 13, 2019, 4PM-11PM
Freehold Festival with FREE kids rides and activities. FREE teen center. Merchandise and food vendors. Old Glory Cruisers Car Show. Musical performances by Screaming Broccoli and Phil Engel Band. Fireworks at 9PM. Michael J. Tighe Park, Freehold.
Celtic Festival At Historic Cold Spring Village
Saturday & Sunday, July 13-14, 2019, 10AM-4:30PM
Celebrate all things Irish, Scottish, and Welsh with musical entertainment: Nae Breeks Pipes & Drums Band, The Flynns, and Tom Brett. 720 Rt 9, Cape May.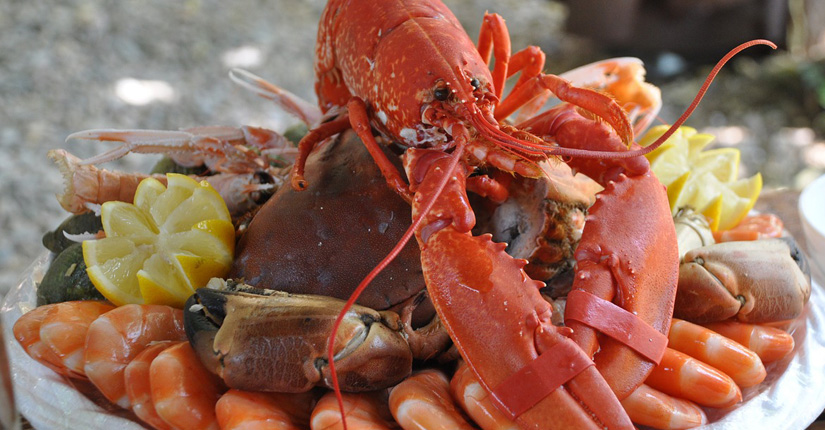 Surf & Turf Seafood Festival
Saturday & Sunday, July 13-14, 2019
FREE 12 & under. 2-day family friendly festival for all seafood lovers. Enjoy crab cakes, shrimp, clams, lobster rolls, and more seafood delights from the best seafood vendors around. Family fun day on Sunday with kids games & activities, pony rides and face painting. Monmouth Park, 175 Oceanport Ave, Oceanport, 732.222.5100
Morris County 4-H Fair
Thursday-Sunday, July 18-21, 2019
No Admission Fee. Wholesome family fun with displays of 4-H achievements. Kids activities, amusement rides, live music, hayrides, petting zoos, cake decorating contest and more! Fireworks show. Chubb Park, Route 24, 1/2 mile West of Route 206, Chester, 973.285.8301
Summer In The Street Tom's River
Saturday, July 20, 2019, 12PM-6PM
FREE. Family Fun Day in Tom's River. Kids Zone with kids games, prizes, rides, balloons, inflatables and more! Live musical entertainment. Food vendors and crafters. Downtown, Washington Street, Tom's River, 732.341.8738
45th Annual Monmouth County Fair
Wednesday-Sunday, July 24-28, 2019
Something for the whole family at the Monmouth County Fair: rides, racing pigs, animals, musical acts, and more! Home & garden competition for children and adults. Kids music group School of Rock performing Sat July 27th. East Freehold Showgrounds on Kozloski Rd, Freehold, 732.842.4000
Gloucester County Fair 4-H Fair
Thursday-Sunday, July 25-28, 2019
South Jersey's premier 4-H fair. Enjoy equestrian events, horse shows, dog shows, sheep shows, livestock, agricultural exhibits, games, magic shows, musical acts, tractor parades, crafts, and food. 275 Bridgeton Pike, Mullica Hill, 856. 307.6450
Summer Fest 2019 At Rutgers Gardens
Saturday, July 27, 2019, 3PM-7PM
Spend the afternoon celebrating diverse art, culture and heritage of NJ at the Summer Fest Rutgers Garden. Celebrate with live music, dance performances, cooking demos, garden tours, chalk art, live painting and more! Children's Stage featuring performers Mr. Ray and Sisterwork. 130 Ryders Lane, New Brunswick, 732.932.8451
Warren County Farmers' Fair Featuring The Hot Air Balloon Festival
Sunday-Saturday, July 27-Aug 3, 2019
Wonderful fair with 4-H displays, animals shows, contests, farm exhibits, free concerts, Arts Expo and Kids' Corral with kids activities. Come see the Rafter Z Rodeo Bulls & Barrels Show, Alpaca Show, Roller Derby demonstration, Bicycle Balloon Race, Colorful Hot Air Balloons rise to the sky and more! FREE for kids 12 & under. Fairgrounds @ 1350 Strykers Rd, Phillipsburg, 908.859.6563