Things to Do With the Kids, Visit Some Fun Summer Fairs…
Can you believe August is almost here? It's still plenty hot outside with lots of summer left! Have a free day and looking for something kid friendly to do? Head out and enjoy some wonderful outdoor family friendly festivals and fairs in New Jersey. Check out butterflies, go listen to some blues music, see animal shows, or chow down at street food festivals.
Watershed Butterfly Festival at The Watershed Institute
Saturday, August 3, 2019, 10AM-4PM
Annual Watershed Butterfly Festival held on 950 acres. Fun family activities, jamming music, nature walks, Butterfly and Bug Parade, and Eyes of the Wild Exotic animal show. Tour exhibits, famed insect zoo, and the Kate Gorrie Butterfly House. $ Admission. 31 Titus Mill Rd, Pennington, NJ, 609.737.3735.

Warren County Farmers Fair Featuring The Hot Air Balloon Festival
Sunday-Saturday, July 27-August 3, 2019
Wonderful fair with 4-H displays, animal shows, contests, farm exhibits, free concerts, Arts Expo and Kids' Corral with kids activities. Come see the Rafter Z Rodeo Bulls & Barrels Show, Alpaca Show, Roller Derby demonstration, Bicycle Balloon Race, Colorful Hot Air Balloons rise to the sky and more! FREE for kids 12 & under. Fairgrounds @ 1350 Strykers Rd, Phillipsburg, NJ, 908.859.6563.
25th Annual Clam Festival
Thursday-Sunday, August 1-4, 2019
FREE Admission and Parking. Clamoring for clams? Scrumptious fresh seafood, live music entertainment, contests, games and rides. Clam fun for the whole family! Huddy Park, 325-329 Bay Ave, Highlands, NJ.
New Jersey State Fair Sussex County Farm & Horse Show
Friday-Sunday, August 2-11, 2019
Old-fashioned country fair with carnival rides & games, racing pigs, bicycle stunt show, pony rides, demolition derby, mudbog, monster truck show, horse show, musical performers, food, and farmers market. Aug 6th Children's Day $5 tickets 6-12 yrs. FREE Admission for Children & Seniors Aug 11th. 37 Plains Rd, Augusta, NJ, 973.948.5500.
Cape May Craft Beer & Crab Festival
Saturday, August 3, 2019, 10AM-6PM
All-day festival featuring summer seafood, steamed crabs, crab cakes, shrimp and hot dogs, as well as food from regional vendors. Craft beer available. Live music plus Victorian Circus with jugglers and acrobats. FREE Admission to grounds. 1048 Washington St, Cape May, NJ.
Classic Car Show at Historic Cold Spring Village
Saturday & Sunday, August 3-4, 2019, 10AM-4:30PM
Annual Classic and Antique Car Show. See beautiful restored and preserved cars, from muscle cars to light trucks from the 1910's to 1980's. Cars will be parked along the Village's tree-lined lanes. 720 US 9, Cape May, NJ.
Middlesex County Fair
Monday-Sunday, August 5-11, 2019
East Brunswick's Middlesex County Fair is the premier summer event with rides, games, music entertainment, food and more! Featuring family friendly activities: Ready Set Grow Agricultural Show featuring Farmer Ed, Music by Deputy Boots & Sheriff Britches, Johnny Rockett's Cycle Circus Live, and Juggling of Wade Henry. Firework Show Monday & Sunday. 655 Cranbury Rd, East Brunswick, NJ.
National Night Out At Mennen Sports Arena
Tuesday, August 6, 2019, 5PM-9PM
FREE. Join the Morris County Park Police and various law enforcement agencies for a National Night Out of awareness and fun. Explore police cars, motorcycles, fire engines, ambulances and more! Food, games, giveaways, DJ music, entertainment, child IDs, and ice-skating. 161 Hanover Ave, East Hanover, NJ.

Salem County Fair
August 6-9, 2019
FREE Admission. $ Parking. Check out the animals at the Salem County Fair: horses, goats, cows, chickens, sheep, pigs, and rabbits. Contests, archery demonstrations, and children's activities. Pony rides, tractor pulls, truck engines. Fireworks Show. 735 Harding Highway / Route 40, Woodstown, 856.769.0414.
Somerset County 4-H Fair
August 7-9, 2019, 10AM-10PM
FREE Family Fun at the Somerset County 4-H Fair. No Admission and free Parking. See animal shows, robotics demos, theatre performances, twirling, go-karts, rockets, magic, airplanes & trains. 4-H clubs compete and perform. Exciting Arts and Sciences tents. North Branch Park, Milltown Rd, Bridgewater, NJ, 908.526.6644.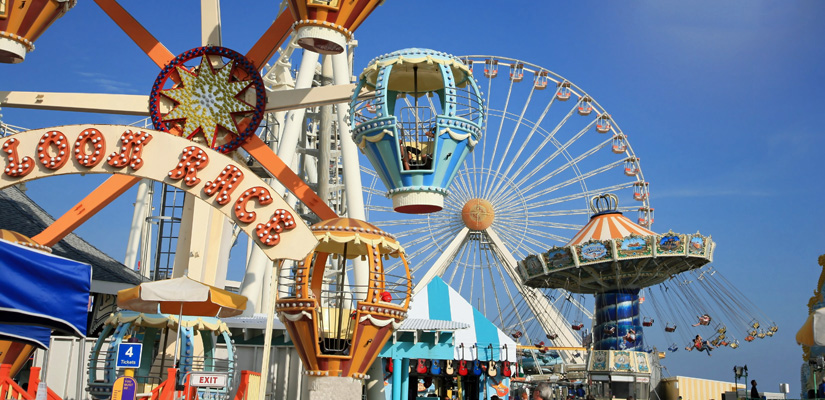 43rd IAATO Annual Italian Festival
Wednesday-Sunday, Aug 7-11, 2019, 5PM-11PM
FREE Admission. Celebrate Italian heritage and culture in Ocean Township. Featuring rides, games, raffles, fireworks, music and entertainment. Tasty Italian foods and treats! Joe Palaia Park, 200 Whalepond Rd, Oakhurst, 732.517.1040
Atlantic County 4-H Fair
August 8-10, 2019
FREE Admission. $ Parking. 3-day Atlantic County 4-H Fair showcasing animals, arts & crafts, horticulture, entertainment, and competition. Homemade clothing projects and preserves, garden produce, woodworking projects, photography, model railroad displays, robotics, and STEM projects. Baby parade, tractor pull, and Pet parade. David C. Wood 4-H Fairgrounds, Route 50, South Egg Harbor, NJ, 609.625.0056.
Passaic County Fair 2019
Thursday-Sunday, August 15-18, 2019
Annual Passaic County Fair with amusement rides, games, live band music, petting zoo, chess tournaments, and fireworks. Garret Mountain Reservation, 8 Mountain Ave, Woodland Park, NJ.
Morristown Jazz & Blues Festival
Saturday, August 17, 2019, 12PM-10PM
FREE. Annual Morristown Jazz & Blues Festival. Great music fun for fans of all ages. Listen to jazz and blues all day. Bring chairs and blankets. Artists lineup: The Antoinette Montague Experience, The Frank Vignola Trio, Rob Paparozzi's Juke Joint, Bernard Allison Group, and Davy Knowles. Morristown Green (Route 124/Route 202), Morristown, NJ.
Latin Fiesta: Tu Sello Latino Fest
Sunday, August 18, 2019, 11AM-7PM
FREE kids 12 & under. Monmouth Park Racetrack celebrates Latin culture with Tu Sello Latino Fest. Entertainment with great food, games, music, and dancing. Family day with face painters, clowns, pony rides and bounce houses. 175 Oceanport Ave, Oceanport, NJ, 732.222.5100.
Hunterdon County 4-H & Agricultural Fair
Wednesday-Sunday, August 21-25, 2019, Opens 10AM
FREE Admission to the Hunterdon County Fair. $ Parking. Amusement rides, main stage entertainment, tractor and truck pulls, pig races, antique tractor display, 4-H shows and animal exhibits with cows, horses, sheep, and goats. South County Park, 1207 Route 179 Lambertville, NJ, 908.782.680
Seafarers' Weekend at Historic Cold Spring Village
Saturday & Sunday, August 24-25, 2019
Pirates, music, and family fun at Seafarers Weekend! Main Deck Productions featuring swashbuckling, high adventure, and a cannon load of fun. See the Valhalla Pirates and Bayman Dan with net making skills. Listen to music of The Sea Dogs Maritime Band. Children can look for gold coins hidden throughout the Village. 720 US 9, Cape May, NJ.
NJPAC Hip Hop Festival
Thursday, August 29, 2019, 12-4PM
FREE. Hip Hop Festival for the whole family, learn to make moves, music and art by DJ'ing, beat making, poetry/rap, graffiti art and dance! RSVP njpac.org, One Center Street, Newark, NJ, 888.GO.NJPAC