What's Happening This Memorial Day Weekend
Fleet Week New York
May 23-30, 2017
Come meet Sailors, Marines and Coast Guardsmen, ship tours, performances and more during Fleet Week New York. Check schedule and locations. New York Harbor, New York City.
50th Annual African American Heritage Festival
May 26-29, 2017
This African American Heritage Festival Feature carnival rides, giant and historic balloons, ethnic garb, pony rides, celebrities, college fair, health pavilion, vendors, live entertainment and much more! Downtown Newark NJ.
International Kite Festival in Wildwood (FREE)

May 26-29, 2017 Noon - 11pm
The largest kite festival in North America will feature kite makers from around the world! Festivities follow with the opening of the kite sales tent and the 9 p.m. illuminated kite fly. East Coast Stunt Kite Championships on the beach Saturday and Sunday, beginning at 9 a.m., as well as kite workshops and family games. World Indoor Kite Competition on Monday. Rio Grande Avenue Beach and inside the Wildwoods Convention Center NJ.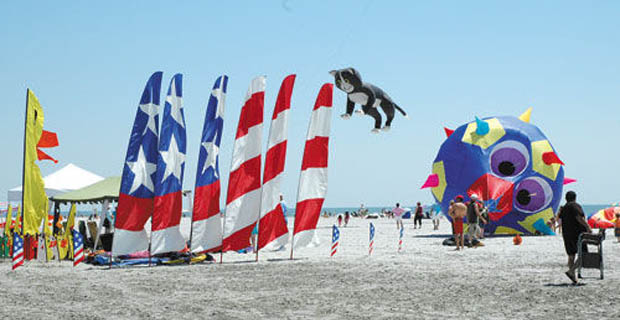 Field Station Dinosaurs
May 27, 2017 10am-6pm
Opening day at Field Station Dinosaurs - Featuring over 30 life size dinosaurs that will sure to thrill kids and adults alike. Learn how dinosaurs lived once upon a time. 40 Fort Lee Road, Leonia NJ.
NJ Renaissance Faire
May 27, 2017 - June 11, 2017
Your place to be, the NJ Renaissance Faire. Entertainment, 60 eclectic merchants, sword fighters, dancers, musicians, comedians, jugglers, acrobats, magicians, fire breathers, sword swallowers. 1195 Florence Columbus Road, Bordentown NJ.
The 4th Annual 2017 Trenton Pork Roll Festival
May 27, 2017 10am-7pm
The Trenton Pork Roll Festival - truly a unique family-friendly food and music celebration. Food and Merchandise Vendors. Music Stage (all day), Entertainment and Children's Events. Pork Roll Recipe Contest and Awards, 2017 Pork Roll Queen Pageant and Crowning and more! Children under 10 FREE. All others $10 per ticket. 100 S Broad St, Trenton NJ.
Family Fun Day At Governors Island - FREE
May 27, 2017
Come enjoy Governors Island Family Fun - celebrate our season's opening with family friendly activities. FREE to the public. Face painting, puppet shows, musical performers and food. Nolan Park, Governors Island, NY
2nd Annual Fleet Week at Liberty State Park
May 28, 2017
Come enjoy Fleet Week at Liberty State Park. Featuring: U.S. Navy (USN) Parachute Team, The Leap Frogs, USN Dive Tank. Navy Band Northeast performance. U.S. Coast Guard (USCG) Silent Drill Team performance. U.S. Marine Corps Battle Color Detachment performance. Military static displays, kids activities and much more. 1 Audrey Zapp Dr. Liberty State Park, NJ.