Celebrate Independence Day 2019 in NJ with Fireworks, Parades, and Special Events….
Happy Birthday America! Go watch Fireworks light up the sky with red, white, and blue in New Jersey and surrounding areas. Spend some family down time during the day at the beach, boardwalk, or a BBQ. At night, go check out your local town's fireworks display or New York City's amazing Macy's Fireworks Show. Our list below is in date order.
Tip: Bring noise reduction earmuffs for kids with sensitive ears. Check out NJ Kids Calendar for more events.

Freehold Independence Day Concert & Fireworks
Wednesday, July 3, 2019, gates open 6PM
Live music by Rock and Roll Chorus at 6:30PM, followed by Daddy Pop from 7PM-9:15PM. Fireworks after concert. Free inflatable games and entertainment provided. Bring blankets & chairs. Freehold Raceway, 130 Park Avenue, Freehold, NJ
Lower Township Independence Day Festival - Cape May
Wednesday, July 3, 2019
Festival begins at 5PM along the Bay. Fireworks at 9PM over North Cape May Bay. Bring chairs or blankets. 1200 Lincoln Blvd, Cape May, NJ
2019 New Providence Independence Day Celebration
Wednesday, July 3, 2019, 7PM
Fun filled activities for all. DJ Mike Savage will provide entertainment. Kids can create art and messages on the street with "Chalk on South". Fireworks will begin at approximately 9:30 PM. Bring lawn chairs or blankets. South Street, Gales Drive to Springfield Ave, New Providence NJ.
Celebrate Our Stars & Stripes - Perth Amboy & South Amboy
Wednesday, July 3, 2019, Festival 5PM-9:30PM, Fireworks 9:20PM
Spectacular Fireworks Show and Independence Day Festival with fabulous fun, food, and festivities.
Perth Amboy - View Fireworks at Sadowski Parkway on the waterfront.
South Amboy - View at Raritan Bay Waterfront Park.
Woodbridge Township Independence Day Fireworks
Wednesday, July 3, 2019, Park Opens at 4PM, Fireworks at Dusk
Fireworks under the Stars. Bring your lawn chairs and blankets. Special Musical guests Kickback. Alvin P. Williams Memorial Park, Sewaren, NJ.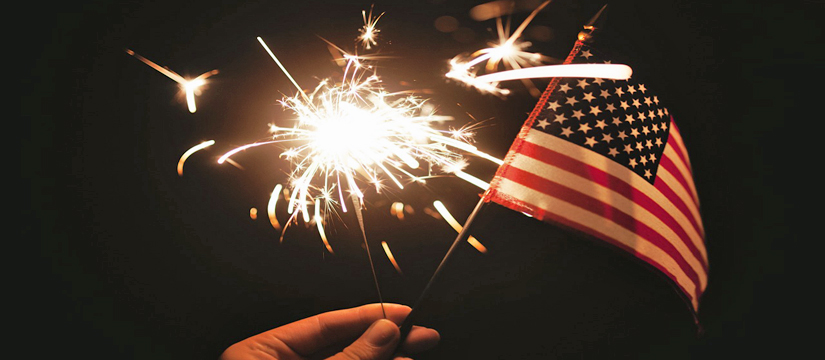 Atlantic City - 4th of July Fireworks at The Borgata
Thursday, July 4, 2019, 9PM North Entrance Lot
Borgata's Fireworks show will light up the Marina District and Boardwalk. Borgata, Atlantic City, NJ.
Atlantic City - 4th of July Fireworks at The Tropicana
Thursday, July 4, 2019, 10PM
Dazzling July 4th Fireworks over the Beach and Boardwalk at the Tropicana. Grucci high aerials and grand illuminations effects. Tropicana, Atlantic City, NJ
Bridgewater Independence Family Day Festival
Wednesday, July 4, 2019, 5PM-11PM
Jersey Blues Revolutionary War Encampment will recreate life during the 1770's - 6PM-9PM. Spectacular Fireworks starts 9:30PM. Bring lawn chairs or blankets. North Branch Park, Bridgwater, NJ.
Cape May Fireworks Extravaganza
Thursday, July 4, 2019, 9PM
Fireworks Extravaganza at Congress Beach. Enjoy view facing from Beach Ave. Across from Congress Hall, Cape May, NJ
Chatham Independence Day Parade and Fireworks
Thursday, July 4, 2019
Parade starts 10:30AM. Fireworks display begins at dark. Live music and festivities. Chatham Middle School, 480 Main Street, Chatham NJ.
Florham Park Fourth of July
Borough Hall Lawn, Florham Park NJ.
Thursday, July 4, 2019, Fireworks 9PM
Day time events with kids activities and parade. Fireworks at night
Hackensack 4th of July Celebration
Thursday, July 4, 2019
All day fun with kiddie rides, games, flea market, and food vendors. Performance by The Infernos Band at 7:15PM. Fireworks 9:15PM. Foschini Park, 278 River Street, Hackensack, NJ
Jersey City's 50 Star Fire Show 2019
Thursday, July 4, 2019, 12PM-10PM
50Star Kids Carnival @ Hudson Street (Bay & 2nd Street) - tons of fun games and rides. 50 Star Fire Show with incredible showcase of pyrotechnics. Enjoy live music, food trucks and drink. Night time Grucci Fireworks display. Waterfront at Exchange Place, Jersey City, NJ
Livingston July 4th July Celebration 2019
Thursday, July 5, 2019, Fun starts 9AM, Fireworks 9:15PM
Classic Auto Show called "Auto Fest 2019" - showcasing antique cars, muscle cars, collector cars and motorcycles. All Day family and kids activities featuring Powerhouse Studios Wacky Sports, kids rides, pony rides, ice cream eating contests, music by "Wanted DOA (Bon Jovi Tribute Band) and much more! Brings chairs or blankets to watch Fireworks show. Memorial Oval, South Livingston Ave, Livingston, NJ
29th Annual Oceanfest at Long Branch
Thursday, July 4, 2019, 10AM-10PM
All day Oceanfest family festival with balloon artists, clowns, face painters, and sand sculptures. Take a walk along Long Branch's famous beachfront and enjoy dance performances and musical acts. Sample food from vendors and check out various crafters. Cap off the night with a spectacular Fireworks Display. 1 Ocean Blvd, Long Branch, 732.222.0400
Maplewood Fourth of July 2019
Thursday, July 4, 2019
All Day festival with Kids' relay, Car Show, Baking Contests, Bike Parade, interactive performances, face painting, henna tattoos, photo booth, food, live music, and more! 9:25PM Laser Light Show followed by Fireworks. $ Ticket. Memorial Park, next to Maplewood NJ Transit train station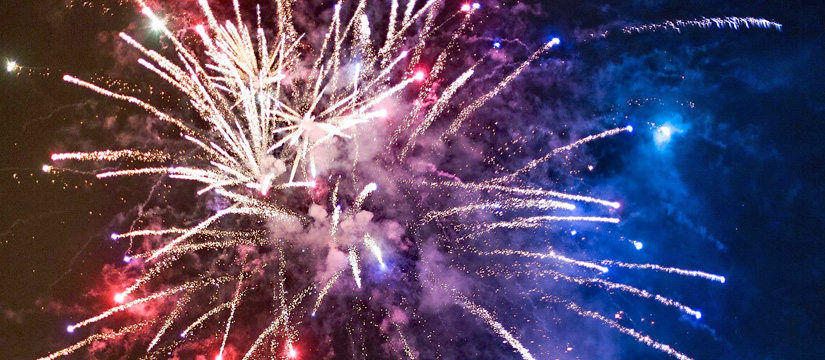 New York City Macy's 4th of July Fireworks
Thursday, July 4, 2019, 9:25PM
A must do once in your life: see NYC's Macy's Spectacular Fireworks. Over 25,000 shells lighting up the sky. 25 minutes of dazzling displays live from the world-famous Brooklyn Bridge and from four barges positioned on the lower East River between the Manhattan Heliport and Pier 17 at the Seaport District. Public viewing locations and dedicated entry points will be set up along elevated portions of the FDR Drive in lower Manhattan. Musical performance by Jennifer Hudson. East River from East 23rd Street to East 40th Street, NYC.
Paramus Independence Day Parade
Thursday, July 4, 2019, 9AM-12PM
2019 Grand Marshal Nick Suriano. Parade starts at Century Rd & Fairfield Ave and ends at Memorial Elementary School.
Parsippany Independence Day Fireworks and Concert
Thursday, July 4, 2019, 7:30PM
Concert and Fireworks show at night. Held at Parsippany High School - 20 Rita Dr., Morris Plains NJ.
Point Pleasant Independence Day Fireworks
Thursday, July 4, 2019, Evening
Jenkinson's Boardwalk annual Independence Day fireworks on the beach at dark!
Point Pleasant Boardwalk, 300 Ocean Ave, Point Pleasant, NJ.
Ridgewood 4th of July Celebration
Thursday, July 4, 2019, Gates Open 6PM
Musical entertainment with Blue Plate Special, Joe's Oriente's Band, Dad's Night Band. Evening Fireworks Extravaganza. Veterans Field, 131 N. Maple Avenue, Ridgewood, NJ.
Summit's 72nd Annual Fourth of July Celebration
Thursday, July 4, 2019, 9:30AM Festival Opens, Fireworks 9:15PM
Food, Fun & Fireworks. Independence Day Children's Decorate Bicycle Parade, food trucks, rides, music, and more. Grand Fireworks Display at night. Soldier's Memorial Field, Ashland Rd, Summit NJ.
Union 4th of July Spectacular
Thursday, July 4, 2019
Annual All-American Soap Box Derby at 10AM.
Smooth Band & Orchestra Concert at 7:30PM.
Fireworks Spectacular at 9PM.
Stuyvesant Ave for Festivities, Fireworks at Biertuempfel Park, Union NJ.
Wildwoods Fourth of July Fireworks Spectacular
Thursday, July 4, 2019, 10PM
Special Holiday Fireworks visible from anywhere on the Wildwoods boardwalk. Wildwoods Boardwalk, Wildwood, NJ.
Paramus Fireworks Show
Sunday, July 7, 2019, gates open 6PM
Music by Jumping Dragons, Raphael Valentino from iHeartRadio/KTU, and Paramus Community Orchestra. Evening Paramus Fireworks Show. Bring blanket or chair. Cliff Gennarelli Sports-Plex, Paramus, NJ.