Family Fun with Animals - Zoos, Aquariums, Museums and More!
January Indoor Fun: Animals
Family Fun with Animals - Zoos, Aquariums, Museums and More!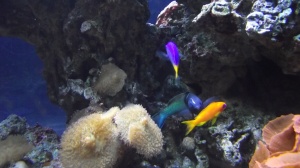 Don't let the latest cold snap keep you stuck indoors. This week why not think "Animals" - make it a week of animal fun! And to help you get started, NJ Kids has a couple of suggestions: How about spending the day at a zoo - the Turtle Back Zoo in West Orange, Bergen County Zoo in Paramus, and the four zoos in NY run by the WCS (Bronx, Central Park, Queens and Brooklyn Zoo) are perfect for colder days: there are plenty of indoor exhibits (plus outdoor ones, too!). Then there are aquariums - down in Camden is the Adventure Aquarium (Frogs: Nature's Messenger just opened) and for a more intimate marine visit, check out Jenkinson's Aquarium in Point Pleasant. Insect lovers can squirm over to Insectropolis in Toms River, and in Columbia, you can take at guided wolf tour at the Lakota Wolf Preserve. And that's just the start - lots of museums (Newark Museum, Morris Museum, Museum of Natural History) all have "stuffed" animal exhibits and of course at Imagine That! in Florham Park younger children can pretend in the Vet Center! The possibilities are endless! For more ideas, don't forget to check out our website at njkidsonline.com. Stay warm and have fun!
This Week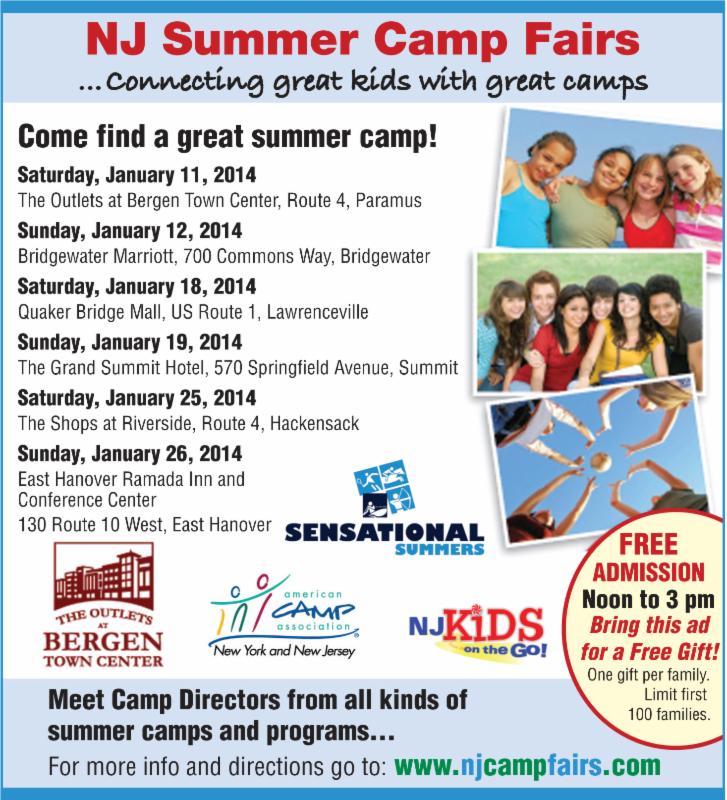 Saturday, January 25, 12:00 PM - 03:00 PM
Forget the ice and snow! It's time to find a great summer camp! Bring your friends and neighbors. Meet camp directors, get camp DVDs and giveaways. FREE admission, FREE camp fair booklet. .. Hackensack
JOIN NJ KIDS
NJ Summer Camp Fairs @ Ramada Inn
Sunday, January 26, 12:00 PM - 03:00 PM
Forget the ice and snow! It's time to find a great summer camp! Bring your friends and neighbors. Meet camp directors, get camp DVDs and giveaways. FREE admission, FREE camp fair booklet. ... East Hanover

Aladdin Jr. @ Surfside Theatre in Beach Haven
Friday, January 24 to Saturday, January 25, 07:00 PM - 09:00 PM
Welcome to Agrabah, City of Enchantment, where we're about to begin the fantastic tale of the street rat who became a prince! All of your favorite characters from the hit Disney film - Aladdin, Ja... Beach Haven

Fire and Ice Carving & Chili Festival Mount Holly
Saturday, January 25, 10:30 AM - 04:00 PM
Mount Holly will host over a dozen professional and amateur ice carvers from up and down the east coast, Burlington County's best professional chili cooks plus a wide variety of interesting entertainment for young, old and everyone in between.... Mount Holly

Nai-Ni Chen Dance Company @ NJ PAC
Saturday, January 25, 02:00 PM - 04:00 PM
New Jersey's acclaimed Nai-Ni Chen Dance Company, now celebrating its 25th anniversary season, is a troupe that finds inspiration in everything from the graceful lines of calligraphy to the thunderous... Newark

The Healthiest KIDS show on Earth !
Saturday, January 25, 04:00 PM - 05:00 PM
Start the New Year fit and healthy for Kids!! THE HEALTHIEST KIDS SHOW ON EARTH ! The most extraordinary experience for our children to learn the importance of health and fitness on their level! ... Morris Plains

Jason Didner And The Jungle Gym Jam
Sunday, January 26, 11:30 AM - 01:00 PM
Our Album Release Party and Family Festival will take place on Sunday, January 26 at 11:30 AM at Just Jake's in Montclair. There will be a face painter, an awesome juggler and wonderful musicians, ... Montclair

Come To The Mayo Performing Arts Center to See-Dinosaur Train Live! Buddy's Big Adventure
Sunday, January 26, 01:30 PM - 03:30 PM
Based on the popular PBS Kids series! Join Buddy, Tiny, Shiny, Don and their friends and family in this upbeat, interactive, multi-media adventure that transports you back to an age when dinosaurs roa... Morristown

MatheMagic @ Berrie Center for Performing and Visual Arts
Wednesday, January 29
MATH IS AMAZING! Internationally renowned magician and educator, Bradley Fields, captivates audiences with his famous world-class magic illusions, and teaches the secrets behind some startling math tr... Mahwah
| | | |
| --- | --- | --- |
| More Family Fun Events >> | More Fun Things To Do >> | |
Back To Top
---