See Miniature Trains Up Close...
Do you have a child who loves trains? Model train displays are super kid friendly, especially around the holidays. They offer plenty of fun for the whole family. Watch trains as they travel through scaled downed towns, tunnels, and winter scenery. Some of these trains also go to the "North Pole" where you can see Santa Claus in action. Stop by one of these holiday train shows around the New Jersey, New York City, and Philadelphia areas.
Model Railroad Club 2019 Annual Light and Sound Show
November 29 & 30, 2019; December 1, 6, 7, 8, 13, 14, 15, 2019
Annual Light and Sound Show and open house. A great family attraction close to home, a model train show like no other! The club's HO scale layout is transformed into a theatre and the trains run to a professional narrated script. Event enjoyed by thousands of guests every year. 295 Jefferson Ave, off Route 22 East, Union NJ (behind Home Depot), 908.964.9724
Model Train Show At New York Society Of Model Engineers
November 30, 2019 & December 1, 2019; December 7-8, 14-15, 28-29, 2019;1-6PM
Christmas and holiday model train show at the NYSME. 341 Hoboken Rd, Carlstadt (1 mile from Giants Stadium) modelengineers.org
62nd Annual Model Railroad Show At Garden State Model Railway Club
November 29-30, 2019; December 1, 7-8, 14-15, 2019; January 4-5, 2020; 1PM-5PM
Model railroad show featuring intermodal, mixed freight, coal & passenger trains - both steam & diesel. Kids can view a Special Santa Claus Express train and a Thomas the Tank Engine train. 575 High Mountain Road, North Haledon, NJ.
Holiday Model Train Show At Barron Arts Center
November 30, 2019 - December 30, 2019
FREE Admission. Choo choo! 29th Annual Holiday Model train show at the Barron Arts Center. 582 Rahway Avenue, Woodbridge, NJ.
Model Trains & Railroads at Morris Museum
December 2019 - February 2020
State-of-the-art model train exhibition at the Morris Museum, featuring three separate tracks. Trains move through a world of imagination as they travel through a town with shops, cars, and people busy with activity. Morristown, NJ.
Railmen Children Display at the Hoboken Terminal
Current Display. Kids can press a red button and watch trains go around a small track. See mini NJ Transit trains. Located right in the heart of the Hoboken Terminal at 1 Hudson Place.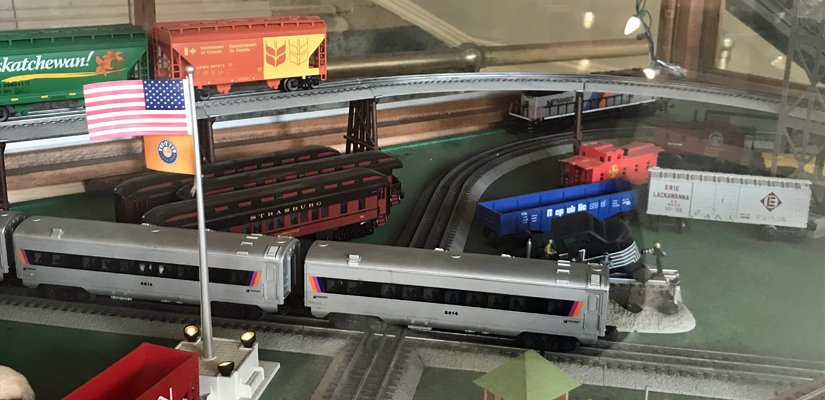 Holiday Train Show At Grand Central Terminal
New York Transit Museum Gallery & Store
Details to come. Usually starts mid-November
FREE annual New York Transit Museum train show. A gem during the holidays. Marvel at model trains traveling through a mini NYC. Visitors go on an imaginary journey from Grand Central to the North Pole. Truly a delight for kids and adults! grandcentralterminal.com
Holiday Train Show At New York Botanical Gardens
November 23, 2019 - January 26, 2020
Spectacular Holiday Train Show at the New York Botanical Gardens. Dozens of model trains zipping through 175 NYC landmarks and beautifully landscaped backgrounds. New for 2019: showcasing an indoor winter wonderland of Central Park and Belvedere Castle. 2900 Southern Blvd, Bronx, NY.
Holiday Express: All Aboard to Richard Scarry's Busytown (New York Historical Society)
November 1, 2019 - February 23, 2020
Celebrate the 100th birthday of Busytown author and illustrator Richard Scarry. Kids can hop on custom-made Busytown vehicle-themed benches and take photos with Busytown characters. 170 Central Park West, New York, NY, 212.873.3400, nyhistory.org
Garden Railway at Longwood Gardens
Now through January 15, 2020
Miniature G-scale model trains rumbling over almost 400 feet of track through landscaped seasonal displays at Longwood Gardens. Located outdoors near the Terrace Restaurant, the Garden Railway runs during regular Garden hours, weather permitting. 1001 Longwood Rd, Kennett Square, PA
Reading Terminal Holiday Railroad
November 24, 2019 - December 24, 2019
Kick off the joy of holiday season with the new 2019 Reading Terminal Holiday Railroad display, featuring 25 trains and 5 unique vignettes: 1930's Reading Terminal, Pennsylvania Dutch countryside, The Underground – The Reading Terminal Market and Septa, The North Pole, and The Olde English Railway. 12th & Arch Streets, Philadelphia, PA